Feminist powerhouse playwright in the wings for March 8
Morgan Lloyd Malcolm is this year's writer-in-residence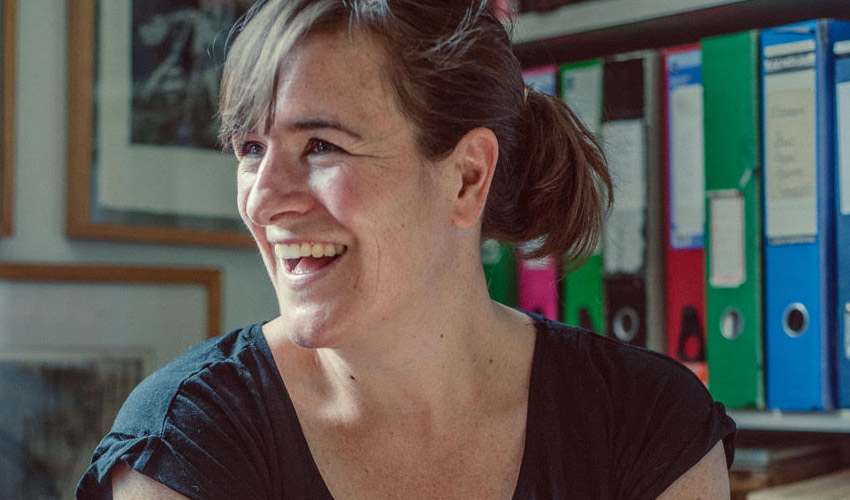 Morgan Lloyd Malcolm is an award-winning playwright and screenwriter. Photo courtesy Charles Moriarty.
---
This year's Mount Royal writer-in residence is Morgan Lloyd Malcolm, an Olivier Award-winning playwright and screenwriter. Her most recent play, Emilia, has already established itself as an important piece of feminist playwrighting and literature. Commissioned by The Globe Theatre in London, Emilia is what is referred to as a "speculative history" and features the life of 15th-century poet Emilia Bassano, who was considered to be a radical voice for women during the time of Shakespeare.
The Faculty of Arts' choice of Malcolm as writer-in-residence is fitting timing, as she will be discussing Emilia during a free online conversation (pre-register here) on International Women's Day March. 8.
Until recent work by feminist scholars, not much was known about Bassano, who some believe may be the Dark Lady of Shakespeare's "Sonnets." A true groundbreaking personality, Bassano wrote and published her own work, and her poetry collection is considered to be one of the first written by a woman. Over the centuries, however, Bassano's HerStory has been effectively erased by History, however these remarkable words from her poem "To the Vertuous Reader" (1611) remain, and reveal much about her mind.
'Men, who forgetting they were born of women, nourished of women, and if they were not of the means of women, they would be quite extinguished out of the world, and a final end of them all; do like vipers deface the wombs wherein they were bred.'
In an effort to expose what life might have been like for Bassano at the time, Malcolm and her colleagues created Emilia, which features an all-female cast. In the play, Bassano rails against ridiculous courtship rituals, stands up to a plagiarizing Shakespeare (who many believe was obsessed with her), and begins to build a family of feminists after misogyny nearly takes its final toll.
Dr. Kimberly Williams, PhD, associate professor of women's and gender studies, will join the conversation on March 8 along with Associate Professor Aida Patient of the Department of English, Languages and Cultures and MRU alumna Erica Navrickas. Williams and Patient are currently co-editing an anthology about Emilia in partnership with London-based theatre critic Laura Kressly. The anthology will contain short and accessible essays to serve as a supplementary text to the play.
Williams calls Emilia a " brilliant and unabashedly feminist powerhouse of a play," saying, "Morgan Lloyd Malcolm has written this play specifically for a cast of diverse women. Women of all ages, of all skin colours, of all body types play women, but they also play men." This is intentional and pointed, as women were not allowed to appear on stage until 1660, and those who did were considered to be of "questionable character."
Before her appearance, Malcolm has answered a few questions about Emilia and the writing process.
How difficult was it to find out information about Emilia and what ended up being your main resources?
It was very tricky finding much out about Emilia. My main resource ended up being from the introduction to her poems compiled by A.L. Rowse (a British Elizabethan England historian and writer). He in turn had taken most of his information from the diaries of Simon Forman (an Elizabethan astrologer who attended three Shakespeare plays at the Globe). Much of what we know about her are either the records of her birth, marriage, children and some court appearances and also what Simon Forman wrote.
When reading his diaries, myself and director Nicole Charles were struck by the one-sided nature of what he was writing about her. He wasn't flattering. And as women we questioned why that might be. In the end we realized that we were going to have to fill in a lot of blanks and read between the lines. So, this is what we did when we created our version of Emilia. We therefore treated it as what we called a 'memory play' rather than a 'history play'.
Why was it so important to have an all-female cast and crew?
When we first started talking about making this play, we knew we were writing it for Shakespeare's Globe and all the history that this brought. Not only was it traditional to have all-male casts in Shakespeare's time, but the theatre was literally his. In order for us to write a play about a woman who we were interpreting to have been ignored and silenced by history we knew we would have to reclaim that space for Emilia. We wanted to populate that stage and behind it with as many women as we could. We also knew that as we were creating a 'memory play,' told by Emilia, we needed all of the characters to be a woman's-eye view on the world. It felt delicious to be able to explore how women would portray men in this story. For a play about voice and reclaiming space it felt important we had a stage full of woman to tell it.
Do you have a specific writing process?
My writing process tends to be very different depending on the project. Emilia was unique because it was a very quick turnaround of just under a year and we needed all hands on deck from the start, so it was very collaborative. However, other plays I've written like The Wasp, I wrote alone after a process of a lot of planning and thinking about it, so it was able to flow out pretty much fully formed. It really depends on the idea and story.
What advice might you give to someone wanting to write creatively for publication?
I can only speak from the point of view of a playwright. Publication is a wonderful thing for playwrights as it usually means that more people might want to do productions of your play. Or read it at home. But it's not the reason we write plays. We write plays so that they can be realized. It's lovely to disappear into the world of your piece and write and write and write, but the glorious thing about theatre is that it is a physical medium and is destined to be realized with real humans on a stage in front of real human audiences. We don't write plays to be read, as lovely as that can be, we write them to be performed. So, focus on that first and then it might get to the stage where it will be published.
More about MRU's writer-in-residence program
The writer-in-residence program is an introduction to the University and Faculty of Arts through someone with a wealth of talent in the arts. The focus of creative writing develops students for their future, providing them direct access to accomplished writers who share their methods and challenges with writing and publishing. Dr. Natalie Meisner, PhD, professor of English and creative writing, says the writer-in-residence program at MRU is different and special because of its work to incorporate marginalized authors who are addressing important issues through their art.
"I would say that in the years I have been involved with the  program we have had a real focus on BIPOC writers as well as LGBTIQ+ writers. Additionally, we bring in writers whose work responds to important cross-campus and community issues."
Register for Emilia in Feminist Contexts: A conversation featuring Morgan Lloyd Malcolm.
March 1, 2021 ― Michelle Bodnar
Media request contact information.
Have a story idea? Please fill out this form.