The Writer-in-residence program is an introduction to the University and Faculty of Arts to someone with a wealth of talent in the arts. The focus of creative writing develops our students for their future — it gives them direct access to accomplished writers who share their methods and challenges with writing and publishing. They have a first-hand opportunity to learn writing practices from professionals. 
Learn more about the Writer-in-residence program
.

Event details
Emilia
 in Feminist Contexts: A conversation 

featuring Morgan Lloyd Malcolm
Mon., March 8  | 1 p.m.
Online
Google Meet — you will receive an invite to join the event once you register.
This event is free. All are welcome to attend. 

Join our panel discussion featuring Morgan Lloyd Malcolm along with associate professors, Aida Patient, English, and Kimberly Williams, Women's and Gender Studies. We're also honoured to have MRU alum, Erica Navrickas, join the conversation.
West End production of Emilia
Available online. Watch it now.
Pay what you can, a minimum donation of £1 (approx. $2 CDN).
All profits from the Emilia stream will be shared amongst the amazing all-female creative team, cast and backstage team.
"Men, who forgetting they were born of women,
nourished of women,
and if they were not of the means of women,
they would be quite extinguished out of the world,
and a final end of them all;
do like vipers deface the wombs wherein they were bred." 
— Emilia Bassano, 'To the Vertuous Reader'

In 1611, Emilia Bassano penned these words to her 'Vertuous Reader', as part of a volume of radical, feminist and subversive poetry. It was one of the first published collections of poetry written by a woman in England. The little we know of Emilia Bassano is restricted to the possibility that she may have been the 'Dark Lady' of Shakespeare's Sonnets — and the rest of Her Story has been erased by History. Commissioned specifically for Shakespeare's Globe, and with an all-female cast, this world premiere will reveal the life of Emilia: poet, mother and feminist. This time, the focus will be on this exceptional woman who managed to outlive all the men the history books tethered her to.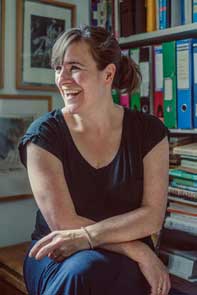 About Morgan Lloyd Malcolm
Morgan is an Olivier Award-winning Playwright and Screenwriter. 
She was commissioned by The Globe to write Emilia which became a sell-out in summer 2018 and transferred to the West End at the Vaudeville theatre in 2019. It has been optioned as a film and she is in development on this currently. It won three Olivier Awards in 2020 for Sound Design, Costume Design and the Noel Coward Award for Best New Comedy or Entertainment.
Previous theatre includes Belongings and The Wasp. She has co-written four pantomimes for The Lyric Hammersmith and various site-specific one-on-one shows for Look Left Look Right. She has also written several Christmas, Community and Family shows. 
Current theatre commissions with Headlong, Lyric Hammersmith, Royal Court and Clean Break. 
She was due to have two plays produced in 2020 and one for 2021 before Covid hit. Typical Girls for Clean Break, Sheffield and Soho Theatre and also Mum for Francesca Moody Productions, The Traverse, Plymouth Drum and Soho Theatre. Her play When The Long Trick's Over was due to go on tour with High Tide Theatre in 2021. They will hopefully be produced once things settle again.
She is working with Lucky Chap, Fremantle and Dog Rose Productions, Gaumont and Moonage. She is also adapting her play The Wasp into a screenplay for Paradise City Films. She is represented by David Higham Associates and WME.
Photo credit: Charles Moriarty
More on-campus opportunities to meet Morgan
The Writer-in-Residence program explores opportunities for authors, students and faculty to meet, exchange ideas and increase awareness of scholarly and artistic endeavours. Want to be involved? Here are a couple of ways you can participate:
MRU Faculty find out more about how you can bring Morgan into one of your classes during his week-long residency. For booking information, contact Natalie Meisner.
MRU Students submit your manuscripts (7–10 pages/1,700 words of creative writing any genre) for Morgan's review by Feb. 22. You'll get a chance to have a follow-up one-on-one working session.
Please email 
Natalie Meisner 
your manuscript and book your working sessions.