Capping off an MRU education
Health, Community and Education students finish off their programs with culminating experiences
Mount Royal's Faculty of Health, Community and Education is made up of an array of departments that are all focused on promoting health and well-being, supporting community development and working within social services to address systemic problems for the benefit of others.
With such people-minded vocations, experiential learning is deeply ingrained in all the different majors. Students are out working directly with organizations and institutions right from the beginning of their education: researching trends, providing their perspectives and helping to shape the future of their fields. In their final years of study, students embark on what are known as "capstone" projects.
"The capstone course serves as a culminating experience where students are required to pull together the knowledge, skills and approaches that they have been using and developing through their entire program and apply them to a final project, the capstone project," says the dean of the Faculty of Health, Community and Education Dr. Stephen Price, PhD.
"These experiences are very strong in solidifying the learning in students and for many serve as a perfect transition from student to a graduate who is ready to contribute in their profession."
Here are some examples of the capstone experiences from this year and the impact they had.
Bachelor of Child Studies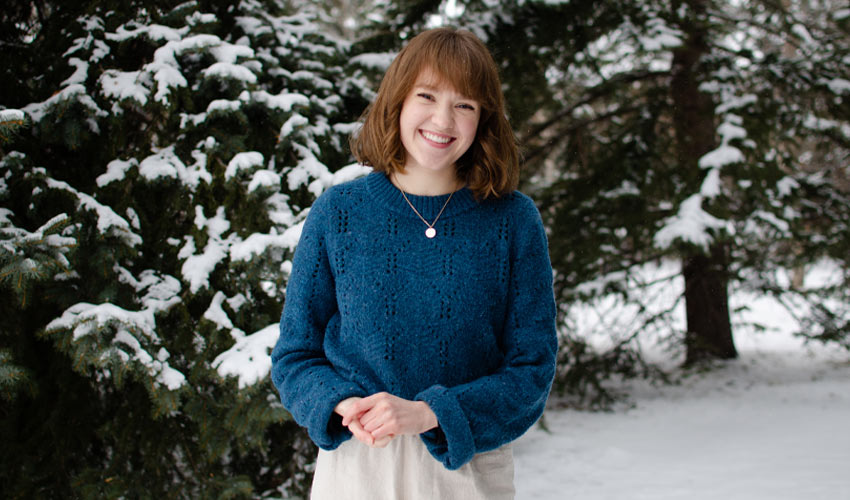 Student Laura Alwast feels more ready to move into her career after her capstone experience. 
---
The Bachelor of Child Studies focuses on early learning and child and youth care to prepare graduates to become strong advocates for children, youth and families. This year, 16 students from both majors — child and youth care counsellor and early learning and child care — partnered with ELCC & Community Development (a professional development resource hub for families, early childhood educators, school-age professionals and child-care programs in Calgary) to develop and conduct a multidimensional program evaluation of their work, says Monica Pauls, associate professor and capstone lead.
"Through relationship building and stakeholder engagement, the students created and implemented the evaluation and are now in the final stages of data analysis, writing and dissemination," Pauls says.
As a result of their work, the students were accepted to present at the (virtual) Canadian Evaluation Society Conference in May. They are creating a digital story titled, "Are We There Yet?: A Student Journey Through Evaluation," which will describe their experience working with a community partner and conducting a complex program evaluation.
"This is an incredible accomplishment and an amazing opportunity for students to share their work and experiences on an international stage," Pauls says.
Student Laura Alwast took part in the project, saying that at the beginning she wasn't that familiar with the world of evaluation. Seven months later she is excited to bring everything together, step out of her "comfort zone" and share with the broader evaluation community.
"We dove deep into topics we have touched on in years past, such as surveys, interviews and focus groups (from our community research course), while also investigating new topics, such as what it looks like to have inclusion within the evaluation process," Alwast says.
"Going forward from this degree, I have gained more experience working within a team and have learned so much about teamwork and communication. This will certainly benefit me as I move on from MRU to employment in the field."
Bachelor of Health and Physical Education ― Ecotourism and Outdoor Leadership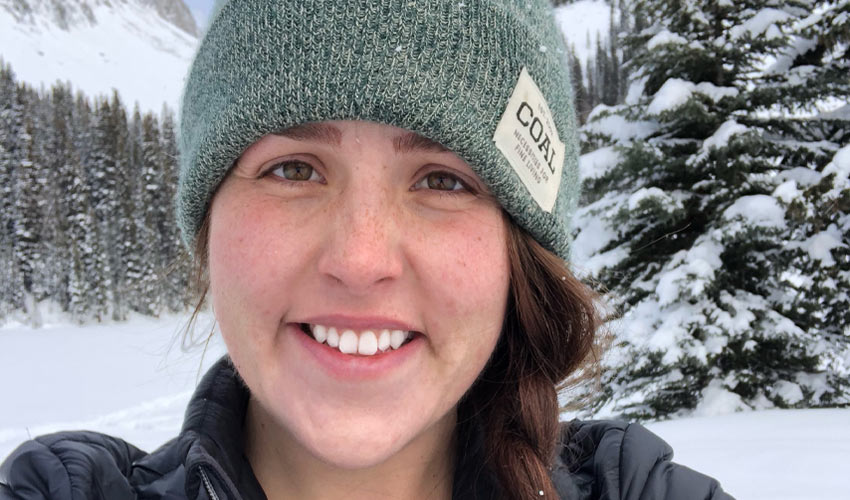 Ecotourism and outdoor leadership students Briana Hamilton (pictured) and partner Charlene Weston created a podcast for their capstone project.
---
The ecotourism and outdoor leadership (ETOL) program is designed to provide students with the foundation they need to succeed in the fields of sustainable tourism, outdoor adventure programming and entrepreneurship, leadership and communications. Overseen by Dr. Joe Pavelka, PhD, the ETOL capstone course is designed to be "future facing" and focus the student on their next steps.
"The capstone project's emphasis is on developing a deep understanding of the sector and to imagine what it may be like well into the future, taking into account the social and economic world we inhabit," Pavelka says. "We take a co-teaching approach, whereby students develop seminars for each other and we bring them online to support ETOL students just starting out."
Senior students introduce those new to the program to the complex landscape of ecotourism and outdoor leadership they are entering, Pavelka says. This year they developed 15-minute podcasts. For their project, students Briana Hamilton and Charlene Weston put together a solo podcast discussion titled The Complexity and Feasibility of Sustainability in which they discussed their research findings and how they apply to the real world.
Sustainability is a multifaceted issue in the ecotourism world, which made it a challenge to fit all of their findings into a mere quarter of an hour. The pair found that the time limit allowed them to leverage their ability to be critical thinkers, however, and narrow their topic down to what they found to be most important and relatable to the audience.
"It was a wonderful refresher to ground ourselves with a complex issue within our field that we can take forward as we start our careers," they say. The project also helped them to step back for a broad overview of the concepts they learned during their time in the ETOL program.
"It was invaluable to see the changes that have occurred since we started our program, as well as how our interpretation and understanding of sustainability has immensely improved."
The pair gained confidence in their knowledge within the industry and learned how to be strategic in how they share information. They believe that will pay dividends in interview situations and also provide the confidence they need to propose project ideas and solutions professionally within the workplace.
The podcast itself is also an attractive component to add to a resume, they say.
"With the world vastly adapting to being online, podcasts can be very valuable. Education programs can teach and share information this way, tourism can provide interpretations and stories this way … the list goes on."
Listen to The Complexity and Feasibility of Sustainability.
Bachelor of Education — Elementary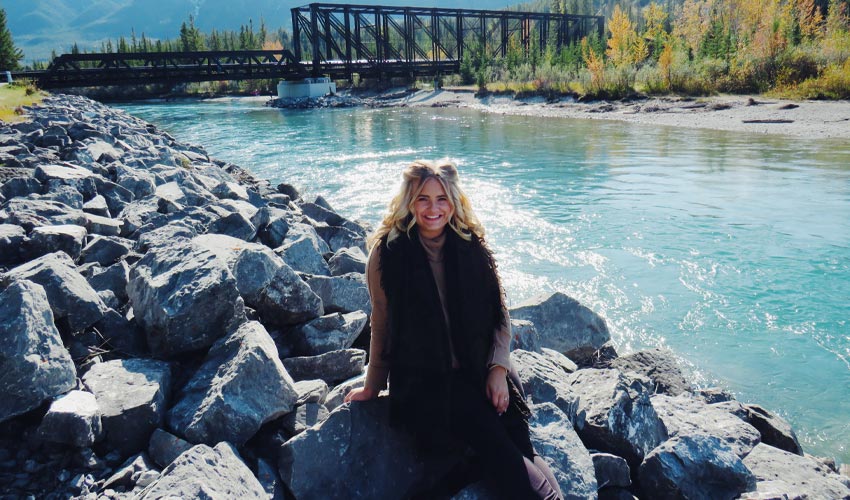 Education student Megan Brawner incorporated her minor in physical literacy into her final project.
---
Teacher-candidates (TCs) in the Bachelor of Education ― Elementary (BEd) major are in Kindergarten to Grade 6 classrooms right from their very first year at MRU. The BEd capstone course is integrated into the TC's final practicum, which involves a full semester teaching placement at schools with the guidance of mentor teachers and support of faculty supervisors. As the program is designed to help TCs obtain their Alberta Interim Teaching Certificate, the capstone course is modelled after what teachers are required to do each year as part of their professional practice.
This year the course is being taught by Dr. Tanya Stogre, PhD, Dr. Michelle Yeo, PhD and Dr. Norman Vaughan, PhD. Each year Alberta teachers are required to create Professional Growth Plans. These plans consist of setting goals and documenting growth related to planning, facilitation, assessment, creating an inclusive environment, and professional roles and responsibilities.
At Mount Royal, TCs create similar Professional Learning Plans (PLPs), with goals that are specific, measurable, attainable, relevant and time-based (SMART). After identifying their goals, the teacher-candidates must then set up a plan about how to achieve them. Often the goals are based on how to engage in a more relevant and meaningful way with the Alberta K-to-6 curriculum.
At the end of the practicum, the TCs showcase their PLPs to their mentor teachers, faculty supervisors, and peers. The TCs are also using their PLPs to demonstrate their competencies to school district recruiters and principals in online interviews.
In addition, Vaughan indicates that many alumni continue to use their MRU PLPs for their annual school district professional growth plans. BEd alumna Riley Koch is still building on her PLP, which she calls Ms. Koch's EDventures. On her landing page she writes, "I have designed this site to showcase my 'ED'ventures, while specifically focusing on my accomplishments and professional growth in order to present who I am as an educator."
In terms of the capstone project, TCs have the option to choose either a curricular or professional inquiry. The curricular inquiry allows TCs to document the process of analyzing, designing, developing, implementing and evaluating a major unit of study from the Alberta curriculum. The professional inquiry focuses on topics of special interest to the TCs such as mindfulness, inclusive education practices and wellness. This semester there has been an increased focus on professional inquiries as our TCs investigate teaching strategies to help their practicum students and themselves remain safe and engaged during the COVID-19 era. This year's annual showcase will take place in a virtual format on April 21 from 1 to 3 p.m. All are invited.
Another interesting aspect of the MRU BEd is that all teacher candidates are required to declare a minor. Megan Brawner is a fourth-year teacher-candidate completing her final practicum at the West Dover School. Her chosen minor is physical literacy, which played a large part in her PLP.
"I put together an 'Amazing Race,' where students could learn and 'travel' to different places and work on skill development in varying sports, while also making it engaging, relevant and fun." She connected with Dr. David Legg, PhD, who as past-president of the Canadian Paralympic Committee offered insight as to how sport can have positive impacts on every individual, no matter the background or ability.
"Although I am not yet finished, this experience has not only solidified my own personal passion, but my teaching implications and philosophy," Brawner says. "The capstone reaffirmed many questions I have had around who I am as an early educator, and 'wrapped up' my degree in the sense of continual self-discovery through theory to practice. I have been able to take all of my experiences through my degree and intertwine them into my final practicum, engaging in a real school, with amazing students, testing out and taking risks that have an emphasis on my passions and my rationale for becoming a teacher."
Bachelor of Health and Physical Education — Physical Literacy
Students in the Bachelor of Health and Physical Education — Physical Literacy learn how to incorporate elements of physical activity plus mental and social well-being while fostering the motivation and confidence that leads to a healthy and active life. Their capstone project is a culminating assignment providing the opportunity to synthesize the knowledge gained throughout their time spent in the program.
"Students are encouraged to connect their projects to community issues or problems and to integrate practicum experiences to deepen this learning. This project involves developing a research question, designing a study, collecting data, analyzing the results and presenting the findings to the community," says Dr. Lynne Lafave, PhD. An associate professor, Lafave's research focuses on well-being, nutrition and physical activity initiatives in the early years (from three to five years of age).
Five students in Lafave's capstone course: Mabel Au, Janaya Callejon, Maddison Drader, Amanda Paterson and Makayla Skrlac combined their minds to come up with their project, titled, "Should I catch the 10pm sleep train? Patterns of alertness in early-adulthood cisgender females' sleep hygiene practices." The project won for the Faculty of Health, Community and Education during the 2021 Research and Scholarship Days.
When discussing their topic, the group realized that sleep wasn't something they had much of over their time at MRU, but they were well aware of how important it is — as well as the need for more information around it.
"Sleep research is limited to studying male bodies, and as a group of self-identified females, we noticed an obvious gap in the literature on the topic of female sleep. Another gap in the literature was sleep research conducted on the early- to middle-adulthood age range," they say. They decided to research sleep in relation to physical literacy, and then brainstormed factors that contribute to or affect sleep as well as potential limitations to their inquiry.
The group presented their "quasi-experimental" study to their capstone classmates, and also put together a final paper and poster. They say the project was challenging and forced them to push their limits, but that made the experience all that more valuable.
"The capstone project really showed how serious collaboration is and what project management is truly all about," they say. "It was a great experience in dipping our toes into research and getting a feel for the process in practice, rather than just in theory."
They call themselves "lucky" and "fortunate" to have been able to work together, and kept finding continuous inspiration from each other.
"It was great to be able to take such a broad topic of interest for all of us and use our previous course knowledge to collaborate and narrow it down into a really solid foundation for research."
The group even suggests stretching out the capstone experience over two semesters to provide them more opportunities to dive deep and then disseminate their findings. The chance to further present as well as to include their study on their resumés means their project is already paying off immediate dividends.
Bachelor of Health and Physical Education — Sport and Recreation Management
Student Kaylin McKay says her sport and recreation management capstone experience helped her polish off her degree. 
---
The Bachelor of Health and Physical Education — Sport and Recreation Management (SRMG) capstone engages students in three main tasks throughout the semester, says Dr. Julie Booke, PhD, associate professor and SRMG program coordinator. They develop and conduct a research project, engage with experts in the field of sport and recreation management, and lead and participate in student-run seminars focusing on current issues, topics and trends in the field.
First off, "students learn about the research process, design and conduct a research study, and disseminate the findings within MRU," with examples being a research paper, or an oral or poster presentation, Booke says.
Then, throughout the semester a number of guests speak with the students about their sector. Speakers have included early career alumni working at various places like Edge School for Athletes, Hockey Canada, and the Town of 3 Hills, as well as experienced alumni in careers at places such as Hockey Canada and Calgary Parks, and CEOs of recreation facilities such as Repsol Sport Centre and Vivo for Healthier Generations. Topics have included the impact of COVID-19, strategies for gaining employment and shifts in member wants.
Finally, for the current issues seminars, each student is required to create a presentation on a current topic or issue.
"Since we are online this year, students recorded 15-minute presentations on a current topic or trend with a focus on sport or recreation management. Then the students engaged in a discussion board throughout the week. At the end, the student facilitating the seminar is required to analyze the discussion board and create an infographic of what was discussed," Booke says.
Kaylin McKay calls her experience with the SRMG capstone "an amazing journey," and appreciates the opportunity to bring together all three parts of the project and polish off her learning at MRU. She is currently working with another student on how Calgary's infamous Red Mile affects fan behavior, carrying out a content analysis to provide insights into what Calgarians are saying.
"This course, in connection with the two health and physical education practicum courses, gives a lot of value to the sports and recreation management program," McKay says.
"I have been able to build up some volunteer work experience within my desired field as well as network with professionals and students. I am excited to graduate and get into the workforce."
Find out more about all experiential learning opportunities available in the Faculty of Health, Community and Education.
April 13, 2021 — Michelle Bodnar
Media request contact information.
Have a story idea? Please fill out this form.