Faculty podcast initiative honours the stories of Black immigrants in Canada
New conversation series helps address racial injustices in education
Katherine Sharples — Mount Royal University | Posted: March 28, 2022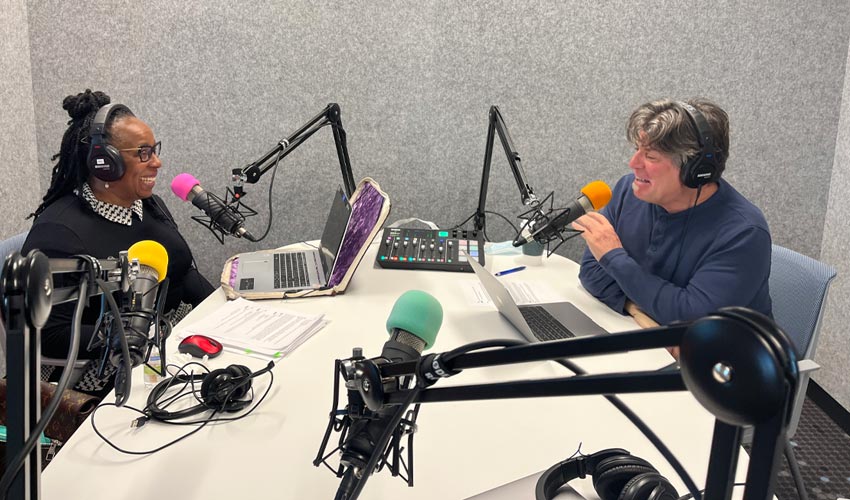 Marva Ferguson, left, is joined by Joe Pavelka to discuss a variety of important topics, including the history of Black settlement in Canada, the impact of racism, and strategies to better actively practice anti-racism.
---
Marva Ferguson is an assistant professor in the Faculty of Health, Community and Education has just launched a new podcast series titled Standing on the Shoulders of Greatness: Honouring Generations Who Came Before, which is primarily dedicated to educating social work students on racial injustice. The series will amplify the voices and experiences of Canada's Black community.
"There is a lack of information and understanding about the presence and contributions of Black people in Alberta and across Canada. Additionally, I recognize the limited awareness about the Black community within academia," Ferguson says. "Unfortunately, this lack of awareness contributes to the presentation of Black people from a place of deficit instead of strength. We have to change the discourse."
While the premise of the series intends to educate both students and the greater Mount Royal community on the history of Black Canadians and the injustices they face, Ferguson shares that the series also hopes to provide much-needed representation.
"From each episode, students, especially, will see and hear themselves and it's a reminder that their narrative and stories are just as important as the ones shared by myself and future guests," she says.
In the first episode, Black History in Canada, Ferguson is joined by ecotourism and outdoor leadership professor Joe Pavelka, PhD, to discuss a variety of important topics, including the history of Black settlement in Canada, the impact of racism, and strategies to better actively practice anti-racism.
"Listeners will hear some history and some of my story, and recognize the successes and contributions those have made to the development of the community," Ferguson says.
Future episodes are in the works and will be released on a rolling basis. Featured will be community members from different backgrounds who will share their experiences in the hopes of revealing information that may have otherwise remained unknown to public service providers and social workers.
"This will truly help with including the voices that may not have had the opportunities to share their stories, which will contribute to teaching and learning as well as contribute to research," Ferguson says.
Listen to Episode 1: Black History in Canada.
About Marva Ferguson
Marva Ferguson is a social worker, advocate and educator. She holds a Bachelor of Social Work and a Master of Social Work, specializing in leadership in the human services. She has a certificate in disaster management and is a trainer/facilitator in Mental Health First Aid and Critical Incident Stress Management. Ferguson's current interest is in anti-Black racism, anti-oppression and critical race theory approaches to social work practice. Her current research interest is in sequence migration with a focus on the personal stories of Jamaican adults who migrated to Canada as children. Ferguson sticks close to her Jamaican roots and organizes the Quick Response Project that provides resources for individuals struggling with the outcome of COVID-19. She encourages students to stay curious and to question knowledge continuously.
Ferguson is a proud aunt to many nephews and nieces, including a set of triplets and a nephew who was a member of the bobsleigh team in the 2014 Sochi Olympics.