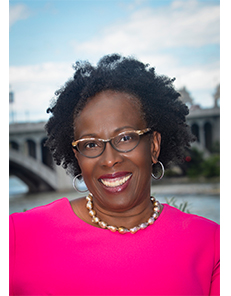 Marva Ferguson
Academic Title: Assistant Professor
Areas of Instruction
Crisis counselling, mental and supervision, leadership and social justice, critical race and anti-racism studies, diverse theories, domestic and sexual violence, community/rural development, women and development studies, mental health, emergency and critical incident stress management
Degrees
PhD, Student at Memorial University, Newfoundland & Labrador
MSW, University of Calgary
BSW, University of Calgary
Phone: 403.440.7083
Email: mferguson@mtroyal.ca
Scholarly Interests
The integration of racialized students in Canadian education
Settlement and integration of newcomers to Canada
Politics of Caregiving
Community Service Learning (CSL)
Persistent Poverty
Professional Community Service Interests
Mentorship
Immigrant Network
Crisis and Disaster Response
Research and Scholarly Projects
Ferguson, M. (2016), June's Story…Getting help after a sexual assault. In S. Hick & J. Stokes (Eds.). Social Work in Canada, 4th ed, p. 269 Toronto ON: Thompson
Co-Investigator on the project Creating a Culture of respect: A mixed method evaluation of gender and sexual diversity training for students in the helping profession, Mount Royal University in collaboration with the Calgary Sexual Health Centre (CSHC)
Adjei, P., Issahaku, P., Giwa, S., Ferguson, M., Gateri, H., Richard, D., (2018). "An octopus skating, the sensation of moving while standing": The racial diaries of Black social work educators in the era of Donald Trump presidency. Presentation at the Congress of Humanities and Social Sciences, Regina, Saskatchewan, May 31, 2018.
Ferguson, M., Strangers in the new Homeland: The personal stories of Jamaican Canadian adults who migrated to Canada as children. Presentation at Mount Royal Faculty Association Retreat, May 1, 2018.
Ferguson, M., Post migration era: The role of parents/grandparents in family structures, family stability and sustainability in new Homelands. Presentation at Strangers in the New Homelands, 10th Anniversary Celebration, Conference, Winnipeg, Manitoba, November 2, 2017.
Oliver, B., Van Tassel, B., Ferguson, M., O'Brien, K., (2017) Creating a culture of respect: Delivering gender and sexual diversity curriculum to students in the helping professions. Paper presented at The International Society for the Scholarship for Teaching and Learning Conference (ISSOTL), Calgary, Alberta.