Building a just and sustainable future for all
Catamount fellows showcase their findings during Research and Scholarship Days
Rob Petrollini — Mount Royal University | Posted: April 4, 2022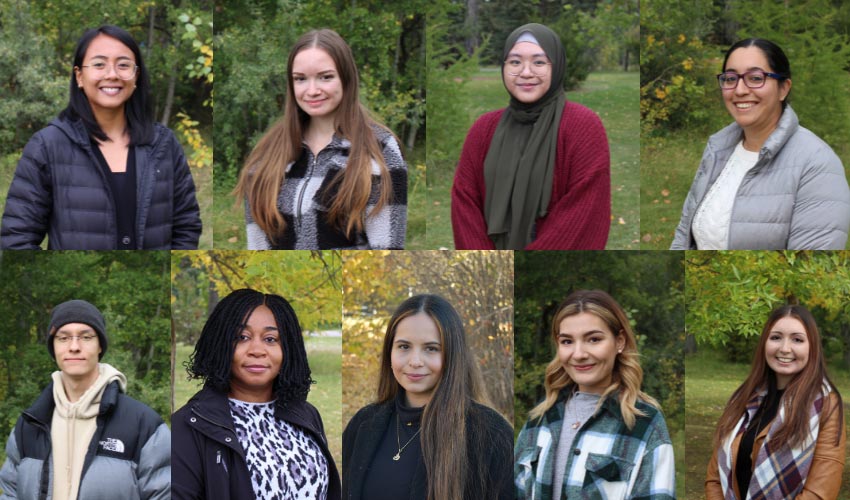 The Catamount Fellowship is a cohort-based learning experience for MRU students committed to building a more just and sustainable future for all. Pictured left to right top row: Leanne Lucas, Emma Berger, Amirah Azmi and Roshni McCartney. Pictured left to right bottom row: Michael Kozhukhar, Chichi Odinma, Benin Al-Manaihil, Kaylie LaPierre and Kaitlyn Squires.
---
Catamount Fellowship students spent the 2021/22 academic year garnering experience by working to understand the root causes of community-identified ecological, social, economic and cultural issues. This important research and outreach work was on display during this year's Research and Scholarship Days.
The fellows and the Institute for Community Prosperity hosted a virtual showcase of their work on Friday, April 1, with discussions and presentations taking place about the students' findings.
The Catamount Fellowship is a cohort-based learning experience for MRU students committed to building a more just and sustainable future for all. The program runs from late September through the end of April and meets weekly. The fellowship is one part community-partnered research and one part transformational learning.
"These are senior-level students from across academic disciplines who have a demonstrated interest in building a more just and equitable future for all," says Barb Davies, program lead for the last three years. "The fellowship uses a systems-thinking approach to equip students with the tools and capacity needed to navigate complex 21st-century challenges. My role is to develop and design the program delivery in a way that supports students' growth as changemakers and integrates tools and frameworks for working in complexity."
Students are matched with a community partner and a faculty mentor to guide their research. Partners identify a systemic issue that's affecting communities and work alongside the student fellow as an informant and connector to stakeholders also working to address the issue.
This year's community partners include the Whitehorse Aboriginal Women's Circle, Vibrant Communities Calgary, Canadian Parks and Wilderness Society, Brookfield Residential, Elizabeth House, MRU's Institute for Environmental Sustainability, the Livingstone Range School Division, the Brenda Strafford Foundation, the Canadian Poverty Institute, Trellis, Silvera for Seniors and United Way Calgary and Area.
Student participation comes from all faculties and the collaboration has reinforced community relationships, meaningful mentorship roles for faculty, and community service learning for students.
Fourth-year nursing student Chichi Odinma partnered with Silvera for Seniors and dove into the issue of lifelong learning and how to engage with older adults.
Odinma completed her nursing community practicum with the Iniskim Centre, engaging with Indigenous people on campus and in the community. The experience revealed the events of colonialism and its profound negativity on the health and general well-being of Indigenous people.
"It gave me insight into ways to mitigate the effects that have the potential to improve the well-being of Indigenous Peoples," Odinma says. "I began to think of other marginalized population segments, in need of advocates to voice their concerns. When the Catamount Fellowship opportunity came up, I felt it was the platform I needed to help facilitate change among vulnerable populations in the community."
Davies says that alongside community-engaged research, student fellows meet as a cohort to build their own capacity as changemakers through peer-to-peer learning. "Drawing from systems-led leadership practices and Indigenous wisdom, students grow as individuals and engaged citizens with skills and aptitudes they can take into their future careers."
"What initially drew me to apply to the Catamount Fellowship is the want to be a more active part of the Calgary community and to use my research skills for the betterment of life around me," says criminal justice major Michael Kozhukhar, who partnered with United Way Calgary and Area.
"Upon finishing the first year of my bachelor's degree, I decided then that I would find an opportunity that would allow me to fulfill myself in that way. When I had a chance to read the previous fellows' works, I knew I had to apply. Now that I am in the final stages of completing my own work as a fellow, I can confidently say that I am fortunate and thankful for this learning opportunity."
Applications for the 2022/2023 Catamount Fellowship cohort will open in Summer 2022. Students who are interested in applying can contact Barb Davies at bdavies@mtroyal.ca.