Indigenous grads celebrated for walking in two worlds
Annual event at Mount Royal melds cultures, traditions
Ruth Myles | June 9, 2022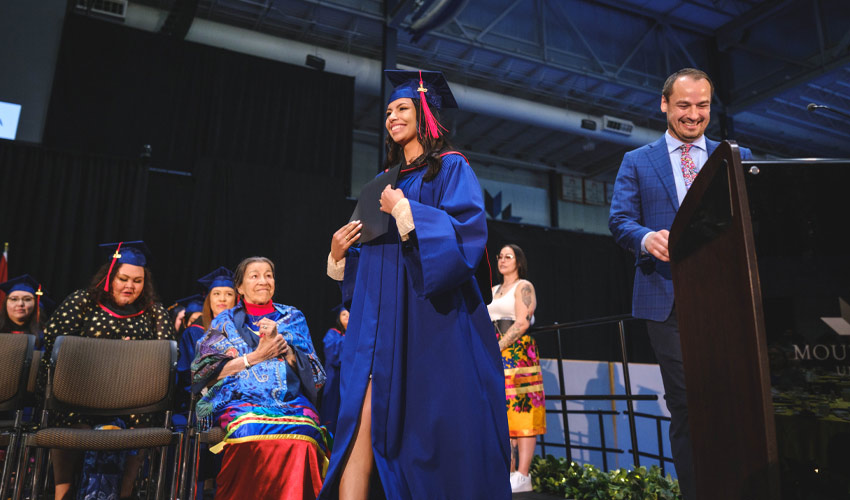 Katea Kootenay from Bearspaw First Nation, Treaty 7, crosses the stage after receiving her Indigenous University Bridging Program (IUBP) certificate from administrator Tori McMillan, member of the Berens River First Nation, Treaty 5, right. Cree Elder Doreen Spence, seated, also attended the Indigenous Graduation Celebration held at Mount Royal on June 6. Kootenay has applied to the Bachelor of Arts Psychology and the Bachelor of Arts — Sociology for the Fall 2022 semester.
---
Hundreds of people gathered in community to celebrate the end of one journey and the start of another as Indigenous students at Mount Royal University were recognized for reaching their academic goals.
Elders, dignitaries, students, family, friends, faculty and staff gathered at the Indigenous Graduation Celebration, held on the Mount Royal campus on June 4. The achievements of the Indigenous graduates of degree, diploma and certificate programs and of the Indigneous University Bridging Program (IUBP) are much more than a credential, said dr. linda manyguns, phd, associate vice-president, Indigenization and decolonization.
"We also have to walk in two worlds. To walk in two worlds means you never, ever leave your culture behind — that you bring it with you. You don't leave it at home or at the door or just in a ceremony. It is woven right into the essence of who you are. It is you," manyguns said. "As Indigenous people, we have the capacity of knowing many worlds because we are holistic … we learn to walk in two worlds and we learn to achieve these markers in time, these pieces of life that give you a stepping stone. This opens up many doors to you."
The event began with a Grand Entry and included prayers and words from Espoom taah Roy Bear Chief of Siksika Nation; Elder Louise Crane of Métis Nation Region 3; and Elder Hayden Melting Tallow of Siksika Nation. President Joseph Pimlott, president of Métis Nation Local 87, brought words of encouragement. Grandmother Doreen Spence, who received an Honorary Doctor of Laws from Mount Royal earlier in the week, was also in attendance. Approximately 325 people attended the event, which honoured this year's 80 Indigenous graduates of degree, diploma and certificate programs and the 25 graduates of the IUBP.
Chris Rogerson, executive director, student affairs, delivered the words of MRU's president and vice-chancellor Tim Rahilly, PhD, who could not attend due to illness.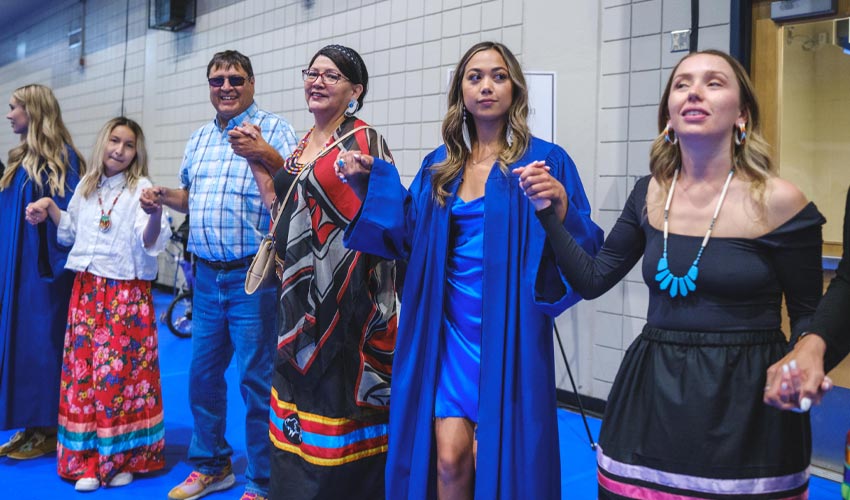 Grads, family, friends, faculty and staff took part in a round dance at the celebration.
---
"The Indigenous graduation events are always particularly special because there is so much warmth and pride alongside the formal process of recognizing our newest grads. Graduates, we are proud of you and what you have accomplished," Rogerson said.
"As people are transformed, they bring that change to the world around them. I cannot wait to see what you do in the future. Because you have grown, you are now more resilient. You're not finished changing, of course, as your life will be full of transformative moments. But remember what you've learned at Mount Royal."
Lindsey Red Crow, who graduated with a Bachelor of Arts — History, demonstrated that growth when she took to the podium when students were given the opportunity to address the gathering.
"It was definitely a long journey to get here, but it was worth it. Being a Mount Royal student taught me to come up and speak up, even if my voice is shaking. That is something I will always take with me," Red Crow said.
During the ceremony, First Nations and Inuit students were gifted with an eagle feather from Elder Melting Tallow, while Métis students were gifted a sash by Elder Crane. Students who graduated from degree, diploma and certificate programs were also blanketed by manyguns and Rogerson with Pendelton blankets featuring a white buffalo motif.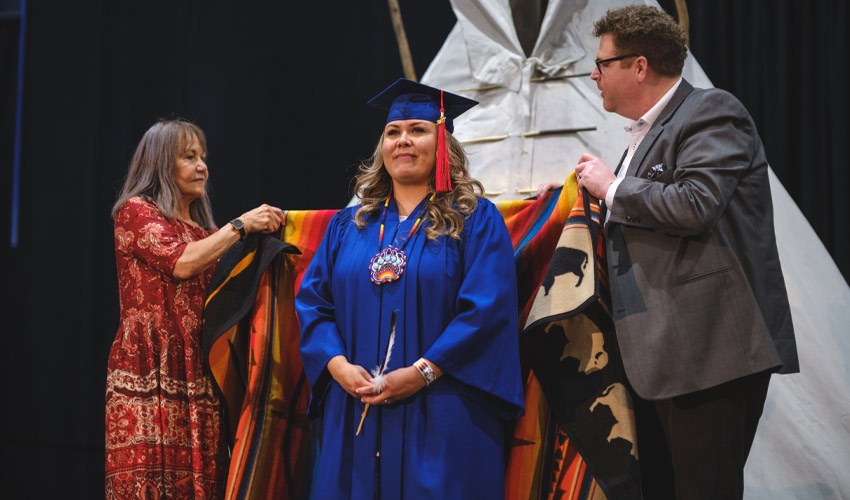 Lynsey Own Chief, who graduated with a Bachelor of Arts - Anthropology, is blanketed by linda manyguns, phd, associate vice-president, Indigenization and decolonization, left, and Chris Rogerson, executive director, student affairs.
---
The blending of traditions honoured Indigenous cultures, languages, identities and spirituality while recognizing the knowledge and skills of Western education the students earned to support their people and communities. The blanketing, for example, symbolizes protection for the graduate's journey into their careers or graduate school. The earning of an eagle feather and pinning of the sash are the highest honours in First Nation and Métis cultures.
"For too long, the narrative of education for Indigenous Peoples was negative, stemming from the Indian residential schools system. Going to school meant being taken away from your family and being forced to not practice your culture, language and spirituality through harsh and abusive methods that have impacted our families and communities for generations," said Steve Kootenay-Jobin, Indigenous housing and events coordinator and emcee of the event.
The IUBP has held graduation celebrations since 1994, the year after the program began. When Mount Royal became a University in 2010, credential graduates began being celebrated as well and the Indigenous Graduation Ceremony emerged. As Mount Royal's Indigenous student population has grown, so, too, has the event. This year, it took place in the largest space on campus — the Triple Gym. New cultural elements added for 2022 included a 25-foot painted tipi from Ellery Starlight of Tsuut'ina Nation hanging in the gymnasium. Tables were dressed with white, yellow, red and black linens to represent the sacred colours of the medicine wheel. Centrepiece vases depicting a buffalo and filled with stones, designed by Iniskim student success coordinator Marija Small Legs (Pikanii Nation), symbolized the message that education is the new buffalo. In addition, a tipi was set up outside for graduates and their family and friends to take photos by.
Many of the students at the event took the opportunity to thank their family and friends. As the event was live-streamed on Mount Royal's YouTube channel, they also gave shout-outs to those attending virtually. Many made a point to mention that the support they received from the staff and programming at the Iniskim Centre as making a real difference in their journey.
The Iniskim Centre offers programs and services to increase the engagement and success of Indigenous students while also raising awareness of Indigenous people and cultures. With Indigenous students coming to Mount Royal from Ontario, Manitoba, Saskatchewan, Yukon and across Alberta, having a culturally affirming community and experience eases the transition to post-secondary life.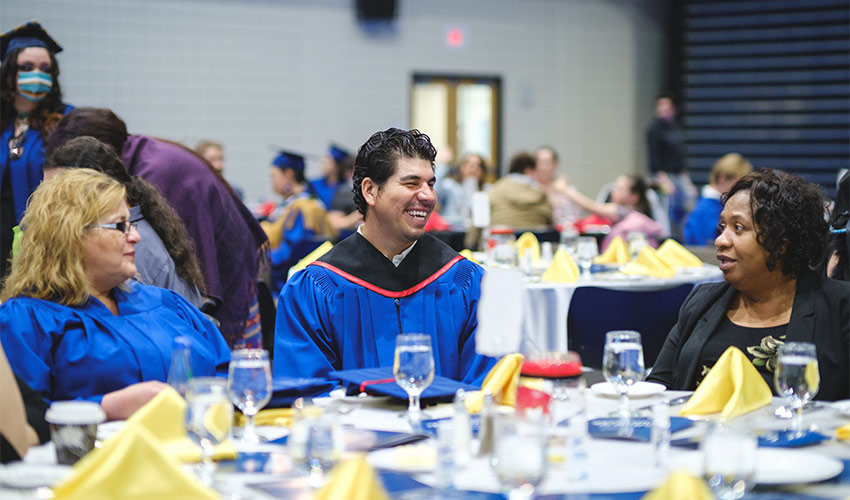 Graduates celebrate their achievement at the event held in the Triple Gym.
---
"I want to say thank you to everyone in the Iniskim Centre. Staff and students, you truly made me feel like I belong somewhere," said IUBP grad Atefeh Parsizadeh. "You have all impacted my life in such a profound way. I am forever thankful to walk this life alongside so many knowledgeable, passionate and supportive people."
As many of the graduates were first-generation university students, the event was designed for family and community members to join in the celebration. An activity centre was set up with activities provided by the Bachelor of Child Studies Student Society as a means to encourage people to bring children to the event.
"The more we have children on campus and the more we normalize the university setting for them — including seeing role models who look like them being celebrated — the more likely it is that these children will pursue education for themselves," Kootenay-Jobin said.
Tori McMillan, a member of Berens River First Nation located in Treaty 5 territory, is administrator of the IUBP, which supports Indigenous students as they prepare to pursue post-secondary education. Many students go on to credit studies after completing the program.
Graduates should make an effort to share their Mount Royal stories as Indigenous students "claiming their rightful place at the post-secondary table," McMillan said. Doing so can encourage others to explore their options and start their own journey, he said, as "they know someone they trust has walked this path." IUBP grads from this year's celebrations have been accepted into degree and diploma programs at Mount Royal and other post-secondary institutions.
Director of the Iniskim Centre John Fischer reminded students to enjoy their day, remembering how nervous he was for the graduates at Plains Indians Cultural Survival School. In addition, students have "have been through a lot, not only because of COVID and the epidemic of drugs and deaths due to drugs, but also because we have this legacy that we have been living with and living through and now we are living beyond."
Fischer reminded the audience of something emcee Kootenay-Jobin had said earlier, quoting former Senator Murray Sinclair, chair of the Truth and Reconciliation Commission of Canada: "Education got us into this mess and education will get us out of it."
He pointed out that "Murray Sinclair also said that the best measure of reconciliation is students' success and we are seeing that here today in droves."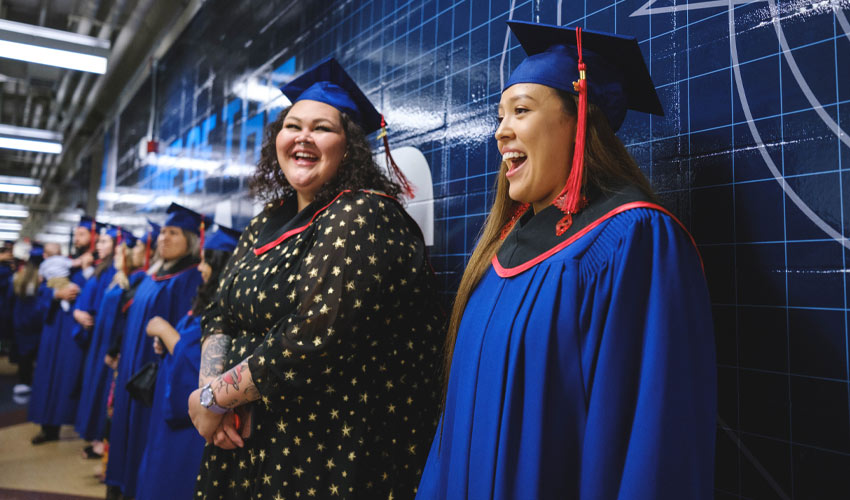 Graduates line up to take part in the Grand Entry that opened the celebration.
---
After the ceremony, students were welcomed into the alumni family with a pin from Alumni Relations. In addition, graduates received a photo of themselves on stage with Rogerson and manyguns as well as a family photo session courtesy of Lifetouch.
The celebration also featured mealtime entertainment by traditional powwow dancers Wandering Spirit, accompanied by The Sorrel Rider Singers, who provided the drumming and singing throughout the event. Métis Nation Region 3 Dancers also performed and got audience members up on stage to jig with them.
Some of the graduates and their families will be back to celebrate in the fall at an on-campus powwow, a tradition since 1994. That event, as well as the Indigenous Graduation Celebration, are supported by Imperial Oil.