The runway ahead
Mount Royal's aviation program is filling major gaps in the market
Dave McLean — Mount Royal University | Posted: February 24, 2023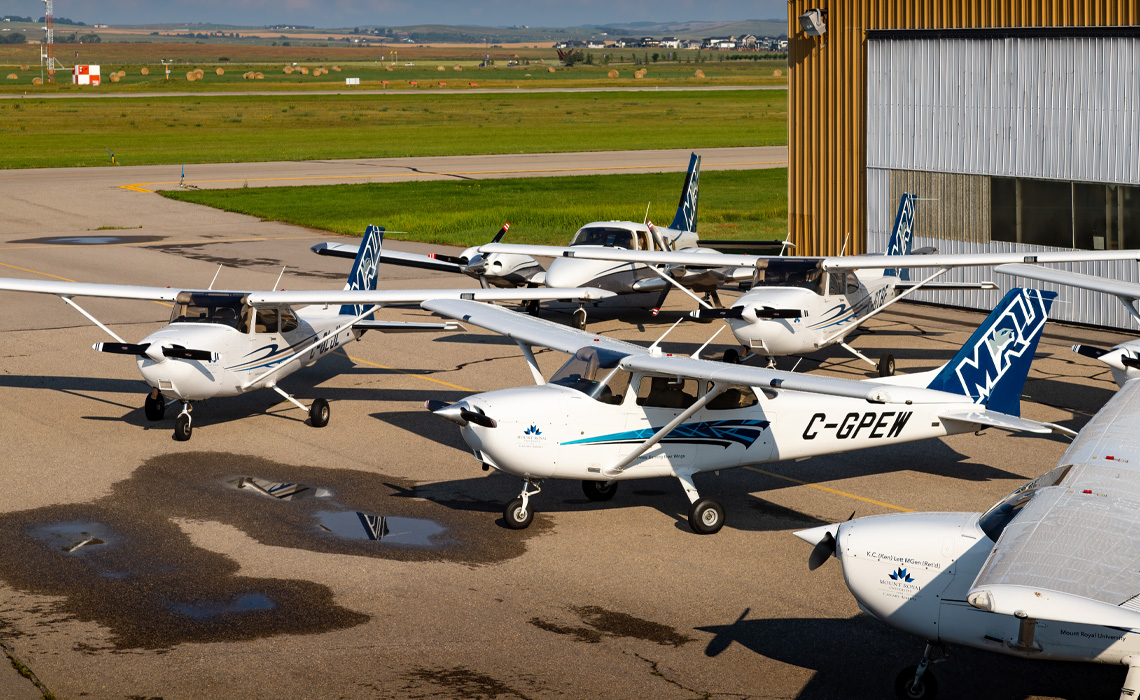 Through investments from government, industry and donors, Mount Royal's aviation program is increasing program offerings and forging stronger industry connections.
---
Travellers the world-over excitedly returned to the skies in 2022, but not without some turbulence. As international Covid restrictions were lifted, a surge in demand for air travel overwhelmed an already bruised industry and left airlines scrambling. In fact, Transport Canada data reveals that only 238 pilot licenses were issued last year – a decrease of more than 80 per cent compared to 2019.
Thanks to investments from government, industry and donors, however, MRU is poised to supply the talent needed to bring the industry up to altitude. Plans for the Aviation Diploma include expanding the training fleet, building a new hangar to add learning spaces, increasing program offerings to meet industry demand and forging stronger industry connections.
Grounded in history
Mount Royal's Lincoln Park campus sits on the former site of the No. 3 Service Flying Training School, which saw thousands of budding aviators train for duty during the Second World War. Shortly before Mount Royal moved to its current home from its downtown campus in 1972, members of Calgary's aviation community successfully lobbied the institution's leaders to start an aviation-training program. A group of Royal Canadian Air Force veterans assembled at the then-college to teach the first cohort of fledgling flyers and address a national shortage of commercial pilots.
A fleet to envy
The venerable Cessna 172 makes up the majority of MRU's training fleet. This reliable and safe, single-engine workhorse has been in production since the 1950s, but the current R and S models feature advanced avionics technology rivaling even some airliners. To complete the two-year program, students also earn their multi-engine instrument rating on the tried-and-true Piper Seneca.
"Mount Royal aviation provides state-of-the-art airplanes, instructors who are well-trained and accommodations for every type of student," says Ethan Best, who is in his second year of the diploma. "The student-centric philosophy pushed by the staff really makes us feel like we are an integral part of the program."
Alberta advantage
The Springbank airport (CYBW in aviation lingo) is located on the western edge of Calgary — Canada's sunniest city. Wide-open spaces, proximity to the mountains and ample good weather makes the area an excellent destination for flight training. In fact, CYBW was the fifth-busiest airport in Canada in 2021 (based on aircraft movements), giving students an advanced education in busy airport environments.
While all flight operations take place at the Springbank airport, many courses and simulator training sessions are held at MRU's Bissett School of Business. New government and donor funding will allow for the building of a modern aviation campus at Springbank.
"We want to be looking at a new hangar with classrooms and simulators there, so everyone can be in one space." says Deanna Wiebe, chair of the Department of Aviation.
Investing in the industry
An October 2022 memorandum of understanding between the Government of Alberta and WestJet will provide MRU with $8.16 million, expanding the Aviation Diploma program by 40 students to help meet the known labour market demand for pilots.
Degree program in development
In addition to the existing two-year diploma, the Bissett School of Business is seeking approval for a four-year Bachelor of Aviation Management with the help of $6 million in funding from the province. "The degree will provide a business and operations management focus and appeal to pilots or non-pilots looking to open up operations and executive management careers within the industry," says assistant professor of aviation, Chris Gillanders.
"We'll have topics that relate specifically to aviation, from supply chain and logistics to environmental issues, ethics and financial management," adds Wiebe.
Inclusion on the flight deck
According to Transport Canada, around 10 per cent of active commercial pilots are female and even fewer come from Indigenous backgrounds. In collaboration with organizations such as Canadian North and Elevate Aviation, MRU is actively working to change that. Generous donations from Ken Lett, chairman of the Executive Flight Centre, now total nearly $3 million and will also play a part in changing the face of the industry.
"Every airline, every airport, every aviation services operation needs good business leaders who understand flying," Lett says.
Is the future friendly for flyers?
With all the talk of automation and remotely piloted aircraft, where does that leave future aviators? For today's pilots preparing for the future, non-technical skills such as crew resource management, assertive communication and situational awareness will continue to be required. As long as there are passengers on board, Gillanders doesn't see the need for pilots up front going away. "A pilot trainee today will advance in their career in aviation not seen in the past 50 years in Canada," he says.