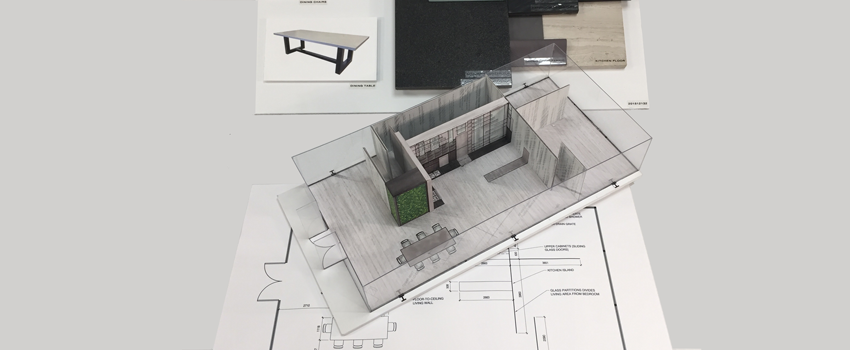 Develop your passion for creating spaces that profoundly influence the quality of people's lives. The Bachelor of Interior Design will provide you with the knowledge, skills, abilities and experience to make your contribution.
Unique curriculum
The leading-edge, highly integrated curriculum is combined with an interactive approach to learning in the design studio. You'll receive an increasingly advanced level of theoretical, pragmatic, and professional knowledge as well as digital communication techniques to support the development and application of your creative, abstract and critical design skills.
Smaller class sizes
Students value Mount Royal for its smaller, student-focused learning experience. The Bachelor of Interior Design studio environment features a typical professor to student ratio of 1:20.
A degree with internship + career options
Through eight semesters of study and one semester of a required industry internship, graduates will be prepared for a career as an:
interior designer in residential or commercial design;
a facility planner (e.g. oil and gas industry, education, healthcare and airports);
a manufacturer's representative;
a showroom designer/consultant; or
a retail sales or design consultant.
Further your education
With an undergraduate degree in interior design, you will be well-positioned to pursue graduate studies in interior design, architecture, landscape architecture or environmental design, to name only a few.
CIDA accredited
The interior design program leading to the Bachelor of Interior Design is accredited by the Council for Interior Design Accreditation, www.accredit-id.org, 206 Grandville Avenue, Suite 350, Grand Rapids, MI, 49503.
The CIDA-accredited program prepares students for entry-level interior design practice, for advanced study, and to apply for membership in professional interior design organizations. The Bachelor of Interior Design degree granted by Mount Royal University meets the educational requirement for eligibility to sit for the National Council for Interior Design Qualification Examination (NCIDQ Exam). For more information, visit NCIDQ Exam eligibility. 
Learn more about our CIDA accreditation.
Bachelor of Interior Design CIDA Accreditation
Mission 
Our mission is to provide a holistic, interactive learning community that prepares graduates for the complex and dynamic practice of interior design.
Pedagogy
Our educational philosophy integrates theory, research and practice to develop students' critical thinking skills as they contemplate and solve real-world problems through ethical, human-centred, inclusive, integrated and sustainable design considerations.
Values
Building on its history at MRU and the location in Calgary, with a commitment to supportive learning, inclusiveness and equity, the Interior Design program values:
Learners

 

from diverse contexts who are compelled to engage in the process of design and are motivated to improve the quality of life for people in the built environment;
Faculty

 

of professional designers, architects and scholars who are committed to innovative, interactive teaching approaches that engage and empower students to achieve their design potential;
Alumni

 

who contribute to the larger community, the interior design profession, MRU and to the growth of our students; and the
Mount Royal

 

community that supports the delivery of innovative teaching and learning practices.
Interior Design Program Student Achievement
The following data was collected using institutional records and from the Internship Program — 2022.
It typically takes a full-time student enrolled in the Bachelor of Interior Design (BID) degree, taking approximately 15 credits per semester, four years to complete the BID program.
Student Retention and Attrition
87% of students admitted in the fall of 2021 returned in the fall of 2022, putting attrition at 13%.
Graduation Rates
Of the students graduating in 2022, 80% graduated in four years.
Acceptance into Graduate Programs
Eight of the 40 students who graduated in 2022 applied for graduate school, five were accepted into Master of Architecture programs. 
Job Placement Rates
80% of students who graduated in 2022 are employed in interior design or a related profession.