The Writer-in-residence program is an introduction to the University and Faculty of Arts to someone with a wealth of talent in the arts. The focus of creative writing develops our students for their future — it gives them direct access to accomplished writers who share their methods and challenges with writing and publishing. They have a first-hand opportunity to learn writing practices from professionals. Learn more about the Writer-in-residence program.
Event details
Where Beauty Survived: On Writing Black Faces into Green Places and White Spaces
Thurs., Feb. 3  |  1 p.m.
Online
Google Meet — you will receive an invite to join the event once you register.
This event is free. All are welcome to attend. 

Don't miss out on this opportunity to hear George read from his latest book, a vibrant, revealing memoir about the cultural and familial pressures that shaped his early life in the Black Canadian community that he calls Africadia, centred in Halifax, Nova Scotia.
Followed by a conversation moderated by Micheline Maylor.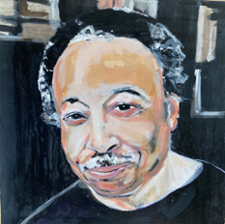 About George Elliott Clarke
The fourth Poet Laureate of Toronto (2012–15) and the seventh Parliamentary/Canadian Poet Laureate (2016–17), George Elliott Clarke, is a revered artist in song, drama, fiction, screenplay, essays and poetry. 
Born in Windsor, Nova Scotia, in 1960, Clarke is also a pioneering scholar of African-Canadian literature. A professor of English at the University of Toronto, Clarke has taught at Duke, McGill, the University of British Columbia, and Harvard.
He holds eight honorary doctorates, plus appointments to the Order of Nova Scotia and the Order of Canada. His recognitions include the Pierre Elliott Trudeau Fellows Prize, the Governor-General's Award for Poetry, the National Magazine Gold Award for Poetry, the Premiul Poesis (Romania), the Dartmouth Book Award for Fiction, the Eric Hoffer Book Award for Poetry (US), and the Dr. Martin Luther King Jr. Achievement Award. Clarke's work is the subject of Africadian Atlantic: Essays on George Elliott Clarke (2012), edited by Joseph Pivato.
His latest project? Vocals and lyrics for rapper Shad's song, "Storm."
Photo credit: Melanie Janisse
More on-campus opportunities to meet George
The Writer-in-Residence program explores opportunities for authors, students and faculty to meet, exchange ideas and increase awareness of scholarly and artistic endeavours. Want to be involved? Here are a couple of ways you can participate:
MRU Faculty find out more about how you can bring George into one of your classes during his week-long residency. For booking information, contact Natalie Meisner.
MRU Students submit your manuscripts (7–10 pages/1,700 words of creative writing any genre) for George's review by Jan. 20. You'll get a chance to have a follow-up one-on-one working session.
Please email 
Natalie Meisner 
your manuscript and book your working sessions.