Are we Canadian enough? Our home Canada - a Sikh's PerspectiveThe Manmeet Singh Bhullar Sikhs in Public Lecture Series
S/Sgt. Baltej Singh Dhillon is the first RCMP officer allowed to wear a turban on duty.
Join us as he recalls his experiences of migrating to Canada, integrating with community at large, and overcoming various challenges in both the larger community and the Sikh community.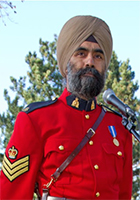 Event DetailsWed. March 16
4 p.m.
Everyone is welcome
Lincoln Park Room, J301
Mount Royal University
4825 Mount Royal Gate SW

---
From the Family to the Web: Religious Transmissions among Diasporic Sikhs
Dr. Jasjit Singh examines how young Sikhs learn about Sikh tradition, exploring the shirt which has occurred for many young south Asians in Diaspora who now identity more closely with a religious as opposed to an ethnic identity.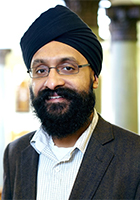 Event DetailsWed. March 23
4 p.m.
Everyone welcome
Moot Court, EA 1031
Faculty of Arts Building
Mount Royal University
4825 Mount Royal Gate SW
---
Sikh Sacred Music and the Performance of Sikhism in the Diaspora
Dr. Charles Townsend discusses the transnational movement to teach young Sikhs outside of India how to perform Gurbani kirtan and its role in making Sikhism "portable" to new contexts.
Event DetailsWed. April 6
4 p.m.
Everyone welcome
EA 1024
Faculty of Arts Building
Mount Royal University
4825 Mount Royal Gate SW
---
For more information on the 2016 Sikh Speaker Series, please contact Michael Hawley, Associate Professor and Coordinator,
Religious Studies, Department of Humanities