Katelyn Stone Governor General Silver Medal Recipient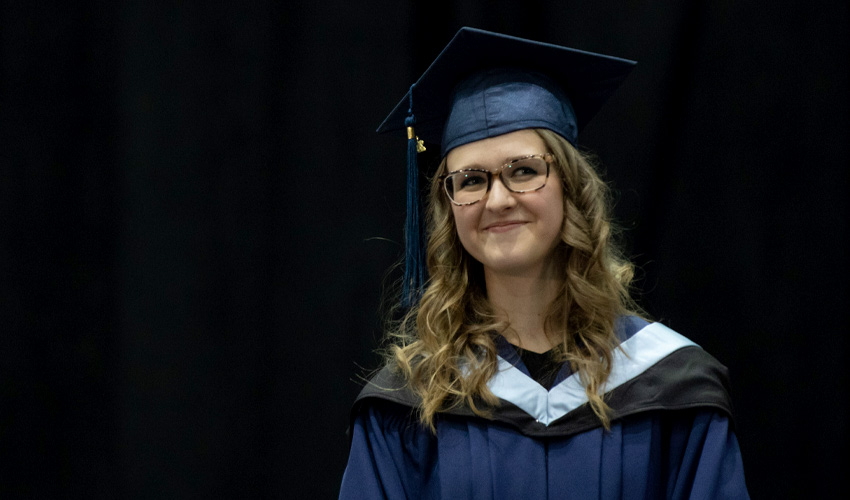 On June 7th, 2019, Katelyn Stone was presented the Governor General Silver Medal at the Faculty of Health, Community and Education afternoon convocation ceremony. Stone graduated with a Bachelor of Education — Elementary and achieved the highest academic standing of any program, a perfect grade point average (GPA) of 4.0. When it comes to maintaining a high GPA, Stone's biggest influencing factor was her faith. Stone believes it is important to take care of your well-being, especially during practicum.

When it comes to her learning style, Stone says that "though I naturally have a more diligent personality, I had to develop routines and organization strategies that worked for me as well as keep in mind that my free time would not look the same. Nothing worthwhile is gained without sacrifice. When we get tired from the constant pressure, it is natural to get easily irritated with circumstances and those that are different than ourselves. In it all, the challenge is finding a way to balance emotional and physical well-being with mental endurance."

Stone credits her friends and family for supporting her during her time at Mount Royal University. She found that spending time with them, time reflecting alone, was better than having screen time. Her last bit of advice to future grads is "there is no better time than the present to instill diligence and healthy habits!"

The Governor General's Medal, established in 1873, "recognizes exceptional academic achievement and is one of the most prestigious awards that can be received by a student in a Canadian educational institution."