Academic Advising at MRU is looking for your feedback! Please take some time to fill out the Academic Advising at MRU feedback form or scan the QR code below, so we can work on providing better services for you!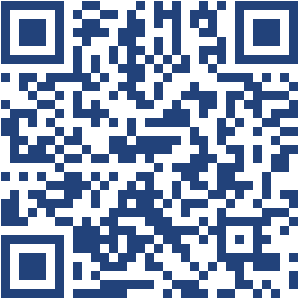 Your Academic Advisor offers support in:
Understanding program requirements
Developing a program plan
Understanding Mount Royal policies and procedures
Connecting with resources and campus services
Current Student Advising
As a current Education student, you may book one-on-one appointments with your Academic Advisor. Click here to request an appointment (current students only). 
Emilie Ahrens 
Academic Advisor 
Email: educadvising@mtroyal.ca
Office: EL 3423 N 
New Student Advising
All new Bachelor of Education students have an advising hold placed on their accounts. This means that you will not be able to register for courses until you speak directly with your Academic Advisor. New student registration typically begins in April. Please contact your Academic Advisor directly for information on how to set up an appointment and/or sign up for an advising session. Prior to speaking with your Academic Advisor, it is strongly recommended that you review your First-Year Program Advising Guide.
Selecting a Minor
As part of your degree, you must select a teachable minor from the approved list below. You can choose from a range of options, each designed to enhance your skills in teaching specific subjects. You will declare your minor in the fall of your first year. Your academic advisor will contact you during your first semester with information on how to formally declare your minor.
Elementary Mathematics 
Elementary Science 
English
French
History
Humanities
Indigenous Studies
Linguistics
Physical Literacy for Education 
Social Studies
Spanish
Spanish Language and Hispanic Cultures 
Program Planning
You should use a program planning guide when selecting your courses. There is a different planning guide available for each minor. When planning your degree, refer to the guide from your admission year to the Bachelor of Education - Elementary. These are meant as a guide only and are based on the specific academic calendar year at the time of your admission. If you are unsure about what program planning guide you should be using, please contact your Advisor.
Sample Program Plan 
EDUC 1231 - Professional Dimensions I
Foundation General Education (GNED) Courses
Tier 2 GNED courses
EDUC 1233 - Professional Dimensions II
Foundation GNED Courses
Tier 2 GNED courses
Teachable minor courses
EDUC 2371 - Language Development and Literacy
Outstanding GNED courses
Education electives
Teachable minor courses
EDUC 2321 - Education and Individual Development
EDUC 2375 - Effective Assessment
EDUC 2103 - Teaching English Language Arts
Education elective, GNED or teachable minor course
EDUC 3326 - Pedagogical Technologies
EDUC 3106 - Teaching Science
EDUC 3108 - Teaching Mathematics
EDUC 3104 -

 

Arts Integration in Elementary


EDUC 3010 - Practicum I
EDUC 3105 - Teaching Physical Education
Outstanding GNED courses
Teachable minor courses
Electives
EDUC 4351 - Indigenous Perspectives in Education
EDUC 4107 - Teaching Social Studies
Complete remaining non-education requirements
EDUC 4361 - Exceptional Students
EDUC 4201 - Integrating Ideas, Values and Praxis
EDUC 4030 - Practicum II
Education Electives
As part of your core program requirements, you must complete two Education electives. There is some flexibility as to when in your program you complete these courses. You may register for your first Education elective in the fall of your second year. As with any course, be sure to check prerequisites before registration. Below is a list of electives and the semester in which they are most often offered. Please note that some are only offered every second year.
| | | |
| --- | --- | --- |
| Fall | Winter | Spring  |
| EDUC 2201 - Teacher Wellness  | EDUC 2261 - Introduction to Inclusive Education | EDUC 3090- Supplemental Practicum  |
| EDUC 3201/MATH 3201 - Visual Art and Mathematics | EDUC 3362 - Teaching Complex Learners | |
| EDUC 2200 - Special Topics  | EDUC 4321 - Philosophy of Education | |
| | EDUC 4325 - Social Issues in Education | |