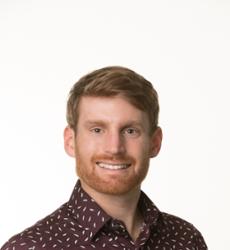 Trevor King, PhD
Academic Title: Assistant Professor
Education:
PhD, Queens University, ON
M.Sc., Queens University, ON
B.Sc., Queens University, ON
Contact Info:
Office: TBD
Email: tking@mtroyal.ca
Phone: 403.440.6227
Trevor is an exercise physiologist who is interested in how physical activity can influence a person's health and physiological function across the lifespan. He primarily investigates how factors such as chronic disease, mental stress, and environmental stressors impact the cardiovascular system, and how exercise may mitigate any negative impacts. Trevor also looks at what changes occur in the cardiovascular system of elite athletes and under extreme exercise conditions. Trevor's teaching areas include physiology, motor learning, nutrition, and statistics.
Areas of Instruction:
Physiology
Exercise Physiology
Motor Learning
Nutrition
Physical Activity and Health
Areas of Scholarship:
Cardiovascular Physiology
Exercise Physiology
Exercise Performance
Selected Publications:
King, Trevor J., Alexandra M. Coates, Joshua C. Tremblay, Joshua T. Slysz, C. Pignanelli, H. L. Petrick, Philip J. Millar, and Jamie F. Burr. "Vascular function is differentially altered by distance following prolonged running." Med. Sci. Sport. Exerc 32804900, no. 10.1249 (2020).
King, Trevor J., and Kyra E. Pyke. "Evidence of a limb-and shear stress stimulus profile-dependent impact of high-intensity cycling training on flow-mediated dilation." Applied Physiology, Nutrition, and Metabolism 45, no. 2 (2020): 135-145.
*Doherty, Connor J., *Trevor J. King, Anthony V. Incognito, Jordan B. Lee, Andrew D. Shepherd, Joseph A. Cacoilo, Joshua T. Slysz, Jamie F. Burr, and Philip J. Millar. "Effects of dynamic arm and leg exercise on muscle sympathetic nerve activity and vascular conductance in the inactive leg." Journal of Applied Physiology 127, no. 2 (2019): 464-472.
King, T. J., S. M. Schmitter, and K. E. Pyke. "Assessment of flow‐mediated dilatation in the superficial femoral artery using a sustained shear stress stimulus via calf plantar‐flexion exercise." Experimental physiology 102, no. 6 (2017): 725-737.
Petrick, Heather L., Trevor J. King, Christopher Pignanelli, Tara E. Vanderlinde, Jeremy N. Cohen, Graham P. Holloway, and Jamie F. Burr. "Endurance and Sprint Training Improve Glycemia and VO2peak, but only Frequent Endurance Benefits Blood Pressure and Lipidemia." Medicine and Science in Sports and Exercise (2020).