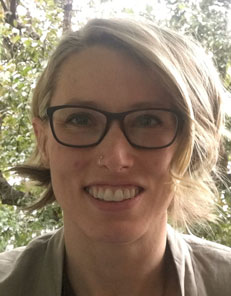 Jennie Petersen
Academic Title: Instructor
Education
PhD (c), Brock University
MSc, University of Calgary
BKin, University of Calgary
Diploma, Physical Education Transfer Program, Mount Royal University
Contact Information
Office: U243G
Email: jpetersen@mtroyal.ca
In addition to teaching at Mount Royal University, Jennie Petersen is completing her PhD at Brock University and returned to graduate school after working as a practitioner for several years in recreation, sport and community development. Her dissertation research is focused on investigating the pedagogical and programmatic factors that influence youth physical literacy development in a recreation context. She has previously worked for YMCA Calgary, Commonwealth Games Canada, Alberta Health Services, The Trinidad and Tobago Olympic Committee and The City of Calgary. Jennie's key interests and passions include working to raise critical thinking in students through pedagogical/ instructional design and supporting the integration of research into practice to help address complex health and social problems.
Areas of Instruction
Teaching Games for Understanding
Qualitative Research Methods
Areas of Scholarship
Youth physical literacy
Movement and games pedagogy
Qualitative research
Selected Presentations
Qualitative Workshop Series — Department of Critical Care, University of Calgary, Fall 2019
Tales of the Wandering Ghost — International Physical Literacy Association Conference, Winnipeg 2019
Review of pedagogical approaches to youth physical literacy development — PHE Canada, Whistler, 2018
Relevant Community Service
YMCA Calgary — I continue to support various aspects of quality programming with YMCA Calgary, including coaches training, physical literacy, program development, etc.
---