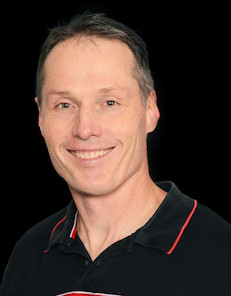 Health and Physical Education
Degrees:
PhD, University of Alberta
MHK, University of Windsor
BPE, McMaster University
Position: Professor
Office: U243L
Phone: 403.440.6495
Fax: 403.440.6744
E-mail: dlegg@mtroyal.ca
Visit Website
Twitter: @davidfhlegg

Education: David Legg, PhD, completed his Bachelor of Physical Education at McMaster University and his Masters of Human Kinetics from the University of Windsor. He went on to complete his Doctorate at the University of Alberta investigating the strategy formation process in a Canadian national sport organization.
Current Work: David is a faculty member teaching adapted physical activity and sport management. He has also been the College Research Officer and Chair of the College Research Ethics Committee.
Instructor Profile: David was named as one of Calgary's Top 40 Under 40 in 2003, received the Gary McPherson and King Clancy Awards in 2012, and Queen's Diamond Jubilee Medal in 2013. He has given over 100 professional presentations and published over 100 articles in a variety of journals.
---
Community Service/Research Interests:
As a volunteer, David is the past president for the Canadian Paralympic Committee, and past board member for the 2015 Pan Parapan American Games in Toronto. Presently, he is on the International Paralympic Committee's Sport Science Committee, among many other Calgary and Alberta based initiatives.
Academically, David was a previous research fellow at Northeastern University in Boston and is presently an instructor for the sport management program within the Erasmus Mundus Masters of Adapted Physical Activity at Leuven University in Belgium. He has also been a visiting professor while on sabbatical at Dalhouise University in Halifax and Deakin University in Melbourne, and an adjunct faculty member at Memorial University.
David's research interests include those related to sport management and adapted physical activity. He edited and wrote multiple chapters in the first book on Paralympic Legacies and is co-invesigator of a project funded by SSHRC studying the impacts of the 2014 Commonwealth Games and 2015 Parapan American Games on community related to persons with a disability. One other major project is titled SPLISS (Sport Policies Leading to International Sporting Success). This is a study funded by Sport Canada and includes researchers from the U.K., Netherlands, Belgium, and 13 other nations.
SPORTSNET 960 The Fan: We've Solved Nothing Weekly Podcast with Rob Kerr & David Legg