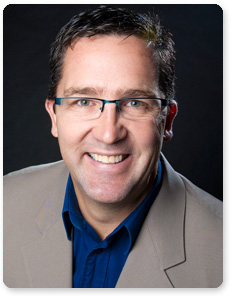 Health and Physical Education
Degrees:
PhD, University of Calgary
MA, San Diego State University
B.Ed., University of Calgary
BPE, University of Calgary
Position: Associate Professor
Office: U243Q
Phone: 403.440.5148
Fax: 403.440.6744
E-mail: dpsheehan@mtroyal.ca
Education/Research Interests: Dwayne completed his Bachelor degrees in physical education in 1987 (BPE) and education in 1989 (B.Ed.), both at the University of Calgary. In 1995, he went on to complete his Masters degree (MA) in Educational Leadership and Curriculum Design at San Diego State University. The focus of his research is in the area of physical literacy and motor proficiency skills with school aged children and adolescents. His doctoral thesis investigated the relationship of exergaming on the acquisition of postural stability. His areas of research expertise include:
• community health and wellness
• physical education technology and innovation
• physical literacy and fundamental movement skills in school aged children (ages 6-18)
• preadolescent postural stability and balance
• systematic observational analysis of sport and recreation
Current Work: In addition to instructing in the Physical Literacy major at Mount Royal University, Dwayne is also the co-founder of the Canadian Exergaming Research Centre (CERC) and the Researcher in Residence at Vivo for Healthier Generations. CERC is housed in an elementary school in SW Calgary and is part of a ten year research partnership. His teaching areas include Growth and Development and Motor Learning. He has co-authored a university textbook titled "An Educator's Guide to Teaching Fundamental Movement Skills."
Instructor Profile: After 19 years of teaching physical education in the K-12 public education system, Dwayne joined the Department of Health and Physical Education at Mount Royal University in 2008. He is passionate about assisting young physical educators in their pursuit of a teaching credential. His pedagogical approach to instructing is grounded in his past experiences and ongoing commitment to professional development. Dwayne is always looking for linkages between his research and teaching to enhance the learner experience.
Community Service/Personal Interests:
Dwayne is a Past President of the Alberta Health and Physical Education Council (HPEC) and served a two year term as President of the Alberta Schools Athletic Association (ASAA). He is also a past recipient of the CAHPERD (PHE Canada) Young Professional Award and the HPEC Distinguished Service award. His commitment to professional development includes serving on the provincial HPEC executive for 25 years and providing leadership to four provincial conferences (2000, 2002, 2006, and 2018). Dwayne is involved in the community as a coach and official in a variety of sports. He enjoys all athletic and leisure activities but is most avid about playing with his two young children and his BUFF ice hockey mates. Dwayne and his wife are triathletes who have completed Ironman Canada and multiple marathons.