What do BHPE — Athletic Therapy students do once they graduate?
As an Athletic Therapy graduate, you have the opportunity to be a leader in the fast-growing fields of health and wellness. This degree will prepare you to become a champion of health and wellness, specifically as it pertains to the prevention, evaluation, treatment and management of injuries.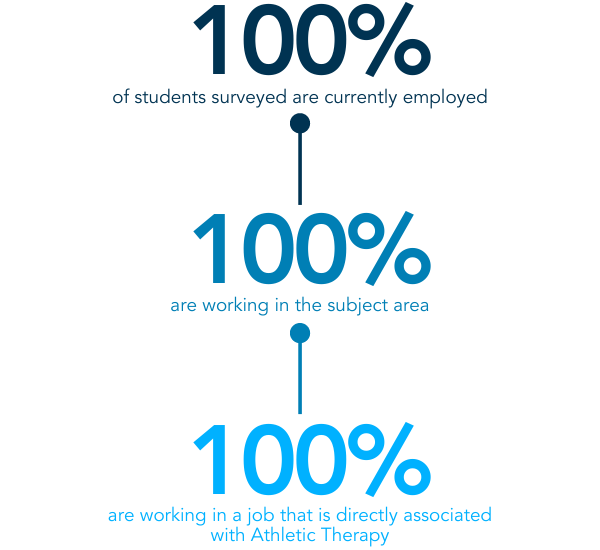 Career choices
Graduates of the Bachelor of Health and Physical Education — Athletic Therapy major generally find work in injury rehabilitation clinics, hospitals, fitness and recreation centres, industrial/corporate sector, schools, insurance sector, and sport organizations. 
Your job title could be:
Certified Athletic Therapist
Medical staff
Support staff
Insurance case manager

Opportunities to enhance your ATTH degree
There are many other opportunities that are available to Athletic Therapy graduates however, these will require additional education and certification. With these enhanced skills, you can pursue a career in:
Clinician or 
Emergency first responder (paramedic)
Educators, lecturers, instructors and researchers
Physiotherapy
Medicine
Sports therapy
Massage therapy
Chiropractics
Bachelor of Health and Physical Education — Athletic Therapy Statistics from the Mount Royal University follow-up graduate survey conducted in 2017–2018 within two years of program completion.