What do BHPE — Sport and Recreation Management students do once they graduate?
As a Sport and Recreation Management graduate, you have the opportunity to be a community leader by helping to support our economic and social future by changing attitudes that lead to sedentary lifestyles and resulting health implications. You will create opportunities for members of your community to become active and engaged by supporting children, youth, adults and seniors alike through organizing and facilitating grassroots physical activity and recreation programming.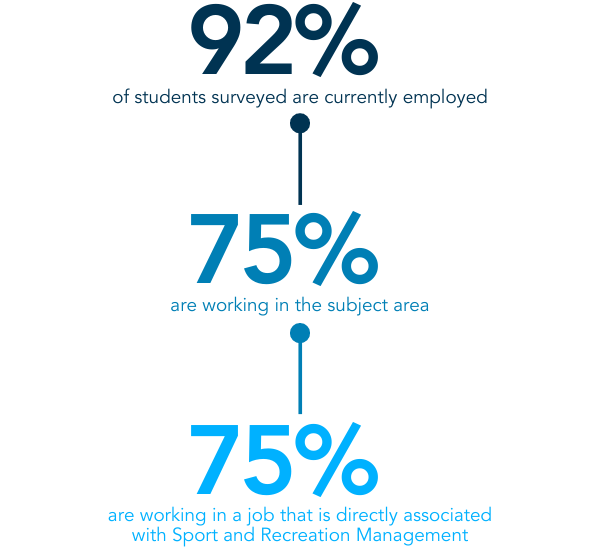 Career choices
Graduates of the Bachelor of Health and Physical Education — Sport and Recreation major generally find work at recreation facilities, sports centres, universities and colleges, community organizations or as sports consultants. Some graduates may start their own businesses. 
Your job title could be:
Sport marketer

—

use your detailed understanding of a company to create and implement a marketing strategy that will help move the organization forward

Community recreation administrator

— organize and facilitate recreation programs to build community

Sport and recreation consultant

— apply your knowledge to help facilities and programs improve their program delivery

Volunteer coordinator

— establish a strong volunteer program to aid in the success of programs

Facility manager

— lead facilities in daily operations including policies, maintenance, safety

Fund development/sponsorship

— apply your business skills to seek and obtain sponsorships for agency/programs

University recreation services

— develop and facilitate programs in a university environment

Operations coordination

—

take a leadership role in the overall operations of a sports and recreation company

Opportunities to enhance your SRMG degree
There are many other opportunities that are available to Sport and Recreation Management graduates however, these will require additional education and certification. With these enhanced skills, you can pursue a career in:
Law school

Graduate school 

MBA

Sport agent
Bachelor of Health and Physical Education — Sport and Recreation Management statistics from the Mount Royal University follow-up graduate survey conducted in 2017–2018 within a year of graduation.