Outbound Exchange Opportunities for Mount Royal University Students

Where in the world would you like to study?
As a Mount Royal University student, you can spend one or two semesters on exchange, studying at one of our partner institutions.
International Education at Mount Royal University also offers short term (2 - 4 week) summer exchanges.Going on an exchange is an amazing opportunity to...
Have an enriching academic experience:
Study with an international peer group
Experience another style of education
Learn from instructors with different backgrounds and perspectives
Diversify your skills and knowledge by taking courses not offered at MRU
Have an exciting cultural experience:
Expand your perspective
Immerse yourself in another culture
Get to know a new city and way of life
Be immersed in another language
Have an incredible personal experience:
Grow by leaving your comfort zone
Gain independence and confidence
Learn from your peers about their cultures, countries, and languages
Build international friendships with other exchange and local students
---
Learn about past outbound exchange student experiences

"Living and studying abroad is unlike any experience I have ever had. I had a rough flight here that tested my ability to handle this experience on my own. It was a bit frightening and taught me to persevere and that not everything in life will go exactly as planned. Through the good moments and the bad, I have never regretted my decision and would suggest it to any student. If I had the opportunity I would do another study abroad program in a heartbeat. The experience helped me grow and adapt in ways that I hadn't even imagined."
- Catherine spent her semester abroad in Australia
"Participating in the International Program was one of the more memorable experiences of my time at MRU. Not only did I get to see the world, diversify my education and take in a new culture; I got to meet lifelong friends, explore new career opportunities and come to get to know more about myself. The overall experience abroad was unforgettable and I would recommend it to every single person who is interested in challenging their own perspectives. It may be extremely cliché, but you truly come back from the overall experience as a new person. There is a world of opportunity out there, you just have to brave enough to explore it! Best of luck to all prospective students. Take full advantage of this program while you can, I promise that you won't regret it."
- Alexandra spent her semester abroad in Hungary
"The four and a half months I spent abroad were some of the best of my life thus far. I met some amazing people, had a bunch of incredibly fun experiences and saw some breathtaking places. The best part about the whole experience was probably just the fact that I was able to get away from the Calgary/Canada bubble and see that there are so many other different and amazing places, people and ways of being in the world. I had traveled a fair amount before studying abroad but this experience made me feel more than ever, that I can go anywhere in the world and embrace the adventure of really getting to know a new culture and people. So if you're at all hesitating to study abroad and move to a new country for a semester, don't worry and take the leap. As long as you have an open mindset and treat the whole experience as an adventure you'll have an awesome time. I can't recommend enough breaking up your routine and traveling abroad."
- Quentin spent his semester abroad in France
To learn more about past exchange student experiences, visit the International Student Support Centre (E 140) to read all of the Experience Reports.
To see what our current outbound exchange students are up to, follow @MRUinternational on Instagram and check out #MRUinternational!

---
How to start the process to go on exchange: Attend a Study Abroad Info Session!

This is the best way to get started with your exchange. Get an overview of the whole process and all of the information that you need to get started in a 45 minute info session. This is also a great opportunity to ask any questions you may have.
We host an info session at a different time each week so you will definitely be able to find a session that fits your schedule. You can see the full schedule here.

Attending an info session is required to apply to go on exchange.
---
Important dates and deadlines for exchange
| Item | Date |
| --- | --- |
| Exchange Program application deadline for Spring, Summer, Fall 2020, Winter 2021 | February 28, 2020 |
| Second deadline for Exchange Program applications for Winter 2021 | October 1, 2020 |
---
Full semester (Fall or Winter) exchange locations
You can apply for a Fall or Winter full semester exchange at any of our partner institutions:
MRU Exchange Locations - A listing of bilateral partnerships that MRU has with institutions around the world. MRU students can study on exchange at these partner institutions.
CONAHEC Partnerships - The CONAHEC Student Exchange Program allows MRU students to apply for exchange to a number of additional locations around the world. The application requirements and processes are the same as for the Bilateral Partnerships.
Mount Royal University has tuition swap agreements with all of our partner institutions. This means that you still only pay tuition to Mount Royal University when you go on Fall or Winter exchange. Short term summer exchange locationsEmail international@mtroyal.ca for more information about these opportunities.
---
Overview of the outbound exchange process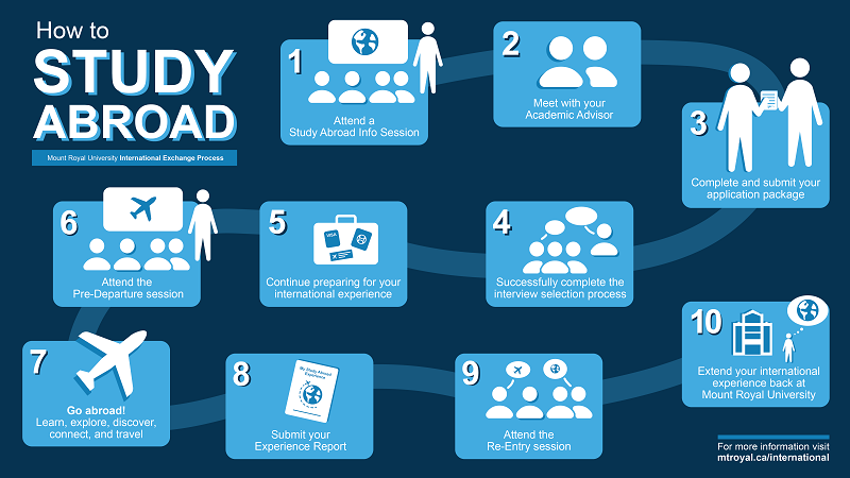 Attend a Study Abroad Info Session. See full schedule

here

.

Meet with your academic advisor to discuss how an exchange will fit into your academic program.


Complete and submit the

application package

by the specified deadline. Specific instructions are included in the application package.

Successfully complete the interview selection process.

Continue preparing for your exchange, including obtaining all necessary travel documents, arranging your accommodation, booking your flights, etc.

Attend the Pre-Departure session.

Go abroad! Learn, explore, discover, connect, and travel. Be an excellent ambassador of Mount Royal University while you're abroad.

Submit your experience report by the specified deadline.

Attend the Re-Entry session.


Extend your international experience by engaging with the international community at Mount Royal University.
---
Outbound exchange requirements
In order to be considered for an Outbound International Exchange, Mount Royal University students must meet the following requirements:
Attend a Study Abroad Info Session

Have a minimum cumulative GPA of 2.8

Have completed one year of full-time studies at Mount Royal University in a credit program
---
For more information about how you can go abroad
Attend a Study Abroad Info Session. See the full schedule here.
Come by the International Student Support Centre (E 140) and chat with our volunteers.
---
Note: Students from other universities or colleges wishing to come to Mount Royal University on exchange program should refer to Inbound Exchange Students.