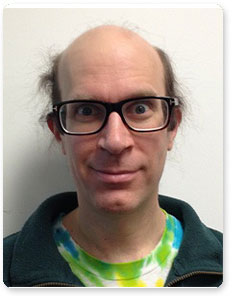 Charles Hepler
Position: Associate Professor 
Office: B113-I
Phone: 403-440-7254
Email: chepler@mtroyal.ca
Charles has been a proud member of the department since 1997. Over those years he's taught computer science courses on introductory through advanced programming, robotics, games development, the theory of computing, software engineering, and technology and society. He also teaches general education courses.

His most recent publication is : Tomkins-Lane, C., Conway, J., Hepler, C., & Haig, A. Changes in objectively measured physical activity (performance) following epidural steroid injection for lumbar spinal stenosis. Archives of Physical Medicine and Rehabilitation.

In his spare time, Charles is a character in Randy Schroeder's work in progress entitled "Three for Mirth". As yet he has not been successful in catching a show in the final tour let alone apprehending a single member of the three apparent friends of the Demonic snowman.