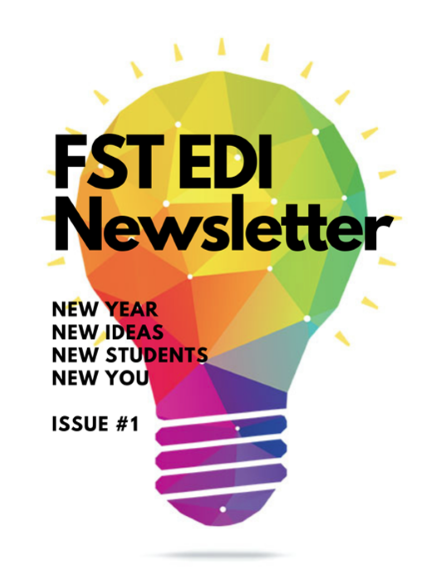 Welcome to the 1st issue of the FST EDI newsletter!
Our team created this resource to highlight how our students, staff, and faculty engage in and support the principles and practices of Equity, Diversity, and Inclusion on and off campus, with a focus on stories and sharing common ground.
EQUITY, DIVERSITY, AND INCLUSION IN THE FACULTY OF SCIENCE AND TECHNOLOGY
Most organizations now recognize the need for attention to equity, diversity, and inclusion (EDI), which is fast becoming one of the key functional units of large organizations – just like finance, HR, IT, marketing, and production. EDI may, in fact, be a key driver for other functional units.  The acceptance of the principles of equity, diversity, and inclusion is largely thanks to people in the equity deserving and historically underrepresented groups who have courageously shared their lived experiences, which point to various levels of unconscious bias, systemic racism, and other forms of discrimination in the workplace. Tackling unconscious bias and systemic inequities in the workplace is, however, a global responsibility that requires individual and corporate efforts. 
About two years ago, Mount Royal University became active in the EDI space at various levels of the organization (e.g. in student groups, in the president's office, and in Faculty-level committees). The EDI Committee in the Faculty of Science and Technology was set up with the goal of making FST a better place for all students, staff, and faculty. The committee consists of faculty, staff and students who are committed to ensuring:
student access and success; 

employee access and success;

inclusive decision-making structures;

inclusive teaching, learning, and curricula; and

mentoring support networks and well-being.
Our approach is to learn and listen across lines of difference to help build trust and respect for different viewpoints. We achieve this by engaging through town halls and interactions at departmental meetings. We also engage experts and institutional organs to ensure that our efforts are sustainable and align with university-wide policies and initiatives.  Making FST a place where everyone feels respected and has equitable opportunities to succeed is a shared responsibility that requires broad support and participation. We are all expected to harness our individual privileges to better the lives of others, especially those who have been historically disadvantaged. 
The EDI committee realizes that the list of things to work on is almost endless. Recently the committee made a call for volunteers to help out with some of our action items. The response was very positive, which gives us more impetus to continue to steward the EDI initiatives in FST. We feel highly supported, and with more volunteers, we will all accomplish the task of positively transforming our Faculty to a place with improved access and opportunities to be successful. Among our noteworthy accomplishments include:
University level advocacy in the areas of i) collection of student and employee demographic information; ii) funding for EDI initiatives; and iii) EDI in research.

Creating community awareness on the subject of EDI in STEM through EDI townhalls and the engagement of appropriate professionals as FST Research Day keynote speakers and invited guest speakers.  

Creating and maintaining a website to foster EDI in the Faculty.

Supporting student-led community engagement initiatives in FST.

Engaging in research on equitable access to research opportunities in FST.

Providing valuable inputs to various university committees on EDI considerations in space design and other aspects of student and employee experience.

Engaging FST committees on best practices for EDI. It is worthy of note that the current faculty hiring activities have benefited immensely from best practice resources provided by the EDI Committee.
 While we are proud of the accomplishments we have made as a Faculty in working towards equitable opportunities and access, we recognize that the task ahead is enormous, and requires the conscious commitment by all of us to: i) enhance EDI in the learning environment, ii) enhance EDI support for students; ii) practice inclusive excellence in the hiring and retention of faculty and staff; iii) facilitate EDI professional development; iv) engage with the community on EDI priorities, actions, and best practices; v) emphasize inclusivity in our decision making structures; and, vi) promote data-based EDI actions and decisions. We will continue to advocate for the development and implementation of awareness and training programs that will foster a sense of belonging and equity of opportunities to realize the MRU's You Belong Here ethos.
Dr. Michael Uzoka, FST EDI Committee

Get to know your colleagues and students, including their choices, challenges, and unique facts about their lives on and off campus - we are more than our roles at MRU and everyone has a story to share.
Dr. Michael Uzoka (he/him)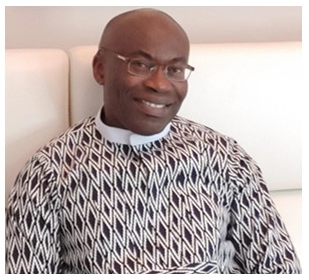 Tell us a bit about yourself!
I am a Professor in the Department of Mathematics and Computing at Mount Royal University, Calgary, with over 30 years university teaching and research experience in four countries. I have published over 100 academic papers that have made international impacts in various aspects of human endeavour, especially in medical decision support systems. I have also worked with research collaborators to develop award winning innovations; e.g., automatic pill dispenser, smart medical assistant, and a system for the early differential diagnosis of tropical confusable diseases. I served as a Canadian Commonwealth Scholar, Carnegie African Diaspora Fellow, and Research Development Officer (MRU).
What is the best part about being in your position?
The joy of seeing my students and my mentees succeed. It's a very rewarding experience to contribute to the success of others. I feel highly privileged and derive joy in utilizing my privilege to better the lives of others. Two things give me great professional excitement: i) when I receive positive reviews from my students; and ii) when my research paper is accepted for publication.
What is the most challenging part about being in your position?
Not having adequate time and other resources to assist the many people that require my help. When you are highly blessed, you need to give back to the society. I feel a sense of disappointment each time that I am unable to fully attend to a request for assistance.
What's a little known fact about you?
As a Christian, I deeply value my divine and human relationships, and my actions are usually guided by my belief system. One major aspect of my belief is that everyone is created equal and that no one should be discriminated against based on their personal or circumstantial characteristics. Everyone should be given the opportunity and enablement to succeed. Another unknown fact about me is that I used to be a long-distance runner; but now, I love basketball…a fan of the Toronto Raptors!
What great EDI initiatives, podcasts, stories, ideas etc. would you recommend our MRU community hear about or engage with?
I would like the MRU community to read the stories of those who have been historically marginalized in our society. It would be nice to leave our comfort zones and make the effort to understand why some groups of people feel that they deserve more opportunities and better access than they currently have. It is important for our community to understand that our EDI efforts, at this early stage, should emphasize equity more than equality. It would be nice to appreciate the relationship between equality and equity by reading the articles contained
here
 and
here
. We must first ensure equity as a precursor to equality.
Aera England (she/her)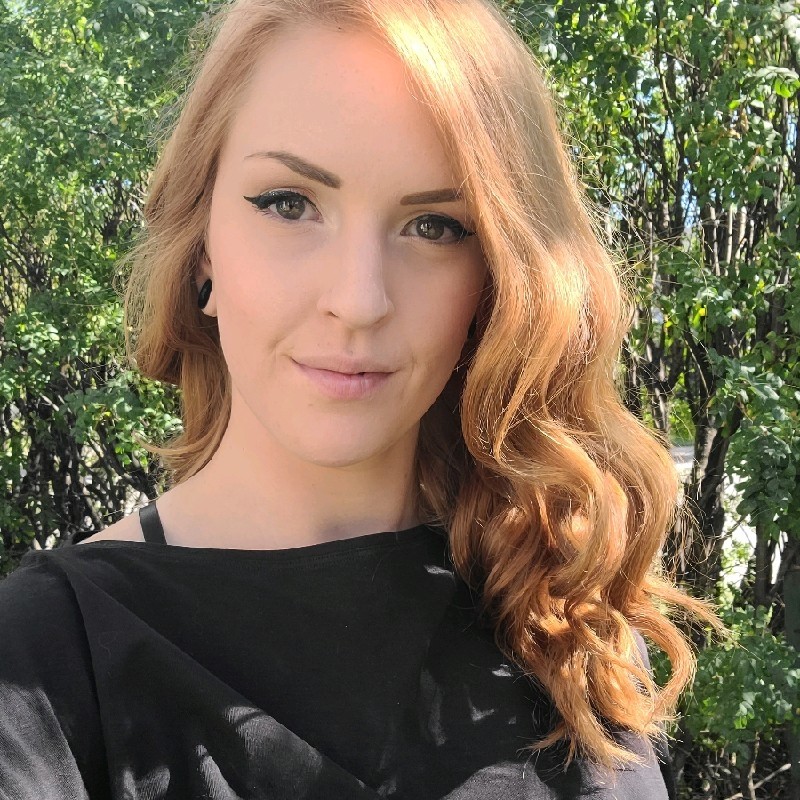 Tell us a bit about yourself!
I am going into my 4th year of my Human Anatomy and Physiology Biology degree and I am hoping to pursue a career in clinical medicine or academia. I am heavily involved with EDI throughout MRU, I am a learning peer for biology subjects and volunteer at the ICU at Foothills. I love neuroscience and I plan to do a directed reading on opioid neurophysiology this fall!
What is the best part about being in your position?
I love having a voice, and I love amplifying the voices of those around me. For someone with an invisible disability, it is empowering to finally have a position where I can improve the lives of other disadvantaged people.
What is the most challenging part about being in your position?
It is definitely hard to balance. I have so much passion for EDI work and I will burn myself out without moderation. After the last year though, I realized I am no good to anyone if I don't take care of myself!
What's a little known fact about you?
I am a talented vocalist and musician, I used to be an audio engineer before coming to MRU. I am also an artist and a hooper, which is a technical flow art (look it up!).
What great EDI initiatives, podcasts, stories, ideas etc. would you recommend our MRU community hear about or engage with?
If you have a problem with something, say it! You are the change! So if you want to get involved, just do it! Make a space for yourself.
Amy Stromquist (she/her)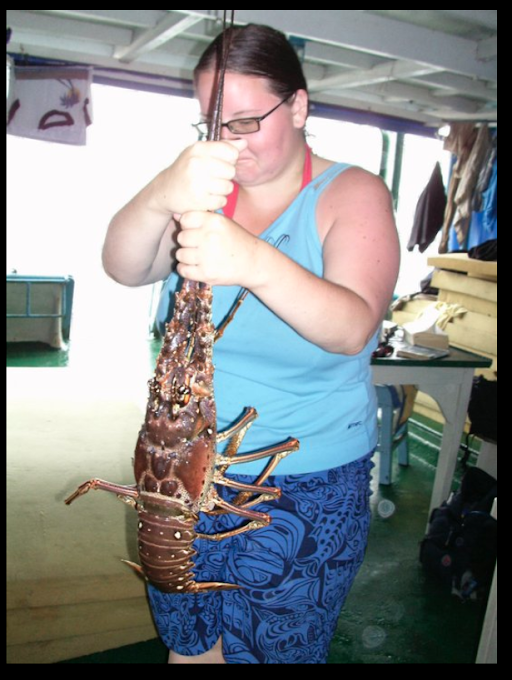 Tell us a bit about yourself!
I am the Department of Biology's Instructional Assistant (say 'hi' to me in B139!), and have been at MRU since 2014. I received a MS in Forensic and Biological Anthropology from Mercyhurst University (PA) and worked on a number of crime scenes while completing my degree. Before that I was in Nova Scotia completing my BS in Biology and BA in Anthropology at Saint Mary's University (yes at the same time, yes that was a bit intense, no I do not recommend). 
What is the best part about being in your position?
I love interacting with students and being able to help them out with their assignments. That light-bulb moment is always great to see! 
What is the most challenging part about being in your position?
Understanding that I don't have all the answers and can't help everyone. Luckily, I usually know who I can send them to!
What's a little known fact about you?
I am a voracious reader and can read over 100 pages an hour (textbooks not included!). My personal "best" for reading was 7 novels in one day. I started the media recommendation list for this newsletter, and I would love to hear about other people's favourite reads (or listens, or views) to add to our list.
What great EDI initiatives, podcasts, stories, ideas etc. would you recommend our MRU community hear about or engage with?
Apart from our media list, I would recommend our community to get engaged in any way that they can - for students, there are a number of clubs - WIST (Women in Science and Technology) and ESSA (EDI Science Students' Affiliation) being a couple to shoutout. 

MEDIA RECOMMENDATIONS
Our team has curated a list of informative and entertaining mixed media recommendations (see below), related to EDI knowledge building, just for you - sit back, relax, and learn. Look forward to new picks every issue!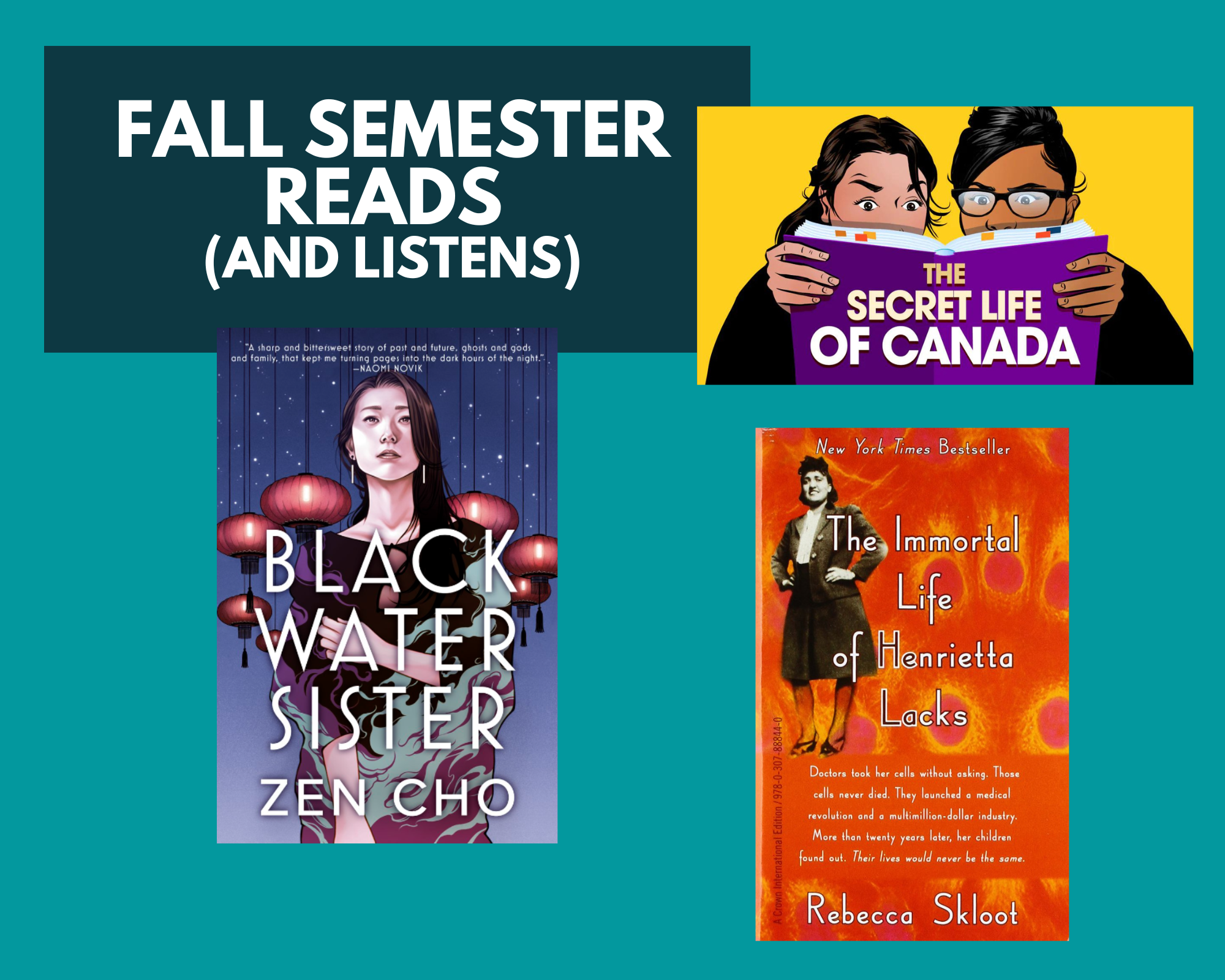 The tagline "The country you know and the stories you don't" is very appropriate for The Secret Life of Canada - the podcast that explores the parts of history that didn't make it into your high school textbook.
Hosts Leah-Simone Bowen (Toronto based first generation Canadian) and Falen Johnson (Toronto based Mohawk and Tuscarora from Six Nations) have delved into everything from the history of the North, with the forced relocation of the Inuit, the dog slaughter perpetuated by the Canadian government and the Eskimo Identification System;  to the oldest Little India in North America and the history of South Asian people in British Columbia; to some of the earliest known queer spaces in the Prairies.
Season 4 started in February, leaving you with plenty of history to get caught up on!
You may be familiar with HeLa cells, but are you aware of the woman they came from? The Immortal Life of Henrietta Lacks delves into the life of Henrietta Lacks, an African American woman whose cells survive to this day - over sixty years after she passed. Her family had seen none of the benefits of the research pursued with these cells; which include vaccine development and advances in in vitro fertilization, cloning and gene mapping, and didn't even know that her cells had been kept. 
Delve into this true story that discusses the history of experimentation on African Americans, bioethics, and informed consent.
If non-fiction isn't your cup of tea, might I suggest Black Water Sister for your summer reading list?
As per the authors twitter: it features "gods, ghosts, gangsters, grandmas, a stressed lesbian zoomer, gentrification, loving descriptions of novelty fusion food and more"! Jessamyn is moving back to Malaysia with her parents after some hard times. When she starts hearing voices, she initially chalks it up to stress; but there is only one voice in her head, and it's claiming to be her estranged - and deceased - grandmother.


Calgary Pride Parade        MRU Celebrate Pride        Calgary Pride Week


MRU embraces all aspects of individual and group identity. The university has a history of working toward EDI and humbly acknowledges this work needs to evolve to respond to calls for social justice effectively and to enable the systemic change necessary to deconstruct racism and colonization. The Office of Equity, Diversity and Inclusion will strive to foster a campus where people never doubt they belong so that they can freely share their perspectives and experiences and fully participate in our social and academic community.
Interesting in participating? Sign up for information on where and when to meet up. 
Celebrate Pride Week
Check out these events celebrating Calgary Pride Week, Aug. 26 – Sept. 5.
Mount Royal University
Pride crosswalk is receiving a makeover
Aug. 30  |  noon
The Pride crosswalk outside the Riddell Library and Learning Centre is being repainted to have a more inclusive flag. Stop by to see MRU leaders help paint the new crosswalk. 
Calgary Pride Parade details
The parade is held in the Beltline district along 9th Ave, and it will start on 6th St SW and conclude in East Village for the Calgary Pride Festival at Fort Calgary.
Sunday, Sept. 4, 2022
11 a.m.

MRU students, faculty, staff or alumni interested in participating in this year's Calgary Pride Parade, please fill out this form.


Check out our Culturally Inclusive calendar HERE
(tip: use the add Google Calendar button in the bottom right corner to add these dates to your calendar)
**Students: if you are unable to attend a scheduled exam or academic activity due to a concurrent religious observation, please visit Access and Inclusion Services and follow their religious observance accommodation instructions.

Upcoming Significant Days of Observance, Celebration, or Holiday
Please note: *Holy days usually begin at sundown the day before this date

September
4 - Calgary Pride Parade
5 - International Day of Charity
10 - World Suicide Prevention Day
25-27 – Rosh Hashanah*, Judaism
21 – International Day of Peace
22 - Mabon, Wicca
23 - International Day of Sign Languages
23 – Bi Visibility Day
30 – National Day for Truth and Reconciliation Day
October
Women's History Month (Canada)
Islamic History Month
Disability Employment Awareness Month
LGBT History Month
1 – International Day of Older Persons
2 – International Day of Non-Violence
5 – World Teachers Day
5 – Yom Kippur*, Judaism
9-11 - Sukkot, Judaism
10 - World Mental Health Day
16-18 – Shmini Atzeret*, Judaism
18 – Simhat Torah*, Judaism
20 – Installation of the Sri Guru Granth Sahib Ji, Sikh
24 - Diwali, Hindu
24 – Mahavira Nirvana and Diwali, Jain
24 – Bandi Chhor Divas, and Diwali, Sikh
26 – Birth anniversary of The Báb*, Bahá'í
27 – Birth of Báha'u'lláh*, Bahá'í
31 - Samhain, Wicca
November
9-15 - International Week of Science and Peace
14 - World Diabetes Day
20 – Transgender Day of Remembrance
20 - World Children's Day
24 – Martyrdom of Guru Tegh Bahadur, Sikh
25 - International Day for the Elimination of Violence against Women
28 – Ascension of 'Abdu'l-Bahá, Bahá'í
29 - International Day of Solidarity with the Palestinian People

All of us in the academy and in the culture as a whole are called to renew our minds if we are to transform educational institutions – and society — so that the way we live, teach, and work can reflect our joy in cultural diversity, our passion for justice, and our love of freedom.
-bell hooks

We value your feedback!
Have an idea, story, question etc. to share?
Please fill out our feedback form HERE.
Reminder: Name the Newsletter contest!
Enter to WIN a FitBit
Provide ideas by completing this form
Thank you for reading & stay tuned - our next issue is planned for November 2022
Brought to you by the FST EDI Newsletter subcommittee: Lydia Chiasson, Melissa Cruz, Cathy Krauss, Gwen O'Sullivan, Chelsey Schafer, and Amy Stromquist