Mount Royal University Guidance during COVID-19 Outbreak
In light of the COVID 19 outbreak, the Office of Research, Scholarship and Community Engagement and the Human Research Ethics Board advise investigators to consider if their research protocols could be modified or delayed, to limit personal contacts, laboratory visits or trips into clinics and hospitals. Specifically, in some research settings in-person participant interactions could be reduced and/or replaced with telephone or online communication. Considerations include the nature of your protocol, the type of participants engaged in the research, and any additional risk that may arise by switching from in-person to virtual communication. Revised participant consents or consent addendums may be required (e.g., to update privacy considerations with use of different communication channels). Where research staff are feeling unwell, care should be taken to stay home to prevent transmission of any illness. If COVID-19 is known or suspected, Alberta Health Services protocols should be followed www.alberta.ca/coronavirus-info-for-albertans.aspx  
While TCPS 2 typically requires review and approval of modifications prior to implementation, an exception can be made where the change is necessary to eliminate an immediate risk to participant(s) (Article 6.15). Such changes may be implemented but must be reported to the HREB at the earliest opportunity (within 5 business days as a guide).
A reminder that where the research involves physical assessments and use of equipment (e.g.,metabolic carts, facemasks, mouthpieces, noseclips, straps, turbines, valves, tubing, cannula, treadmills, etc.) disinfection according to manufacturer's standards where applicable is paramount and use of single use accessories is advisable. In the absence of manufacturers standards, thorough cleaning between participants is advised.
Please see Health Canada's website for up-to-date information:
https://www.canada.ca/en/public-health/services/diseases/coronavirus-disease-covid-19.html
For additional information see MRU's Human Research Ethics Board's standard operation procedure (SOP) for HREB review during a publically declared emergency. 
Human Research Ethics Board (HREB)
The Human Research Ethics Board (HREB) is responsible for ensuring that research applications meet the Tri-Council Policy Statement (TCPS2) involving participants, their rights and well-being. Learn more about HREB.
---
Student Human Research Ethics Committee (SHREC)

Applications for course-based research reviewed by the Student Human Research Ethics Committee (SHREC). Learn more about SHREC.
---
Biomedical Studies
Any biomedical studies involving human participants or human health information cannot be reviewed locally, as only five boards in the province are legally able to perform such reviews. Mount Royal University has signed a Memorandum of Understanding with the University of Calgary's health board (CHREB) that allows our researchers to access their services. Please submit your application to CHREB using their forms, found at CHREB at the University of Calgary.
In addition, Mount Royal University does not review biomedical studies involving biomedical treatments or interventions. These are also reviewed by CHREB at the University of Calgary, with the exception of course-based student research that is biomedical in nature, but does not fall under the HIA.
MRU researchers must submit their CHREB approval letters, approved application forms, and all supporting documents (e.g. recruitment advertisements, consent forms, questionnaires, interview guides, debriefing forms, etc.) on the ROMEO system. Please click on this link for instructions on how to submit the documents on ROMEO.
---
Animal Care Committee (ACC)
The Animal Care Committee (ACC) supports animal-based research in accordance with the Canadian Council on Animal Care (CCAC) guidelines and policies. This committee ensures all research activities are humane and well-founded to meet the level of standards that should be provided to all participants. Learn more about the ACC.
---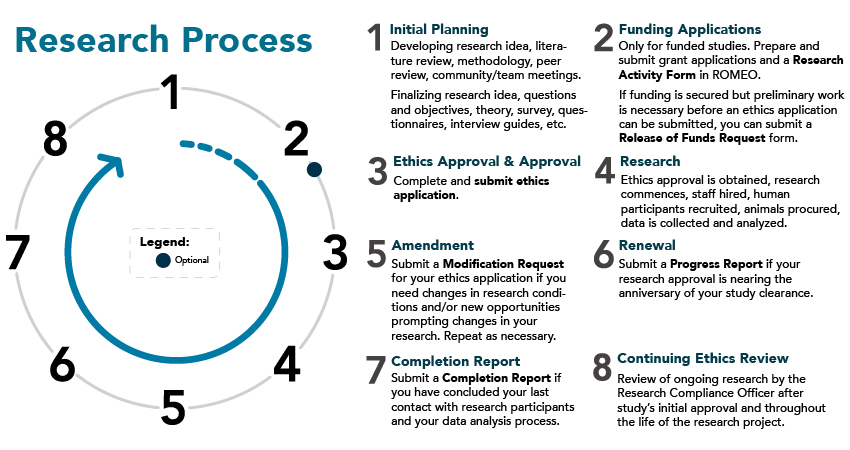 ---
If you have any questions or require more information on Ethics and Compliance, please contact our Research Compliance Officer, Priscilla Wamucii, at 403.440.8470 or hreb@mtroyal.ca.