HREB Applications submissions Deadline

The deadline for submitting Human Research Ethics Board (HREB) applications for research involving human participants that require approval prior to June 15, 2023 is Friday, May 12, 2023. 
Please note incomplete applications, or those where significant methods concerns are noted, will be returned to applicants with a request to revise and re-submit prior to ethics reviewed by the HREB. The pre-review process must be completed by Tuesday May 23, 2023 to meet the goal of review before June 15th
Please contact the Research Ethics Compliance Officer at hreb@mtroyal.ca if you have any questions.
Human Research Ethics Board (HREB)
The Human Research Ethics Board (HREB) is responsible for ensuring that research applications meet the Tri-Council Policy Statement (TCPS2) involving participants, their rights and well-being. Learn more about HREB.
---
Student Human Research Ethics Committee (SHREC)

Applications for course-based research reviewed by the Student Human Research Ethics Committee (SHREC). Learn more about SHREC.
---
Biomedical Studies
Any biomedical studies involving the Health Information Act (HIA) cannot be reviewed locally, as only five boards in the province are legally able to perform such reviews. Mount Royal University has signed a Memorandum of Understanding with the University of Calgary's health board (CHREB) that allows our researchers to access their services. Please submit your application to CHREB using their forms, found at CHREB at the University of Calgary.
MRU researchers must submit their CHREB approval letters, approved application forms, and all supporting documents (e.g. recruitment advertisements, consent forms, questionnaires, interview guides, debriefing forms, etc.) on the ROMEO system. Please click on this link for instructions on how to submit the documents on ROMEO.
Biomedical studies involving treatments or interventions that do not fall within the Health Information Act must be submitted to HREB.
---
Animal Care Committee (ACC)
The Animal Care Committee (ACC) supports animal-based research in accordance with the Canadian Council on Animal Care (CCAC) guidelines and policies. This committee ensures all research activities are humane and well-founded to meet the level of standards that should be provided to all participants. Learn more about the ACC.
---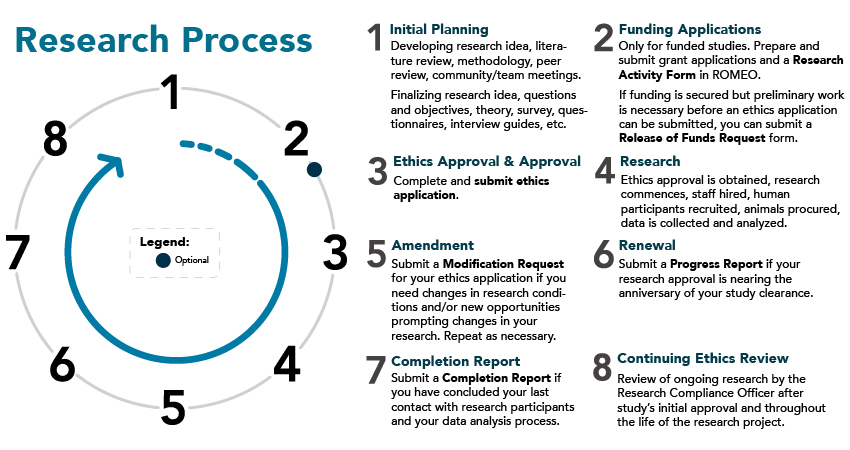 ---
If you have any questions or require more information on Ethics and Compliance, please contact our Research Compliance Officer, Priscilla Wamucii, at 403.440.8470 or hreb@mtroyal.ca.