Human Research Ethics Board (HREB)
Important Human Research Ethics Board (HREB) Applications Submission Deadline
The deadlines for submitting Human Research Ethics Board (HREB) applications for research involving human participants that require clearance prior to June 15, 2021 are as follows:
Friday, May 7, 2021 (Delegated Reviews) 
Friday, May 14, 2021 (Full Board Reviews)
Please contact the Ethics Compliance Officer at hreb@mtroyal.ca if you have any questions.
HREB Guidelines for In-person Research during COVID-19 Pandemic
In light of the COVID 19 outbreak, the Human Research Ethics Board advises investigators to consider if in-person participant interactions could be reduced and/or replaced with telephone or online communication. Considerations include the nature of your protocol, the type of participants engaged in the research, and any additional risk that may arise by switching from in-person to virtual communication. Revised participant consents or consent addendums may be required (e.g., to update privacy considerations with use of different communication channels if online platforms are used). 
HREB has developed a guidance document for in-person or face-to-face interactions that provides direction on how data collection with human participants can resume during the COVID-19 restrictions. This process may change given the evolving restrictions by the Alberta's Provincial Chief Medical Officer of Health (ACMOH). 
Where research staff has symptoms that are not related to a pre-existing illness or health condition (i.e., cough, fever, shortness of breath, runny nose or sore throat) AHS protocols for self-isolation must be followed: https://www.alberta.ca/isolation.aspx
Human Research Ethics Board
The Human Research Ethics Board (HREB) ensures that all research conducted at Mount Royal University is designed and conducted in such a manner that protects the rights, welfare and privacy of research participants in compliance with the Tri-Council Policy Statement (TCPS2).
HREB reviews applications submitted by MRU researchers and research undertaken by undergraduate students under the supervision of faculty members including Honours thesis and student-directed research.
HREB also reviews external applications submitted by MRU's researchers working as part of research teams at other institutions, and research involving Mount Royal University participants that has been approved at other post-secondary institutions in Canada.
HREB applications posing minimal risk are delegated to HREB reviewers. Applications bearing greater than minimal risk applications are reviewed by the entire Board at the HREB monthly meetings.
---
Application Process
All research at MRU involving humans as participants requires review by the Human Research Ethics Board (HREB). Application forms can be accessed through the MRU ROMEO portal. Instructions on how to use the portal can be found in the ROMEO user guide page.
Note: Applications that are incomplete, or those where significant methods concerns are noted, will be returned to applicants with a request to revise and re-submit prior to ethics reviewed by the HREB.
Listed are the steps in submitting applications in the ROMEO system:
---
Appeal Process
We recognize that disagreements between researchers and the HREB over a decision can arise from time to time. If a disagreement cannot be resolved between the researcher and reviewer, the following process should be followed: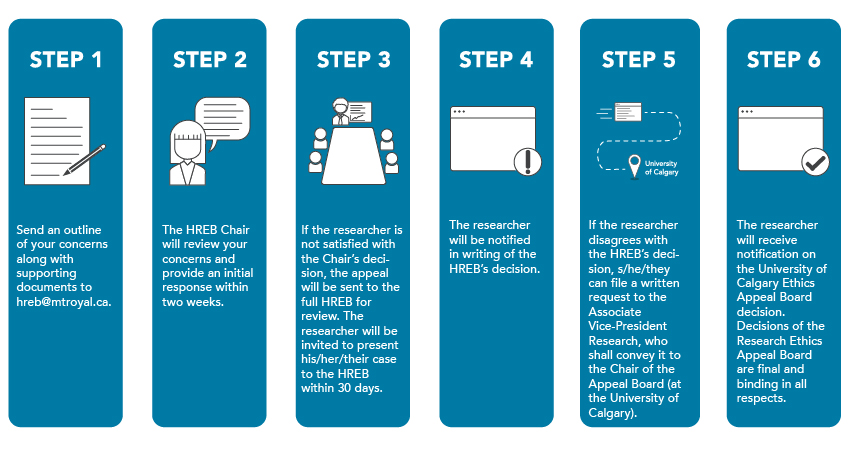 ---
Researchers have the responsibility to comply with the Tri-Council Policy Statement (TCPS2) guidelines outlined on the TCPS2: CORE (Research Ethics online course) or Ethics 101 training provided at Mount Royal University.
---
If you have any questions or require more information on ethics and compliance, please contact the Research Compliance Officer at 403.440.8470 or hreb@mtroyal.ca.