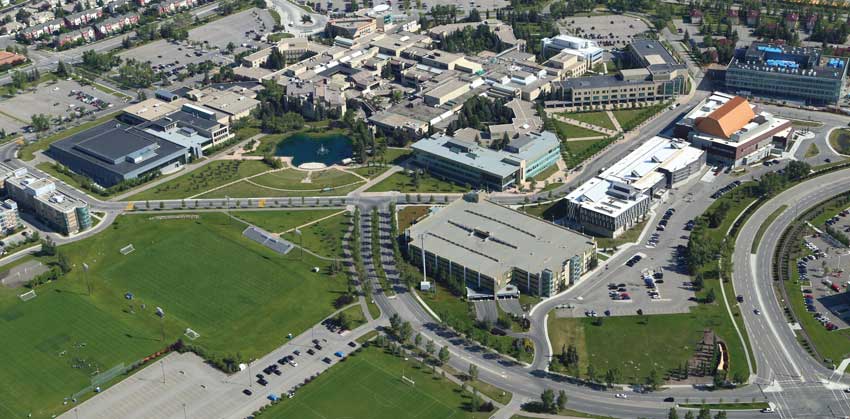 Photo by James Dyck
---
With completion of the Riddell Library and Learning Centre, Mount Royal University finished the work outlined in the 2008 Campus Master Plan. The 2016 Campus Master Plan was developed collaboratively and guides the evolution of the campus in the coming 20 to 30 years. This new Plan recognizes:
significant redevelopment of the neighbourhood
growth in the number of students and programs at MRU
more community members coming to campus
an increase in activity throughout the day and at all times of the year
Transforming vacant spaces
The Government of Alberta announced in the spring 2021 budget that Mount Royal would receive $50 million in capital funding over three years to expand student access to post-secondary education in Alberta.
Repurposing the W Wing into classrooms
The first project was renovating former Conservatory spaces in the W-Wing into four new classrooms. The early concepts came from a Learning Spaces working group chaired by faculty member Luciano Da Rosa Dos Santo. These early concepts evolved. Now, the appoximately 1,000 square metres is home to two 78-student standard classrooms, a 56-student flexible learning space and a 56-student active learning classroom. There are also study alcoves in the main corridor. Work on this engaging, student-focused project was completed in August 2022.
Redeveloping the former Library space
The next project is to repurpose the old Library space off Main Street. This is exciting because of the central location and large area. There is potential for this space to be:
another hub and gathering space for the campus and the community
a connector to other areas on campus, including indoor and outdoor spaces
flexible to needs and opportunities, rather than dedicated to groups or function
innovative so people passing by or in the space are exposed to new ideas and experiences
Many great ideas went into early concepts for the space back in 2016. Now that public funding is secured, a new process will begin to develop a clear vision for this space, use updated parameters and involve broad consultation. We look forward to recreating the heart of the campus!