International Education Week from Nov. 7 to 9
Widen your horizons
Michelle Bodnar — Mount Royal University | Posted: November 1, 2022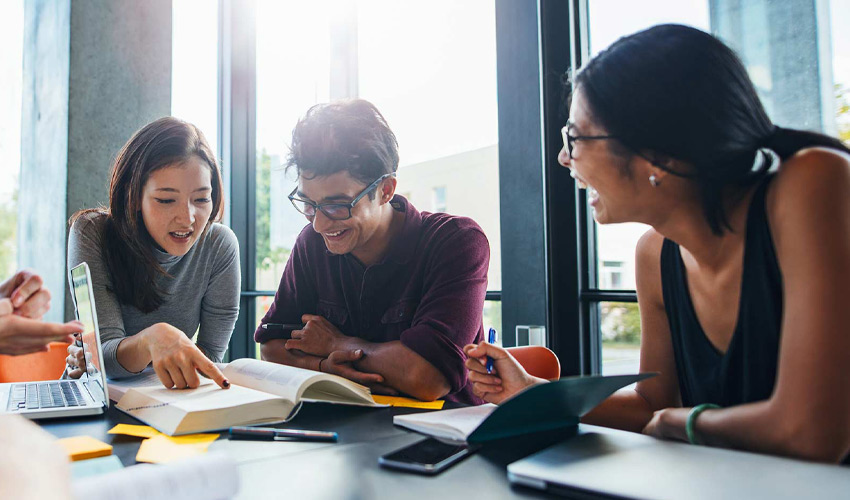 International education opportunities expand minds, provide different perspectives and help bolster resum​​és.
---
Along with institutions from all around the world, Mount Royal is celebrating International Education Week (IEW) from Nov. 7 to 9 to showcase the immense impact cross-cultural engagement has on learning and development in students. Several events will take place over the three days, including an International Festival on Main Street on Nov. 8, study abroad and field school information sessions, an International Eat and Greet and, of course, the announcement of the winners of the coveted International Photo Contest prizes.
Dianne MacDonald, director of the Office of International Education, says Mount Royal's international education program and commitment to internationalization is considered to be leading edge.
"Here students have the opportunity to take part in outbound exchanges, inbound exchanges, faculty-led field schools and international work experiences. Students can also gain on-campus international experience through peer-led volunteer programs, all of which foster opportunities for broadening their horizons, enhance cultural intelligence and develop leadership skills."
Outbound exchanges consist of a semester (or two) abroad at an approved institution where students can earn credits that will apply to majors being taken at MRU. Destinations include Australia, Europe, the United Kingdom, South and Central America, Japan, New Zealand, Taiwan, the United Arab Emirates and the U.S.
Field schools generally last from four to six weeks and also earn credit for students. Providing experiential learning opportunities and connecting students with local groups, organizations and businesses, coming up in the spring are three chances to travel. Students can go to Norway to understand ecotourism and outdoor leadership concepts and identify and understand key differences between Canada and Norway as it pertains to the history, culture and operations of the outdoor industry and attitudes towards outdoor recreation. In Peru, a joint communication studies and business field school will study intercultural communication, social enterprise, Spanish, sustainable development and Indigenous culture, resilience and reconciliation in a high-impact setting. And, in Sri Lanka, students will take part in anthropology and sociology courses, learn about the biological and cultural diversity of Sri Lankans and explore prehistoric caves, UNESCO World Heritage archaeological sites and museums.
International work experiences allow students to complete their work terms abroad. Several programs have built up partnerships with educational institutions in Canada and offer a variety of jobs to match all skill sets. Students can choose to take part in opportunities such as the Queen Elizabeth Scholars Program, which aims to mobilize a dynamic community of young global leaders to create lasting impacts both at home and abroad.
All students who go abroad on an exchange, field school or international work experience are guaranteed to receive funds to assist with costs through the International Mobility Award.
A home away from home
The International Student Support Centre (ISSC), located at E140, is where students from all backgrounds can gather together to access information, resources and peer-driven programs connecting those from away and those from nearby. 
Bachelor of Business Administration — Accounting major Akshi Mailvaganam is a student leader with International Education who works in the ISSC. She arrived in Calgary from Sri Lanka in 2019 after choosing Mount Royal for its "holistic" approach to education, its integrated, smaller classes and the ability to work closely with professors. As an international student, she is in Canada on a study permit and is planning on applying for a post-graduate work permit closer to finishing her degree.
"As much as I love Sri Lanka, I feel like there's so much opportunity here to grow as an individual, whether it be career opportunities or whether it be family. I'm looking forward to making a career here, getting some experience and working towards a future in Canada."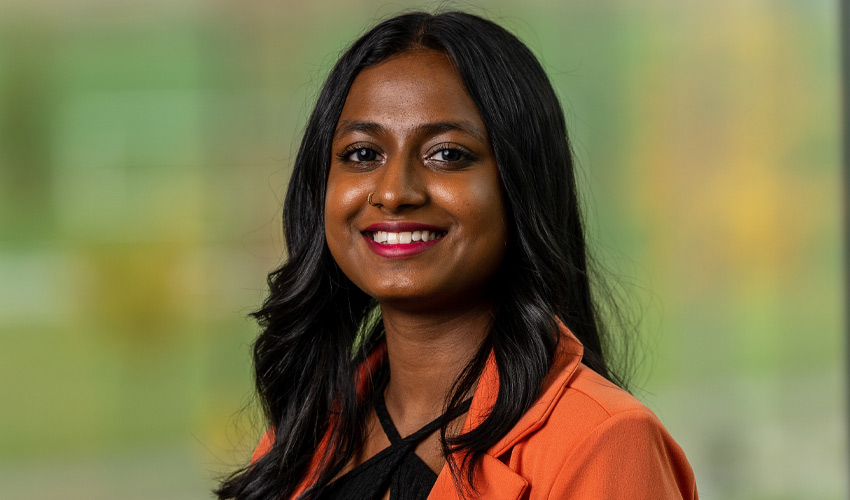 Akshi Mailvaganam arrived in Calgary from Sri Lanka in 2019 after choosing Mount Royal for its "holistic" approach to education, its integrated, smaller classes and the ability to work closely with professors.
---
The assistance Mailvaganam has received through the International Education office and the ISSC has been pivotal for her success, she says. She immediately connected with the ISSC space, volunteering and attending events that she now organizes herself.
"It's not just about studying, it's about having a social life," Mailvaganam says about the ISSC. "It's campus life. I'm here to be supportive to my volunteers and my student peers," which can mean anything from directing fellow students to health and wellness services, answering questions, providing advice and even just offering students a place to rest and relax. At the centre, students can meet with domestic and international students, take part in social and cultural activities, practice languages and learn from each other.
"(When you go on) exchange, there are connections to make, experiences to gain, and you can expand on your resum​​é," Mailvaganam says. Those noting international education among their experiences stand out among the crowd, offering different perspectives and the ability to see the world in new ways.
Mailvaganam advises those who are interested in learning while travelling attend one of the regular online study abroad sessions (view the calendar). Gain valuable intercultural skills and understanding while also taking part in an unforgettable experience.
Take part in International Education Week and celebrate learning without borders.