Business honours student shines on the court and in the classroom
From athletics to academics, Quinn Pelland does it all
May 18, 2022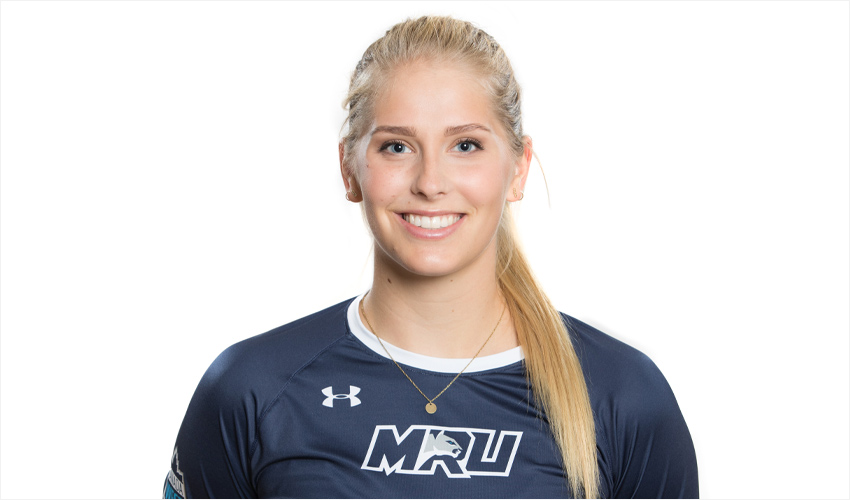 Quinn Pelland joined the Cougars women's volleyball team as a setter in 2017 and has played a pivotal role in their success ever since.
---
The undergraduate experience offers endless opportunities — you can be a varsity athlete, a team captain, an honours student, a research assistant, an entrepreneur. Or in the exceptional case of MRU student Quinn Pelland, you can be all of the above.
Originally starting her Mount Royal journey in the sciences, Pelland found her true niche in the business sector and is on her way to graduating with a Bachelor of Business Administration (BBA) double-major degree in Human Resources (Honours) and General Management.
When it came to choosing Mount Royal, Pelland says the idea of a mid-size university surrounded by big city resources drew her in. "Coming from a small town in northern Alberta, the smaller community vibe at Mount Royal made the transition feel more manageable," she says.
Pelland also credits watching her older sister, Taylor Pelland, BBA — Marketing (2019), attend MRU and play on the Cougars women's volleyball team as inspiration for following a similar path.
Making MRU history on the volleyball court
Wearing the number eight jersey, just like her sister before her, Pelland joined the Cougars' team as a setter in 2017 and has played a pivotal role in their success ever since, including moving into a leadership role as team captain.
After a year off from varsity competition due to COVID restrictions, Pelland and her team turned 2021/22 into a record-breaking season, winning the Canada West bronze medal and securing a spot at U SPORTS Nationals. Going in seeded seventh, they battled their way to a historic second place finish, the first-ever national medal for a Cougars team. In addition to the team's success, Pelland was also named a Canada West First-Team All-Star and U SPORTS Second-Team All-Star for the season.
"We had talked about getting to nationals and winning a medal for years and it always felt like such a big hill to climb. It was the most incredible feeling to see our hard work pay off and be able to celebrate with my close friends and teammates," Pelland says. She adds that the Mount Royal community also played an important role.
"We couldn't have done it without the support we get from the athletic department, our profs, the student body and the other athletes around us. It really shows how powerful school culture and pride can be."
Adding research to the undergraduate experience
That same steadfast dedication Pelland embodies on the volleyball court is also mirrored in her academic pursuits, proven by her being named a five-time U SPORTS Academic All Canadian, a designation awarded to varsity athletes with an academic standing of 80 per cent or better.
"Mount Royal is a really big piece of who I am now. No matter where life takes me in the future, I will forever be a Cougar."

Quinn Pelland
Not one to be deterred by a demanding workload, Pelland chose to enhance her degree by enrolling in the BBA honours program. With Dr. Leah Hamilton, PhD, professor in MRU's Bissett School of Business, as her supervisor, Pelland dove into the world of research and scholarship to complete her undergraduate thesis, "The importance of compassion in difficult conversations with a power imbalance."
"She's the best, a really fantastic mentor," Pelland says of Hamilton. "She taught me so much about academics and helped me develop my skills as a writer and researcher."
Pelland's experience going through the honours program also led to her being offered a research assistant position with Dr. Rachael Pettigrew, PhD, assistant professor in the Bissett School of Business. Starting this summer, Pelland will assist Pettigrew on her research project, "Advancing women's representation on boards: Understanding women's experiences, perceived barriers, and available supports on the pathway to board service."
Pelland says the support she has received from her professors, Hamilton and Pettigrew included, has made a huge impact on her university experience.
"The connections I've made mean so much to me. I feel incredibly grateful to have met all of these incredible, influential people so early on in my education," she says. "They're genuinely so supportive and I'm grateful for the opportunities they've provided me."
Family-inspired entrepreneurship
On top of her academics, athletics and research work, Pelland also runs a small business with her sister.
"We've been artsy our whole lives, but we never did anything with our drawings," Pelland says, a realization that prompted the sisters to launch Rare Kin, an apparel company featuring their original artwork, in 2020.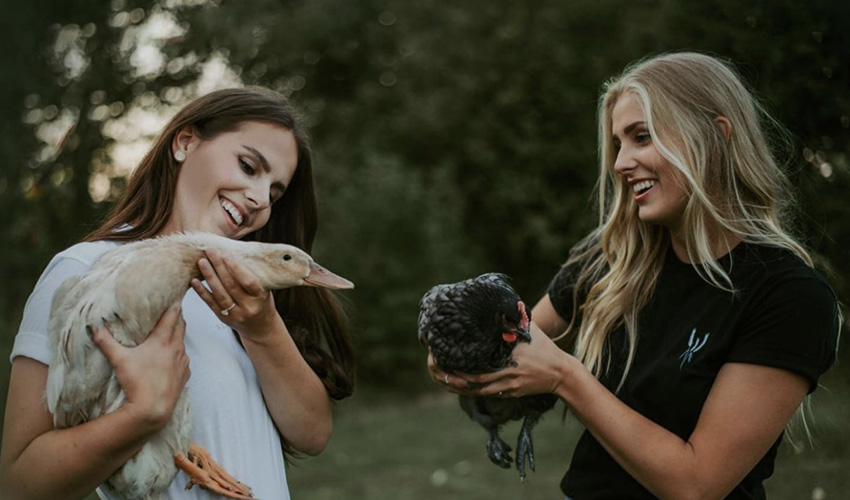 Taylor Pelland, left, and Quinn Pelland launched Rare Kin, an apparel company featuring their original artwork in 2020.
---
"Your Rare Kin are the people who are important to you, whether that's your immediate family, your friends or your pets." The brand has a minimalist aesthetic and focuses on being approachable and genuine, with two dollars from every garment sold going to local charities.
"We're on a really good trajectory and have some exciting things planned," Pelland says, adding that her and her sister's experiences studying business at MRU have played a big part in turning their idea into a reality. "I'd be very lost if I didn't have the business background I gained through my program."
With one final year left at Mount Royal, during which she'll once again play on the Cougars women's volleyball team, Pelland is thankful for the experiences she's had so far, and those still to come.
"Mount Royal is a really big piece of who I am now. It has given me so many different facets of understanding myself, from being able to be a leader on a sports team and learning new skills to diving into the world of research and creating an incredible network of people to know and learn from," she says.
"No matter where life takes me in the future, I will forever be a Cougar."