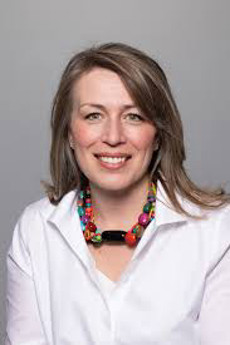 Rachael Pettigrew
Associate Professor
Interim Chair, General Management & Human Resources
Faculty of Business and Communication Studies
Office:
EB 2023
Phone:
403.440.6846
Email:
rpettigrew@mtroyal.ca
Link to
Google Scholar
Link to
LinkedIn
Twitter: @RNPettigrew
Degrees
PhD University of Manitoba
MS University of Tennessee, Knoxville
BA Berea College, Kentucky
BIOGRAPHY
Dr. Rachael Pettigrew is an Associate Professor and Interim Chair of General Management and Human Resources in Bissett School of Business at Mount Royal University. Dr. Pettigrew has 20 years of multidisciplinary university teaching experience at MRU, University of Manitoba, University of Calgary, and Red River College. Rachael's primary research focuses on gender in the workplace, policy, and organizational culture. Her latest SSHRC-funded research focuses on women and gender-diverse individuals' experiences, aspirations, and barriers faced on the path to board work. Recent projects have explored multiple facets of parental leave legislation including fathers' parental leave use, employer adaptation to the extended parental leave legislation, and the career impact of parental leave use. Her secondary area of interest includes newcomers, with projects exploring newcomer settlement and treatment of seasonal agricultural workers during COVID. She presents her research globally in both industry and academic venues. Dr. Pettigrew is also a public speaker and is regularly engaged with industry.

MRU Teaching Experience
Organizational Behaviour
Organizational Development & Cultural Calibration
Introduction to Human Resources

RESEARCH AND SCHOLARLY WORK
Sample Publications
Chenger, D., & Pettigrew, R.N. (2023). Leveraging data-driven decisions: A framework for building intra-company capability for supply chain optimization and resilience. Supply Chain Management. doi: 10.1108/SCM-12-2022-0464

Kaufman, G., Auðardóttir, A. M.,  Mazrekaj, D., Pettigrew, R. N., Stambolis-Ruhstorfer, M., Vuckovic Juros, T., & Yerkes, M. A. (2022). Are parenting leaves available for LGBTQ parents? Examining policies in Canada, Croatia, France, Iceland, the Netherlands, and the United Kingdom. In I. Dobrotic, S. Blum, & A. Koslowski (Eds.), Research Handbook on Leave Policy. Edward Elgar. ISBN: 978 1 80037

Richardson, L., & Pettigrew, R. N. (2022). Migrant agricultural workers: A comparative analysis of both policy and COVID-19 response in Thailand, Italy, and Canada. SN Social Sciences. doi: 10.1007/s43545-022- 00548-9

Pettigrew, R. N. (2022). Employers' perceived career impact of Canada's parental leave extension from 35 to 61 weeks - "An Empty Gift". MDPI – Merits, 2, 170-186. doi: https://doi.org/10.3390/merits2030013
Pettigrew, R., Cabaj, C., & Pelland, Q. (2022). 2022 industry report: Pathways to board work for women and gender diverse people: Understanding experiences and barriers. Mount Royal University, Calgary. PDF Link
Pettigrew, R. N. (2021). An Untenable workload: COVID-19 and the disproportional impact on women's work-family demands. Journal of Family & Consumer Sciences, 113(4), 8-15. doi: https://doi.org/10.14307/JFCS113.4.8

Pettigrew, R. N., & Duncan, K. A. (2021). Fathers' use of parental leave in a Canadian law enforcement organization. Journal of Family Issues.1-31. doi: 10.1177/0192513X20976733
Dias De Vasconcelos, A. L., & Pettigrew, R. N. (2021). COVID-19's disruption of Canada's Seasonal Agricultural Worker Program: Impacts on food supply chain, farmers, temporary foreign workers, families, and consumers. Journal of Family & Consumer Sciences, 113(1), 35-39. doi: https://doi.org/10.14307/JFCS113.1.35

Pettigrew, R. N. (2020). Canadian Employers' Reaction and Policy Adaptation to the extended, 61-week parental leave. Canadian Studies in Population, 47(1-2), 97-109. doi: 10.1007/s42650-020-00030-y

Pettigrew, R. N., & Duncan, K. A. (2017). Poking a sleeping bear: The challenge of organizational recruitment for controversial topics. Community, Work and Family, 20(1), 35-49. doi:10.1080/13668803.2016.1270259

Ashton, W., Pettigrew, R.N., & Galatsanou, E. (2016). Assessment of settlement services systems in Western and Northern Canada: Perceptions of settlement provider organizations. Canadian Ethnic Studies, 48(3), 69-89 doi: 10.1353/ces.2016.0026
Duncan, K. A., & Pettigrew, R. N. (2012). The effect of work arrangements on perception of work-family balance. Community, Work & Family, 15, 403-423. doi: 10.1080/13668803.2012.724832

Research Grants
SSHRC Partnership Engage Grant. (November 2022-May 2023). Advancing women's representation on boards: Understanding women's experiences, perceived barriers, and available supports on the pathway to board service. In partnership with DirectHer Network. Value $24,942.

Recent Media Engagement
Lewis, N. (2023, May 19). Lack of sponsorship a key hurdle in more women joining boards. Chartered Public accountants Canada. https://www.cpacanada.ca/en/news/atwork/women-boards-study

Song, T., & Anderson, L. (2023, April). Putting people, equity and inclusion at the centre of climate action. Pembina Institute's Thought Leader Forum Summary Report. https://www.pembina.org/reports/tlf-march-2023-people-equity-and-inclusion.pdf

Mortlock, L. (2023, February 17). Advancing diversity, equity, and inclusiveness in the energy and resources sector. https://www.lancemortlock.com/post/advancing-diversity-equity-and-inclusiveness-in-the-energy-and-resources-sector

Nye, J. (2023, January 16). Microsoft offering unlimited time off. Live Radio Interview on 630 CHED Afternoons radio show (10 minutes), Edmonton, Alberta.

Al-Hakim, A. (2023, January 16). Some Firms are offering unlimited time off for employees. Will it Work? What Experts say. Global News. Article: https://globalnews.ca/news/9411270/microsoft-unlimited-vacation-time-work-culture/ [also broadcast on Global News evening nation broadcast]

Aldous, J. (2019, April 11). Paternity leave: What are the benefits of paternity leave for families and businesses? CBC Radio: Alberta at Noon: 1-hour call-in show, sole expert commentator. https://www.cbc.ca/player/play/1488944195573

Selected Community and University Service
University
2022-2025. University Tenure and Promotion Committee (Alternate)
2020-2022. MRFA- MRU Child Care Board
2016-2022. Student Research Ethics Committee (SHREC)
2017-2021. MRFA-MRU Joint Diversity & Equity Committee
2017-2018. Chair - MRFA Diversity Committee
2016-2017. Member - MRFA Diversity Commitment
Faculty
2023-2026. BCS Promotion Committee
2016-Ongoing. Faculty of Business and Communications Studies, Indigenization Working Group
2018-2023. Lead Organizer - Annual BCS International Women's Day Event
Department
2019-Ongoing. Contract Hiring Committee, Dept. General Management & Human Resources
2020-2022. Human Resources Discipline Coordinator
2018-2022. Course Coordinator - HRES2170: Introduction to Human Resources