Vice-President, Students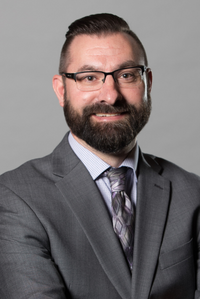 Phil Warsaba, Vice-President, Students joined Mount Royal University in 2011 and, over time, his portfolio has evolved to include Enrolment Services, International Education and Student Affairs.
Phil's extensive experience in strategic enrolment management and services for students has been honed through teaching and research roles, as well as through administrative and senior management positions, at Carleton University and the Northern Alberta Institute of Technology.
Phil holds a Bachelor of Arts (Combined Honours) in English Language & Literature and Linguistics & Applied Language Studies (1999) and a Master of Arts in Applied Language Studies (2004) from Carleton University. A recipient of the 2017/18 Mount Royal University Distinguished Administrator Award, Phil is unwaveringly committed to transformative change and to fostering a sustainable campus life environment that supports the satisfaction and success of students, staff and faculty.
Our Services
The Students division, led by Phil Warsaba, Vice-President, Students, includes 15 functional departments, many with multiple student support units. The focus of the Students division is to serve and support the academic and non-academic growth and development of students.  A strength is in our approaches to peer-to-peer learning and student leadership by empowering students to work collaboratively with service areas and other students to grow holistically as individuals.
Access and Inclusion Services
Facilitates reasonable academic accommodations for students experiencing disability related barriers and encourages student development, partnering with the campus  community to become a more accessible, equitable, diverse and inclusive learning environment.
Programs/Services:
Access support
Exam accommodation
Assistive technology
Academic strategist
Equity, diversity and inclusion programming, including intercultural competency, social justice and diversity peer education
Promotion of CCDI resources
Admissions and Recruitment
Serves as the primary contact for faculty/staff on admission (policy/procedure and consultation pertaining to enrolment targets), student recruitment, campus tours, prospective student information, as well as communication with prospects and applicants throughout the admission process.
Programs/Services:
Recruitment — domestic, Indigenous and international
Admissions — domestic and international
Transfer articulation
Liaison with high schools
Guidance counsellor updates
Cougars Athletics & Recreation
Creates an environment for the academic, athletic and social success of students. Cougars Athletics participates in eight intercollegiate men's and women's teams and Recreation inspires healthy, active lifestyles through fun, student-led experiences.
Programs/Services:
Varsity teams (basketball, volleyball, hockey and soccer) participate in U SPORTS Canada West conference
Academic support for student-athletes
Facility management of Recreation Centre
Personal training and Fitness classes
First aid and certifications
Intramural recreation sports
Events and tournaments
Career Services
Provides opportunities for students to clarify, experience and achieve their career and employment goals. Includes career and employment support, work experience programs and a student resource centre.
Programs/Services:
Work integrated learning
Co-op education
Career Education and Employment Development
Resume preparation and critiquing
Career and volunteer events
Career Mentorship - Harry G. Schaefer Mentorship Program
Chaplaincy
Makes available chaplains and faith representatives, as well as spaces on campus to explore or practice one's religious, cultural or spiritual beliefs.
Iniskim Centre
Offers programs and services to increase the engagement and success of Indigenous students while raising awareness of Indigenous cultures, histories and protocols across the University. Mount Royal University is located on the traditional lands of the Blackfoot people, the Niitsitapi. The Centre recognizes and respects the diversity of all Indigenous Peoples of Canada.
Programs/Services:
Indigenous University Bridging Program
Indigenous Housing Program
Medicine Trail Program
BMO Peer Mentorship Program
Student support centre
International Education
Offers students the opportunity to enrich their education and expand their understanding of the world through the development and delivery of programs related to international partnerships, student mobility and international field schools, and through the provision of specialized student supports dedicated to the improvement of the international undergraduate student experience.
Programs/Services:
English Language Program
International field schools
International Student Centre
International exchange partnerships
Office of the Registrar
Provides information on curriculum approval processes, academic policy review and/or interpretation, student requests for special consideration, grade appeals (e.g., academic warning/disqualification, grade appeals, fee refunds), room scheduling, financial aid and awards, and general questions about services available to students. 
Programs/Services:
Curriculum Approval
Student Records
Credit Registration
Student Awards and Financial Aid
Academic Scheduling
Residence Services
Provides housing in two owned and operated residences (East and West) with a capacity of approximately 1,000 beds. Residence Services is responsible for these facilities and offers students a variety of associated accommodations and amenities. Residence Services is committed to be the place students want to live. Centered on student success, residence life programming is designed to support the needs of students by creating a living and learning environment that is conducive to academic, persona, and social growth.
Programs/Services:
Facility management
Residence Life programs
Guest accommodations
Student Community Standards
Acts as the primary contact for students, staff and faculty on matters related to the application and interpretation of the Code of Student Conduct.
Programs/Services:
Academic and non-academic misconduct support
Facilitation of hearing panels and, if necessary, the application of student discipline sanctions
Student Success and Learning Services
Creates integral learning experiences to develop self-directed learners. Students can receive help with writing, math and learning strategies. They can also sign up to participate in a variety of peer learning programs.
Programs/Services:
Learning peers
Writing and learning services
First-Year Mentorship Program
The role also serves as the primary contact for students, staff and faculty for matters related to New Student Orientation (NSO), the coordination of institutional academic advising and the development and delivery of transitional support programs for new students. Any current Mount Royal student who is interested in changing programs is also welcome to meet with an advisor in Academic Advising services.
Programs/Services:
Academic Advising
New Student Orientation
Graduate Studies Fair
New Student Registration
Early Warning/Early Support programs
Student Systems and Communications
Provides internal support to the Students subdivision for business and data analysis, project management, system upgrade/implementation services, as well as student-facing marketing and communications for transactional messages (official communications) and service marketing to students across the University.
Programs/Services:
Student-facing communications and Academic Calendar production
Banner training/support, implementation and upgrades
Student service systems implementation and upgrades (e.g., MyMRU; DegreeWorks; Banner Communication Manager, Curriculog/Acalog)
Strategic planning of student systems (Roadmaps)
Student data: operational reporting and analysis
Wellness Services
Promotes individual and campus well-being by empowering the Mount Royal community to create a place where people can learn, work, play, love and live well.
Programs/Services:
Health Services
Injury and Prevention Clinic (chiropractic, massage therapy, athletic therapy, physiotherapy, acupuncture, pedotherapy)
Student Counselling
Health Education
Mental health programs
Immunizations
Dating, domestic and sexual violence response and awareness