University Entrance option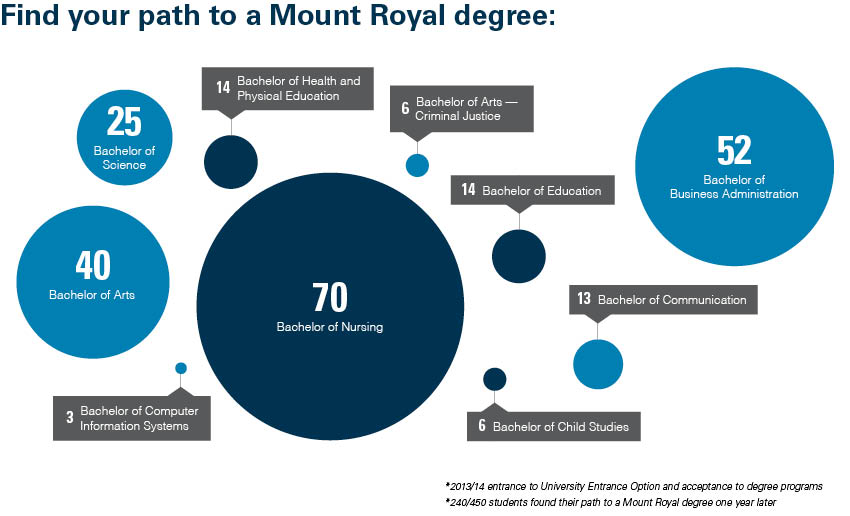 Get started on your university studies now
The University Entrance option is designed for students who have applied to, or intend to apply to, one of Mount Royal's baccalaureate degree programs but lack specific admission requirements or do not meet the competitive admission average for the program.
Students in the university entrance option will register primarily in post-secondary courses but are permitted to enroll in high-school equivalency courses in order to meet admission requirements of their intended degree program.
Admission to the University Entrance option does not guarantee subsequent admission to a Mount Royal degree program.
The University Entrance option provides learning opportunities for students who wish to:
participate in post-secondary education, and plan to pursue a university degree, but lack specific admission requirements
enhance their admissibility for a Mount Royal degree program through completion of post-secondary coursework and/or high-school equivalency courses
take courses that are required for the completion of a Mount Royal degree while improving their qualifications for degree-level study
Students can complete a maximum of 30 credits (10 courses) as a University Entrance student.
Students are strongly encouraged to consult with an academic advisor before they reach this credit limit to ensure they are taking the appropriate courses.
Why Mount Royal?
Focus on instruction ― Mount Royal faculty members are dedicated to teaching above all. Interact in small classes and labs with instructors who are leaders in their fields.
Well-rounded education ― The General Education (Gen Ed) requirement is built into Mount Royal bachelor's degrees. It ensures you graduate with valuable insight into a wide range of ideas and academic disciplines extending beyond your area of study.
Knowledge and skills ― In addition to helping you deepen your knowledge of particular fields, Mount Royal degrees encourage the development of transferable skills such as critical thinking, problem solving, information research, and communication. These capabilities will help you succeed at Mount Royal and beyond.