Whether you have a load of heavy books is always weighing you down, boots and bulky winter wear you don't want to tote all over, or a bike and gear to get you to campus safely, we've got a great option to securely store your belongings on campus. Locker rentals are available for either one- two semesters, or the summer months. There are groups of lockers located throughout the University for students to rent near their classes to use to store their books and personal items.
---
Key Dates
You can rent a new locker for the academic year or by semester. There are no locker rentals during the summer months.
Rental Availability:
| | |
| --- | --- |
| July 1 - Aug 15 | No Locker Rentals |
| August 16 | Locker rentals begin for Fall 2022 |
| December 1 | Locker rentals begin for Winter 2023 |
| May 1 | Locker rentals begin for Spring 2023 (Campus Level 1 Only) |
Locations around Campus
Lockers are located throughout the main campus building. There are no student lockers in the Faculty of Arts Building (EA), the Bissett School of Business (EB), Roderick Mah Centre for Continuous Learning (EC), or Taylor Centre for the Performance Arts (ED). Students are assigned a locker location based on current availability. The orange areas in the maps below indicate the wings where student lockers are located.
For locker rentals in the Recreation Centre, please contact Mount Royal Recreation.
Rental Rates
(Rates are effective Sept 1, 2022 to April 30, 2023)Locker types and measurements
| | |
| --- | --- |
| Full size (Wide) | $105 |
| Full size (Regular) | $90 |
| Half size | $80 |
| Box size | $70 |
Locker prices are based on a rental period from September 1 through April 30. Prices are pro-rated every two weeks. Refund will not be issued when locker return date has reached the final month of the rental period. If you are purchasing later in the year, please check online or at the Parking Office for current rates.
Online locker rentals
New Students:
To register for a online locker account, please:
Log onto myMRU.ca
Select "Register and Pay" and "Online Locker Menu" on the right hand menu
Press "LOGIN"
Once you have successfully login, your account is automatically created. You may now able to select and rent lockers online.
Returning Students:
Students can access the locker portal online via myMRU. Select "Register and Pay" and "Online Locker Menu" on the right hand menu.
The system allows you to:
check for available lockers
choose the size of your locker
select the location (wing and level)
pay for your locker
print off your receipt and agreement
check your combination if you forget 
Secure Bike Storage
Mount Royal University encourages staff and students to take advantage of bicycle commuting as an alternative mode of transportation to and from our campuses. If you are cycling to campus we provide bicycle racks for convenience as well as PedalPods and underground storage for safe and secure parking. 
Bicycles are not allowed inside buildings on campus. Bicycles indoors are a tripping hazard and may block pathways or exits during an emergency; they also increase wear-and-tear inside our buildings. If you bring a bicycle into a Mount Royal University building, Facilities & Operations staff will ask you to remove it. We appreciate your help maintaining the safety and cleanliness of our buildings by keeping bicycles outside.


Bike Racks
Looking for a low cost place to lock up your bicycle?
Bike racks are conveniently located throughout the Mount Royal University campus.
There is also has a bike shelter at the West Gate to protect bikes from rain and snow. The shelter is free to use and is available on a first-come, first-served basis.
Please avoid locking bikes to.
railings/gates - it impedes the accessibility of the site by those with mobility impairments
trees - it can damage them
construction fencing - these must remain movable at all times to provide an emergency exit for construction workers
Does your building need a bike rack? Suggest a rack location.
Secure Bike Lockers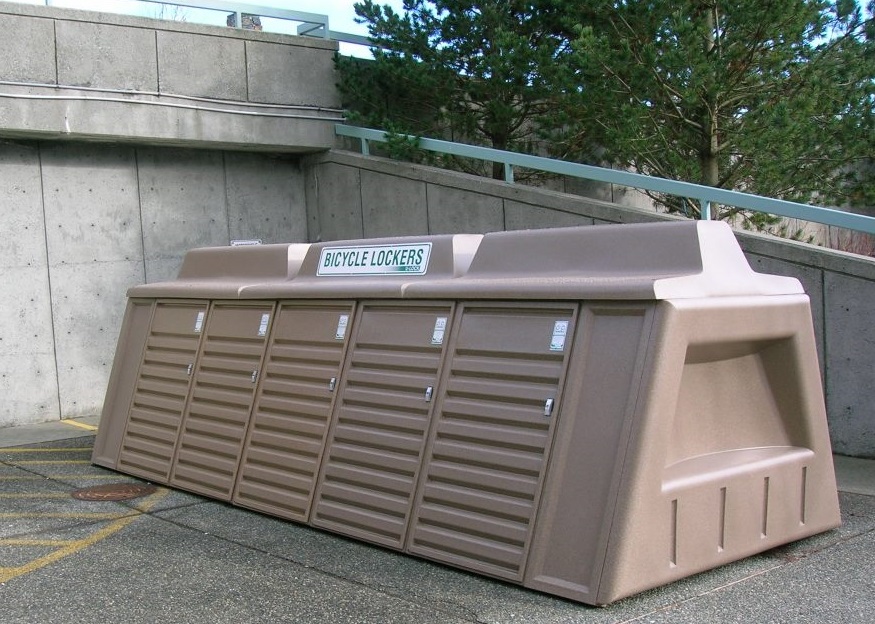 Our bike lockers (Pedalpods) are unique wedge-shaped lockers where bicycles can be stored more securely, under cover and out of sight from thieves and vandals. They can accommodate helmets, rain gear, clothing, backpcksad other items.  These lockers are 36.25" wide at the door and 55.5 tall.

Bike locker rentals are based on annual rate of $144 (July 1 to June 30 - 12 months).  Bike locker rental rate is prorated every month.  
The bike lockers are located as the following locations:
Pedestrian walk between EA and Riddell Library
EB Building
Recreation entrance
Storage and Shower Facilities
As part of Mount Royal University's ongoing sustainability and transportation demand management commitment, The Riddell Library and Learning Center underground bike storage and change room is now open. 
This facility features a bike storage room, as well as separate men's and women's change rooms and personal lockers (day use, or long term rentals).
Rentals of the facility can be purchased in person at the Parking and Transportation Service Desk (H100). The rates are calculated as follows:
Bike storage only - $30/year
Bike storage, shower room and personal locker - $144/year (limited quantities)
Replacement Access Card $10 (available at Campus Card Office)
Mount Royal University does not accept responsibility for any damage to the contents of lockers or for the loss of items from lockers which have been rented to students and/or other parties.
Students must use the combination lock they were issued. Any personal locks will be removed by Parking & Transportation Services.
Lockers are not exchangeable.
Lockers must be emptied of all personal possessions by the rental end date. Contents that are left behind in the lockers are only available for a 30 day period after the rental term has expired. Once this period in time has passed, the renter of the locker forfeits ownership of the contents to Mount Royal University Parking and Transportation Services which shall dispose of the contents.
By agreeing to the rental agreement and the terms and conditions, the renter agrees to undertake all obligations and duties therein.
Refund is provided in-person only with a valid photo ID and a payment card, no cash refunds will be provided. Please return your lock to the parking office service counter and a pro-rated refund will be calculated.
The personal information that you provide to Mount Royal University is collected under the authority of the Post-Secondary Learning Act and the Alberta Freedom of Information and Protection of Privacy (FOIP) Act - Section 33(c). The information will be used to provide various services by Parking & Transportation which includes, but is not limited to, Parking Services, Safewalk and Locker Rental Management.
Collected personal information is protected from unauthorized access, collection, use, and disclosure in accordance with the FOIP Act and can be reviewed subject to the provisions under the Act. Questions regarding the collection of personal information can be directed to:
Mount Royal University Parking and Transportation Services
Cougar Campus Store - H100
4825 Mount Royal Gate SW
Calgary, Alberta, Canada
T3E 6K6
Phone: 403-440-6914
Email: parking@mtroyal.ca
Frequently Asked Questions
Registered students with a 
MyMRU.ca
 account can use the online locker rental system. Please verify your locker selection before making payment.
Log onto MyMRU.ca.
Select "Register and Pay" tab. At the right hand side under "Locker Rental", select "Locker Rental Menu".
You will be directed to the locker online portal.

 
You will need an MRU student identification number as well as a Visa or MasterCard to rent a locker.

 
Please enable pop-ups before you select a locker. DO NOT press the back button or close browser session when you are on the payment screen.
Usually the locker is held for one business day and then voided and released to the general student body. Once the locker transaction has be voided, you may re-try online.
Log onto myMRU.ca.
Select "Register and Pay" tab. At the right hand side under "Locker Rental", select "Locker Rental Menu".
You will be directed to the locker online portal.

 
Double click on your current rental and on the next screen, look to the top right box (consists of your locker information). Click on the "Combination" button to retrieve your combination.
Your locker agreement form will show a rental start date and a rental end date. All lockers must be emptied by the rental end date.
All possessions left in the locker after the rental period has ended will be disposed of or donated to the Peer Support Centre or other local organizations.
If the lock can be removed from your locker, bring the lock and valid photo identification to the Parking Office and we will replace your lock, free of charge.
If the lock is broken on the locker and you cannot open either the lock or the locker, visit the Parking Office during regular business hours for assistance.
A replacement lock can be puchased at the Parking Office for a $10 fee.
First, empty your locker. Then, bring photo identification and the lock to the Parking Office. A pro-rated refund will be returned to your student account. Please note that once the locker rental has reached the last month of validity, no refund will be provided.
If you experience problems with the online system, it may be because you are not a registered student. Or, it may be because the online system is unavailable due to system maintenance. Check the 
Parking and Transportation website
 for updates on the system.