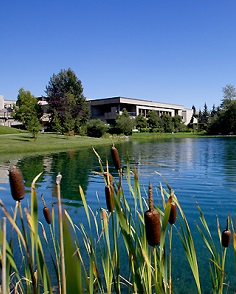 Education:
BA (University of Calgary)
MSc (University of Calgary)
PhD (University of Calgary)
Office: EA3056A
Phone: 403-440-6984
E-mail: mclark@mtroyal.ca
TEACHING
PSYC 2235 Life-Span Development
PSYC 3406 Introduction to Counselling and Psychotherapy
RESEARCH INTERESTS
Wellbeing of Families, Child Wellbeing, M

indfulness with Adults with Complex Needs
SELECTED PUBLICATIONS

Peer-Reviewed Journal Articles
Redekop, M. (2016). From Life's Difficulties to Posttraumatic Growth: How Do We Get There?. Psychology (Vol. 7 pp. 1451-1466). (Accepted). doi: 10.4236/psych.2016.712144
Yu, M., Clark, M. (2015). Investigating Mindfulness, Borderline Personality Traits, and Well-Being in a Nonclinical Population. Psychology (Vol. 6 pp. 1232 - 1248). (Accepted)
Clark, M., Amar-Singh, H.S., Hashim, L. (2014). The Subjective Well-being of Malaysian School Children: Grade Level, Gender and Ethnicity. Psychology. (Accepted)
Clark, M., Geake, R., Smith, A.D., Greiner, M., Yost, E. (2013). The quality of life of adults with developmental disabilities and their families in Calgary Canada: A pilot study. International Journal of Social Science and Humanity (Vol. 3(3) pp. 296 - 299). (In Print)
Clark, M., Geake, R., Smith, A., Greiner, M., Yost, E. (2013). The quality of life of adults with disabilities and their families in Calgary Canada: A pilot study. International Journal of Social Science and Humanity (Vol. 3(3) pp. 296 - 299). (In Print)
Clark, M., Brown, R., Karrapaya, R. (2012). An initial look at the quality of life of Malaysian families that include children with disabilities. Journal of Intellectual Disability Research (Vol. 56(1) pp. 45 - 60). (In Print)
Brebner, A., Clark, L.M., Johnson, K. (1984). Vocational training for developmentally handicapped adults using CAI. Computers and Education (Vol. 8(4) pp. 445 - 448). (Type: Journal Articles).
Book Chapters
(1996). Refugee families in developing countries: Coping with stress and disability. In Brown, R.I., Baine, D., Neufeldt, A. (ed.) Beyond Basic care: Rehabilitation and special education in developing countries. Captus Press.
(1985). Leisure and recreation services for handicapped persons: Changing staff roles. Wessex Studies in Special Education (4 ed. pp. 3954).
Clark, M., Faulkner, M. (1979). Social Education: A demonstration of research to practice. In Brown, ., Bayer,. (ed.) Research Demonstration and Practice:10 Years of Progress. Vocational and Rehabilitation Research Institute.
SELECTED CONFERENCE PRESENTATIONS
Clark, M., Geake, R., Smith, A.D., Greiner, M., Yost, E. (2013). The Quality of Life of Adults with Developmental Disabilities and their Families in Calgary Canada: A Pilot Study. International Conference on Psychological Sciences and Behavior, Colombo, Sri Lanka. (Role: First Listed Author)
Geake, R., Biersdorff, K., Smith, A., Greiner, M., Yost, E. (2012). The Quality of Life of Adults with Developmental Disabilities and their Families in Calgary: A Pilot Study. Found in Translation Conference, Alberta Health Services, Edmonton. (Role: First Listed Author)
Clark, M., Smith, A. (2011). Family Quality of Life Project. Alberta Council of Disability Services Spring Conference, Calgary. (Role: First Listed Author)
Mitchell, M., Clark, D., Clark, M. (2008). Interdisciplinary Health Services Student Experience in Malaysia. Global Citizenship Education and Post-Secondary Institutions: Policies, Practices and Possibilities, University of Alberta, Edmonton, Canada. (Role: Co-Author)
Hasnain, R., Clark, M., Karappaya, R. (2008). Transformational Leadership: Making Asian voices heard on issues that remain silent. Tunku Abdul Rahman College International Conference on Learning and Teaching, Putrajaya, Malaysia,. (Role: Co-Author)
Dunn, D., Clark, M. (2008). Inclusive Post-secondary Education: Opening doors to new alternatives. Tunku Abdul Rahman College International Conference on Learning and Teaching, Putrajaya, Malaysia. (Role: Co-Author)
Karappaya, R., Clark, M. (2008). Malaysia-Canada partnership in disability studies education: Outcomes and opportunities. Tunku Abdul Rahman College International Conference on Learning and Teaching, Putrajaya, Malaysia. (Role: Co-Author)