The Writer-in-residence program is an introduction to the University and Faculty of Arts to someone with a wealth of talent in the arts. The focus of creative writing develops our students for their future — it gives them direct access to accomplished writers who share their methods and challenges with writing and publishing. They have a first-hand opportunity to learn writing practices from professionals. Learn more about the Writer-in-residence program.
Event details
Certified: Comedy Resilience and Mental Health — a Dialogue with Jan
Tues., Jan. 28  | 11 a.m.
Ideas Lounge (EL1270)
Riddell Library and Learning Centre
This event is free. All are welcome to attend. Light refreshments. 
Performer, playwright and stand-up comedian Jan Derbyshire draws from her own experience living with mental illness and coming out the other side. Join us for readings from CERTIFIED — the book based on the highly successful stage play — and light-hearted dialogue to better understand resilience and mental health through laughter. 
Brave Space: Increasing Our Capacity For Uncomfortable Feelings
Wed., Jan. 29  | 4 p.m.
Trico Changemakers Studio (EB3031)
Bissett School of Business
This event is free. All are welcome to attend.
Inclusivity, equity, diversity, privilege, decolonization. Some of the many foundational processes and practices we have been talking about at panels, circles, industry events, classrooms, and even at parties and gatherings. It starts with a conversation, which is great, but what happens afterwards? What action affirms and upholds the values set out during that intimate session? How do you create space for you to both be heard and give space for others to be heard? Why is it important to be present and open in such a time of tension?
Brave Space is Jan's offering to you, as she has the same questions. We will be conducting a series of experiments where people express themselves in ways that hold themselves up by their own words. Where attempts are made to not just say, but really try to embody what is being said. This is the start of many sessions for all of us to be together: talking, reflecting, connecting, making agreements, and taking risks to make the change. Welcome to the Brave Space.
Presented in collaboration with Trico Changemakers Studio and Mental Health Services.
Certified
One Yellow Rabbit
January 21 – 27, 2020  | 8 p.m.
Motel Theatre
Adults: $40  | Students: $25  | Artists: $25
Comedian and certified insane person JD Derbyshire turns the audience into a mental health review board to help determine her current state of sanity. Join this irreverent fun of JD's hilarious and heart-aching journey through the mental health system. Together, we grapple with hefty questions like: how do we define"crazy" and who gets to decide? In this case: you do.
Mental health issues have come out of the closet recently, though there still is much stigma attached. Employing an audacious, articulate writing style, JD creates candid, compelling material about discovering her need for vigilant self-care. Her background as a trailblazing, queer, female stand-up comedian and her vast experience as a playwright-performer contributes to making Certified a rich and unique work.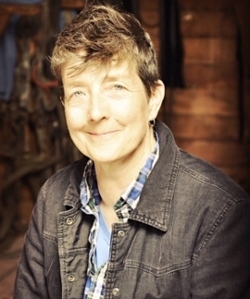 Jan (JD) Derbyshire is an established multi-disciplinary artist. She specializes in the design of playful and participatory experiences in theatre, movement, comedy, media and events that push forward ideas of diversity, belonging, civic engagement, perception change and practical applications of theory. She has recently co-created participatory projects with The Banff Centre for the Arts, Conference Board of America, New World Theatre, The Vancouver International Children's Festival, The Republic of Inclusion, National Art Centre, Ottawa, The University of Guelph revisiting Disability Project, All in, Frank Theatre and Young People's Theatre, Toronto. Jan is an award-winning Canadian Playwright and is the co-founder of POD, a Vancouver based citizen designer lab. She has a Masters in Inclusive Design from OCAD University in Toronto (2014). She is currently the Artistic Director of Nervous System Performance based in Vancouver and Inclusive Designer in Residence with Calgary Arts Development. Her latest show, Certified, where the audience becomes a mental health review board will tour this year to Uno Fest, Victoria, FoldA digital arts festival in Kingston, High Performance Rodeo, Calgary and will be part of Vancouver's Touchstone Theatre's 2019/20 season.
More on-campus opportunities to meet Jan
The Writer-in-Residence program explores opportunities for authors, students and faculty to meet, exchange ideas and increase awareness of scholarly and artistic endeavours. Want to be involved? Here are a couple of ways you can participate:
MRU Faculty find out more about how you can bring Jan into one of your classes during his week-long residency. For booking information, contact Natalie Meisner 

.

MRU Students

submit your manuscripts (7–10 pages/1,700 words of creative writing any genre) for Jan's review by Jan.10. You'll get a chance to have a follow up one-on-one working session.
Please email Natalie Meisner your manuscript and to book your working sessions.