JMH LaunchPad Pitch Competition 
| | | |
| --- | --- | --- |
| | | |
| | | |
| Fund Your Business | Add a Career-Defining Experience To Your Resume | Elevate Your Personal Brand |
| Unlock opportunities for up to $70K funding and essential resources to ignite your business. | Differentiate yourself by being one of the ambitious few who make it on stage to pitch your business. | Share your unique story with hundreds of people across Calgary. |
Get ready for the JMH LaunchPad Pitch Competition: Spotlighting MRU's rising entrepreneurs! With a hefty $70,000 in prizes on the line, it's the ultimate student pitch event in the province. Join our MRU alumni, friendly faculty, fellow students, and interested investors – all eager to explore the freshest ideas around.
But wait, there's more – before the main event, team up with experienced mentors to fine-tune your business and pitch. This is open to all degree-seekers from every corner of the campus. No need to worry about which faculty or program you're in!
Want to read about past LaunchPad Pitch businesses that have participated? Check out our blog post on last year's winners here. 
Applications for the 2023 JMH LaunchPad Pitch Competition are now closed and will reopen in February 2024.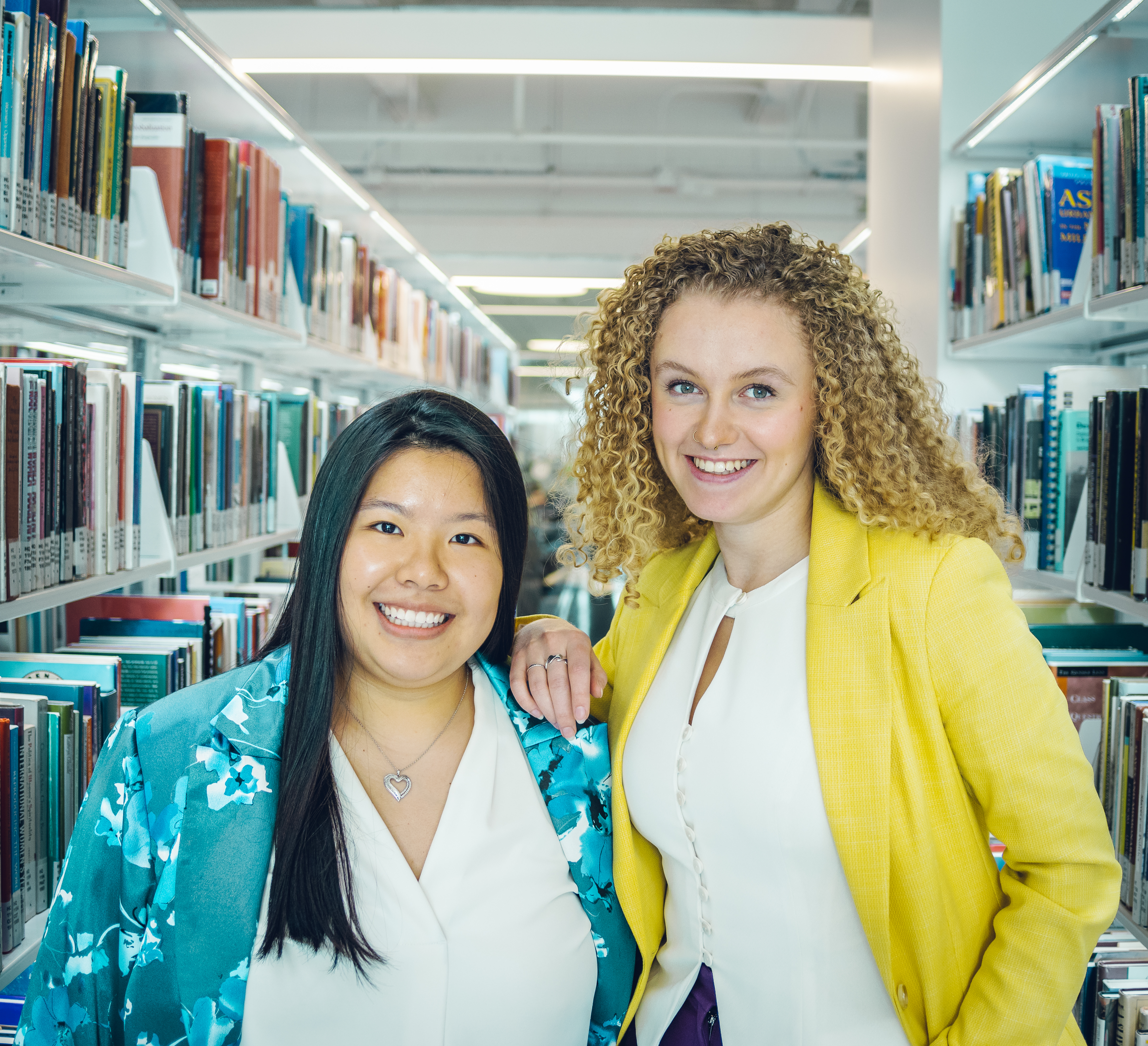 Rowan Dymond & Carman Lim
"Receiving the LaunchPad Alumni Award as a student entrepreneur removes a significant financial hurdle. It gives you a sense of belonging to a community that believes in you. Winning this award makes you feel like you have a team of experienced individuals in your corner, cheering you on and supporting you every step of the way."
Need help with your idea?
This program is for you whether you have an idea, you have started running a venture, or you have a changemaking idea.
Gain access to a community of entrepreneurs on campus and in the Calgary Innovation Ecosystem

Receive coaching and mentorship from the Institute for Innovation and Entrepreneurship's team, your peers and alumni founders

Apply for up to $2,500 in funding through the Founders Fund as part of LaunchPad Booster

Join us for our monthly meetups and in Slate Innovation Lab  
Sound like a fit for you? Do you still have questions? Book a 15-minute meeting with one of our on-campus innovation coaches. 
Apply here! Fill out the application and include as much detail as possible. If chosen, one of our mentors will schedule a pitch time and practice pitch with you. Have an unsuccessful pitch? Don't worry, it's not a no, it's a no not yet. We're always here to support you in your entrepreneurial growth (and 2nd pitches)!
If you have questions before applying? Book a meeting with our mentor Diana or Tianna to chat about your idea.
Absolutely! We're here to empower you to dive in. Our curated programs are designed to guide you towards the point where launching a business becomes a reality. Plus, we're a hub of vibrant community events waiting for you to jump in. Explore our event and program calendar for all the exciting details here.
100%! We always encourage you to enroll in MRU's entrepreneurship classes, but if you cannot take the classes for whatever reason, we would still love to see you get involved. There's a LaunchPad program for you whether you have an idea, you have started running a venture, or you have a changemaking idea.
Students that apply and participate in our Launchpad Pitch Competition see a significant increase in their personal and professional growth. This opportunity provides exposure to mentors, investors, and a supportive community. With substantial rewards, including financial support, participants can kickstart their ventures. Moreover, the competition hones pitch, networking, and business skills, enhancing their academic and career paths. Join to turn ideas into reality, connect with peers, and pave the way for success.
We seek imaginative individuals eager to explore innovation, acquire career-enhancing skills, and make a positive impact on the world. If this resonates with you, apply now!
To qualify, you must be a full-time or part-time MRU student enrolled in a degree or transfer program with good academic standing. Unfortunately, open studies students are ineligible for our programming. However, we warmly welcome you to join our community events and benefit from our mentoring and coaching services, extended to students campus-wide.
We are happy to accept applications from individuals or co-founding teams. If you have a co-founding team, we expect both team members to attend all pre-sessions to get the most out of the support we provide.
Whether you are pursuing any degree program across campus, the LaunchPad Pitch Competition welcomes you. Our inclusive approach values diverse perspectives and knowledge, making it the perfect fit for students with varying degrees of business experience. Rest assured, you do not need business expertise to take part—sometimes less is more!