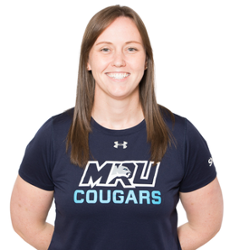 Ciara Lane
Administrative Title:  Athlete Services Coordinator
Academic Title:  Contract Faculty
Education:
MEd, University of Manitoba
BSc, University of Chester
Contact Information:
Office: U235B
Email: clane1@mtroyal.ca
Phone: 403-440-8853
Ciara (pronounced Keer-a) has spent the majority of her professional career working in the fields of sport/recreation and education and brings over 10 years of experience in supporting post-secondary students. Her experience in second language education saw her teach in Asia, Europe and Canada and she is particularly interested in mental health and equity, diversity and inclusion within the post-secondary landscape. Her main areas of specialization are the two biggest transition periods for students; the move from high school to post-secondary education and the identity shifts and career transitions that graduating students experience. A passionate advocate for lifelong learning and health and fitness, Ciara loves to keep an active lifestyle and take advantage of MRU's continuing education courses when time allows.
Areas of Instruction:
Issues in Health and Physical Education
Selected Presentations:
Lane, C. & Hamilton, S. (2017). Academic Support for Student-Athletes. Presentation at the NACADA Region 8 conference in Portland, Oregon.