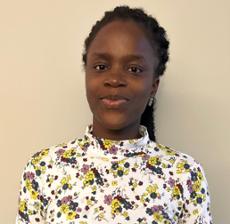 Oyinkansola Kevin-Israel
Academic Title:  Contract Faculty
Education:
PhD, University of Ibadan, Nigeria
MSc, University of Ibadan, Nigeria
BSc, Michael Okpara University of Agriculture Umudike, Nigeria
Contact Information:
Office:U243S
Email: okevinisrael@mtroyal.ca
Phone: 403.440.7798
Oyin is passionate about nature-based tourism and sustainability. Over the years, she has engaged tourism as a multidisciplinary field of study and is keen to explore the various approaches to the concept of tourism. She has conducted research in nature based destinations in rural Nigeria with emphasis on the socio-cultural impact of tourism as well as the the relationship between tourism and livelihoods. She is interested in the wellness that we experience as a result of interaction with our environment. Oyin is keen to engage discussions that drive sustainable tourism.
Areas of Instruction:
Sustainable tourism
Ecotourism facilitation
Issues in ecotourism and outdoor leadership
Areas of Scholarship:
Livelihood studies
Community engagement
Selected Presentations:
Enemuo, O.B. Oduntan, O.C. (2012) Social impact of tourism development on Host communities of Oun Oshogbo sacred grove. Journal of Humanities and Social Science. 2: 6 http://iosrjournals.org/iosr-jhss/papers/vol2-issue6/F0263035.pdf
Kevin-Israel, O.C. Odebode, S.O. (2020) Perceived effects of waterfalls on the livelihoods outcome of rural households around waterfalls in southwest Nigeria. African Journal of Sustainable Development. 10.2 ajol.info/index.php/ajsd/article/view/220208
Oduntan, O.C. (2021) Influence of waterfalls as tourist destinations on the livelihood outcome of rural households in Southwestern Nigeria. PhD Thesis. http://hdl.handle.net/123456789/1491
George_Ufot, G. Wei, J. Kevin-Israel, O.C. Salim, M. Sayibu, M. Mohamed, H.H. Sungu, L.J. (2022) Can the Ebola experience in West Africa help to combat the COVID-19 pandemic? Testing the critical incident management systems model in the COVID-19 context.