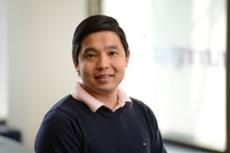 Reginaldo Fukuchi
Academic Title:  Contract Faculty
Education:
PhD, University of Calgary
MSc, University of Sao Paulo, Brazil
BScPT, John Bosco Catholic University, Brazil
Contact Information:
Office: TBD
Email: rfukuchi@mtroyal.ca
Phone: TBD
Reginaldo's teaching interests include courses in Biomechanics, Biostatistics, Pathophysiology of Musculoskeletal Injuries and Rehabilitation. Prior to joining MRU, he was professor of Biomedical Engineering at Federal University of ABC where he also offered free clinical gait analysis service to the public. In Brazil, he was clinical instructor in Physiotherapy schools and he is a founding member of the Brazilian Sports Physiotherapy Association (SONAFE). He served as a Sports Physiotherapist for Brazilian sports federations where he was responsible for conducting biomechanics analyses of Olympic track and field, gymnastics and judo athletes. His research focuses on advancing knowledge about biomechanics of the ageing gait and his research activities are aligned with the open science initiative as he published a series of open data sets to improve transparency of reproducible research in Biomechanics. He was the Associate Editor for the Physical Therapy in Sport journal from 2015 till 2020.
Areas of Instruction:
Biomechanics
Rehabilitation of Musculoskeletal Injuries
Biostatistics
Motor Control
Areas of Scholarship:
Biomechanics of gait
Effect of ageing on posture and locomotion
Open science and reproducible research
Biomechanics of Sports
Selected Publications:
da Silva L.S., Fukuchi R.K., Watanabe R.N., Fukuchi C.A., Duarte M. (2020). Effects of age and speed on the ankle-foot system's power during walking. Sci Rep. 10(1):14903
Fukuchi R.K., Fukuchi C.A., Duarte M. (2017). A public dataset of running biomechanics and the effects of running speed on lower extremity kinematics and kinetics. PeerJ 5:e3298
Richmond, S.A., Fukuchi, R.K., Ezzat, A., Schneider, K., Schneider, G., Emery, C.A. (2013). Are joint injury, sport activity, physical activity, obesity, or occupational activities predictors for osteoarthritis? A systematic review. Journal of Orthopaedic and Sports Physical Therapy. 43(8): 515-524.
Fukuchi, R.K., Eskofier, B.M., Duarte, M., Ferber, R. (2011). Support Vector Machines for detecting age-related changes in running kinematics. Journal of Biomechanics. 44(3):540-542.
Fukuchi, R.K., Duarte, M. (2008). Comparison of three-dimensional lower extremity running kinematics of young and elderly adult runners. Journal of Sports Sciences. 26(13): 1447-1454.
Selected Presentations:
Williams, B., Silvernail, J. F., Paquette, M. R., Fukuchi, R.K., DeVita, P. (2017). Touch of Grey Symposium: the aging runner. Abstract Book of the 41st Annual Meeting of the ASB. Boulder, Colorado, US: American Society of Biomechanics, 2017. v. 1. p. 10-10.
Invited Speaker and Panel Discussion: Running Biomechanics in the Symposium on the prevention of running injuries on the 35th World Congress of the International Federation of Sports Medicine. Rio de Janeiro-RJ, Brazil. September 2018.
Invited Speaker and Panel Discussion: Running Biomechanics in the International Conference of the Sports Traumatology Centre (CETE-UNIFESP). São Paulo-SP, Brazil. September 2017.
Relevant Community Service
Founding member of the Brazilian Sports Physiotherapy Association
Clinical coordinator of free Movement Analysis Services offered to the public at the Biomechanics Laboratory of the Federal University of ABC, Brazil since January 2017