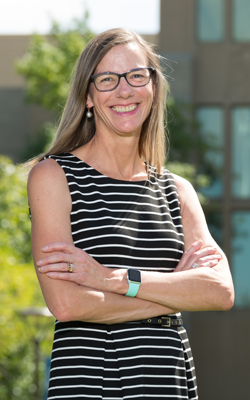 Message from the Director
Elizabeth Van Den Kerkhof, DrPH, RN
Email: evandenkerkhof@mtroyal.ca
Phone: 403.440.6553
Learn more about Liz.
---
Inspiring students to make a difference — A paat tsi kani takiiks (those that create sparks)
The School of Nursing and Midwifery's vision is for our engaged learners to contribute to healthy, supportive communities. Mount Royal University provides an exceptional undergraduate educational experience reflected in the Faculty and School strategic plan goals of strengthening scholarship and research, engaging in change-making, connecting with communities, inspiring engaged learners and promoting a healthy community. 
For nursing and midwifery, this means our faculty, staff and students contribute to improving the lives of individuals, families, communities and society. Our graduates can be found in a broad range of roles in healthcare organizations locally, provincially, nationally and internationally. 
The School of Nursing and Midwifery has a long history and strong affiliation with our alumni. Throughout the years, our programs have been known for their "firsts' in Alberta and Canada.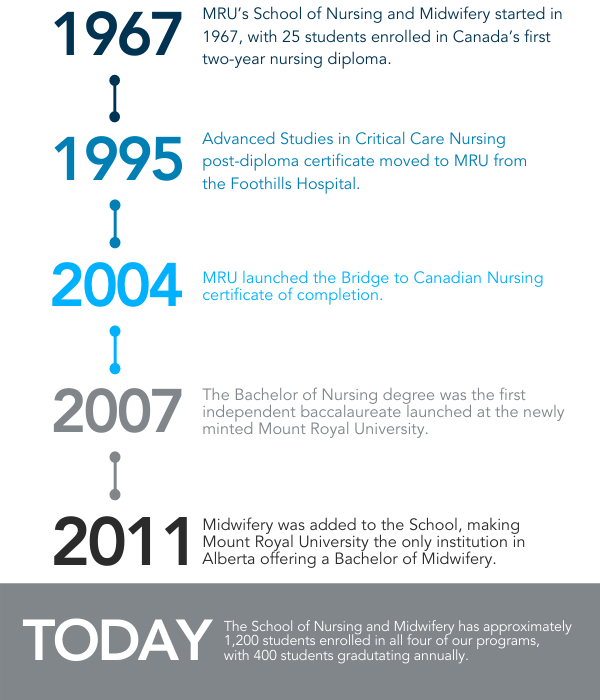 At no time in our history have these contributions been more important to sustaining a healthy, functioning society. Nursing and midwifery are on the global pandemic's frontlines. The School responded by developing processes to allow students to continue with their clinical placements safely, thereby ensuring the continued supply of highly educated and trained nurses and midwives to provide care for individuals, families and communities. We are also working to address structural considerations of equitable, meaningful inclusion, and accessibility in our teaching and learning space.
If you would like to know more about the School of Nursing and Midwifery, please follow the links on this site. You will find information for current and prospective students, faculty, practicing clinicians, community partners, research collaborators, alumni, and you will learn about our programs, our staff and faculty, our facilities and the latest news and announcements.
Thank you for your interest in our School. We invite you to explore our website and reach out if you would like to speak with someone directly. 
— Liz Van Den Kerkhof