Hazard management is a crucial piece to the Environmental Health and Safety Management System (EHSMS) in any workplace. By managing hazards in the workplace, the chance of loss, injury, or harm to people, equipment, materials and the environment is reduced.
Learn more about the hazard assessment process in our guideline.
Have questions about workplace hazards? Ask EH&S
Workplace Hazards Found at MRU
A hazard assessment, as defined by Alberta Occupational Health & Safety, is a written process to identify existing and potential hazards in the workplace, before they cause harm to you or others. Here is a document produced by the Alberta government that can clarify compliance requirements as they pertain to workplace hazard assessments.
Informal Hazard Assessments - This is simply a process of looking ahead for hazards and addressing them before you complete a task. Informal hazard assessments are done by all employees at any time.
Examples include scanning ahead for hazards as you walk across campus, or looking around a room for hazards before you enter. 
Any identified hazards should be addressed immediately. You can address simple ones yourself (e.g. wiping up a coffee spill). More complex ones (or any you don't feel comfortable addressing) should be reported as outlined in the Reporting section below.
Position Hazard Assessment (PHA) - This is a formal, written hazard assessment, based on job positions within the University.
All positions in the University require a PHA.
They are developed by the department Managers / Deans / Supervisors / Chairs, with assistance from EH&S.
PHAs include a list of tasks performed by someone in the position; the hazards associated with each task; and expected or suggested controls to reduce the risk of each hazard.
PHAs 

should be reviewed on an annual basis to ensure that job tasks, hazards and controls are still current.
Field Level Hazard Assessment (FLHA) - Some positions on campus also require a written FLHA. These are assessments performed by the worker before work starts at a site where conditions change or when non-routine work is added.
If your position requires you to complete FLHAs, your supervisor will provide training. 
FLHAs shall be handed into your supervisor at the end of the day.
This video provides additional information on completing an FLHA.
Workplace Inspections - Workplace inspections are another way of identifying hazards found in the workplace.
Informal workplace inspections occur daily by the staff in your area. They are not written down and identified hazards are immediately fixed or reported to someone who is qualified to do so.
Formal workplace inspections are written inspections performed on an annual basis in your area and led by the EH&S team.
When dealing with hazards, best practice is to eliminate the hazard or substitute the hazard for a less hazardous process, substance, or method.
If elimination or substitution of the hazard is not feasible, continue down the path of the hierarchy of controls until you find a solution that makes sense for your workplace.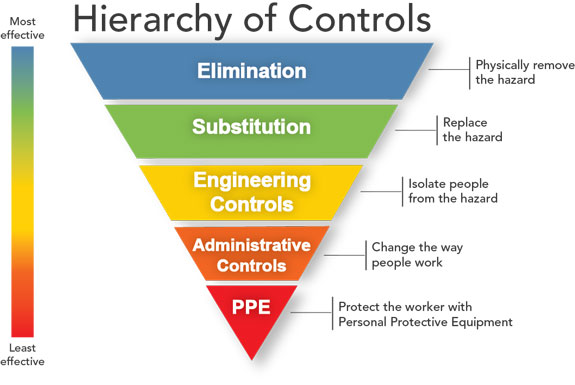 Engineering Controls - Better than administrative or personal protective equipment (PPE) for controlling hazards in the workplace, engineering controls are designed to remove the hazard at the source, before it comes in contact with the worker. Engineering controls work automatically and don't rely on human effort or motivation to work. Examples include the isolation of noisy equipment in a separate room, equipment guards, or exhaust ventilation to remove contaminants from the environment.
Administrative Controls - Administration controls are behaviour based controls that rely on the worker to be effective. They include training, procedures, policies, schedules and signage. 
Personal Protective Equipment (PPE) - PPE is equipment worn by workers to reduce the risk of exposure to a hazard. PPE is a last resort, as it doesn't control the hazard; it only reduces the risk of injury and potential consequence of exposure. Your supervisor should provide you with PPE appropriate for the hazards you may be exposed to. For more information, consult the EHS Safety Program: Personal Protective Equipment
Have questions about hazard control in your workplace? Ask EH&S
Hazards can be reported by anyone at MRU. 
Emergency safety concerns should be reported immediately to Security Services, 403.440.5900.
Non-emergency safety concerns or unsafe conditions can be reported quickly and easily using the MRU Now app. 
Alternatively, you can contact one of the departments below. Examples of the types of concerns each department addresses are also  listed.
Security Services
403-440-5900

First aid assistance
Suspicious activity
Broken door locks

Facilities

Submit a Frontline request

403.440.6417

Water leaks
Clogged toilets
Burnt out lighting
Slip / ice hazards
Broken furniture

EH&S

403.440.6038

Workers performing work unsafely (e.g. working without protective equipment)
Non-CSA approved electronics
Extension cords used as permanent plug-ins