Canada's Parliamentary Poet Laureate Louise Halfe presented with Honorary Doctor of Laws June 9
Writer and elder prescribes 'fierce determination'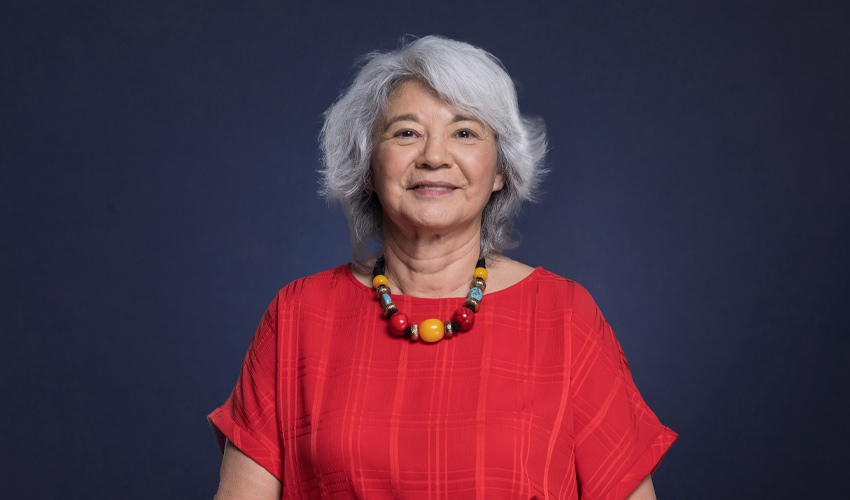 Louise Halfe's roles as a poet, speaker, teacher, adviser and elder have brought her back to MRU's campus several times.
---
Among the honorary degree recipients who have graced the Convocation stage at Mount Royal University, few — if any — have engineered a reversal of fortune in life to the same degree as the internationally-renowned poet and Indigenous elder, Louise Bernice Halfe ― Sky Dancer.
Mount Royal University bestowed Halfe with an Honorary Doctor of Laws in the morning Convocation ceremony on June 9 in front of students graduating from the psychology, anthropology and sociology majors.
Halfe hails from Saddle Lake Cree Nation in Treaty 6 territory northeast of Edmonton, and was taken from her family to attend residential school at seven years old. After nine years at Blue Quills Residential School, separated from her culture and under the rule of the Catholic priests and nuns, Halfe moved to Calgary to live in a foster home and attend Bishop Grandin High School for a semester before enrolling in 1974 in Mount Royal College's Social Work Diploma program.
"I remember taking a computer class and being totally intimidated. I was all of 18. Coming out of a disadvantaged background and out of residential school, it was like coming out of a prison system where you are suddenly introduced to freedom of speech and freedom of thought. Your mind doesn't know where to go," she recalls, speaking from her home outside of Saskatoon.
"I didn't know how to cope in the city. I was a teenage alcoholic on the loose, just surviving."
In the years after dropping out from Mount Royal, Halfe began assembling the elements critical to a happier and more fruitful life: therapy, a loving and supportive life partner, more education — a Bachelor of Social Work from the University of Regina in 1991 — and raising children of her own.
"Reading and writing came to me at a very late stage," she says. "I learned how to use the library and learned to read with my children. I developed as a writer by keeping a daily journal."
Gravitating away from her social work training and writing for herself, Halfe began taking English literature courses at the University of Saskatchewan. She emerged on the literary scene in 1990, contributing to the Writing the Circle: Native Women of Western Canada anthology. Her first book of poetry, Bear Bones and Feathers, was published in 1996 and she has since written five others, including awasis — kinky and dishevelled, a collection published this spring by Brick Books. Halfe's signature style thoughtfully disperses her Plains Cree language and cultural references among her English poems and stories.
Halfe's roles as a poet, speaker, teacher, adviser and elder have brought her back to MRU's campus several times. She has delivered keynote presentations at two Under Western Skies conferences on the environment and was featured in an Indigenous Studies speaker series in 2014.
"Louise continues to mentor young writers, engage critically with scholars and enthusiastically supports indigenization initiatives across the country," says Dr. Renae Watchman, PhD, associate professor of English and Indigenous studies and former co-director of MRU's Office of Academic Indigenization. "She has been to Calgary almost annually since 1998, heeding several requests from within Treaty 7."
In recognition of Halfe's contributions to Canada's literary landscape and the many accolades she has earned over the last 30 years, in February 2021 she was appointed by the Speakers of the House of Commons and the Senate to a two-year term as Canada's Parliamentary Poet Laureate, becoming the first Indigenous person in the role.
"It still gives me the goosebumps," she says of her selection. "I have marvelled at how far I have come. People assume it came at an easy cost … it didn't. I marvel at the work it entailed on a personal and professional level."
Halfe has framed her appointment as part of a "process of reconciliation" and says she wants to use the opportunity to continue to break down barriers and encourage dialogue. "We all have a story and we need to hear them to bring us to a better understanding of each other. What I am hoping to do in this role is open these pathways."
As for receiving an Honorary Doctor of Laws from MRU, a place so foreign when Halfe first arrived on campus in her late teens, she calls it "a great honour and I am deeply humbled by it. I am appreciative of any university that recognizes my talent as a writer."
Halfe has valuable advice for MRU's Class of 2021: "I don't think anybody's journey is a straight path. When I graduated with a Bachelor of Social Work I thought I had to make a choice between writing and social work. I didn't stay in social work for long because I actually hated it.
"I was writing in secret and I commuted from Meadow Lake (SK) three hours in the middle of winter in my gumboots and my beat-up truck to take one class at night and one class the next morning (at the University of Saskatchewan) before driving three hours home again. We must have fierce determination. We have to instill it in others, we have to give people hope, no matter how dire their situation is."
June 2, 2021 — Matthew Fox