From the classroom to the community
Work-integrated learning opportunities grow with help of federal funding
Mount Royal University is one of a select group of post-secondary institutions in Canada provided with more than $500,000 through the CEWIL (Co-operative Education and Work-Integrated Learning) ihub this year, which is funded in part by the Government of Canada's Innovative Work-Integrated Learning program. CEWIL Canada's website says their mission is to build the capacity to develop future-ready students and graduates through quality work-integrated learning (WIL) experiences.
MRU students have so far benefited from two rounds of funding for the winter and spring/summer semesters, with more happening this fall, says Sarah Imran, director of Career Services at MRU.
"The funding is a very big deal and a first for MRU," she says.
The first round supported 268 students who participated in unpaid work experience programs in the Winter 2021 semester. The students came from five majors across three faculties and received $1,800 each (for a total of $482,400), greatly alleviating the stress involved with income insecurity. The second round of funding benefited another 58 students in unpaid positions from 12 different programs for the spring/summer semester. More than $600,000 has been provided so far, with every single dollar provided from CEWIL going into the pockets of students.
Imran explains that organizations and community partners are often discouraged from hiring students, thinking they can't afford it — especially during uncertain economic times. Through CEWIL, Career Services is able to remove that barrier for employers and ensure students are compensated for the real-world work they do at the same time.
MRU continues to find ways to make WIL more accessible to students, working with close to 5,000 different touch points providing WIL opportunities in a wide range of fields. Students can find placements to support their learning plus increase their job-readiness after graduation. WIL opportunities are also helping to build collaboration between normally siloed organizations.
"This funding has enabled unprecedented collaboration across sectors," Imran says. "Communities, industry and the post-secondary world are all coming together to find innovative ways to support student career development."
More than 70 per cent of MRU degrees have a practicum placement or co-op requirement. "We are certainly leaders in this space," Imran says, and that Career Services is working towards every MRU student having access to WIL opportunities. This aligns with directives provided in the Government of Alberta's 10-year strategy for post-secondary education titled Alberta 2030: building skills for jobs, which states the objective of Alberta becoming "the first province in Canada to offer access to work-integrated learning to 100 per cent of students."
Imran says in addition to the hard work Career Services puts into ensuring that student opportunities are available and beneficial, increased participation will lead to better career outcomes upon graduation. MRU students continuously perform at an incredibly high level at their WIL experiences, often taking on much more responsibility than originally anticipated and building MRU's reputation as an institution that cares deeply about its students and the quality of their learning. Career Services is building on positive momentum and developing two additional programs, MRU Volunteers and MRU Works, to continue to add to their arsenal of community and industry partnerships.
The stories of positive experiences on behalf of both employers and employees are myriad. Here is just a small sampling.
Non-profit community work and research opportunities
Dr. Kelly Sundberg, PhD, is a well-known criminal justice professor on campus who often comments publically on subjects such as police reform and public safety. Over the summer he and four MRU students who received CEWIL funding developed two projects — one exploring the issue of the capacity of police in Canada to address cybercrime and the other investigating whether an independent regulatory body for police, for example, a professional college of policing, would improve policing in Canada.
Sundberg calls the summer a great success, saying the students worked well independently, meeting or exceeding all goals and outcomes. They engaged in a significant review of the literature regarding police reform or cybercrime and also gained new insight into the issues through connections with external organizations such as The Canadian Coalition for Police Reform and policing agencies such as the police services for Calgary, Winnipeg and Ottawa.
"They came together, worked as a team, and developed some amazing output, including policy snapshots and videos, on the respective issues they explored. What's more, they all supported one another, all took leadership roles in various situations, and all have proven to be exceptional in their ability to put their classroom knowledge to work in the 'real world,' so to speak," Sundberg says.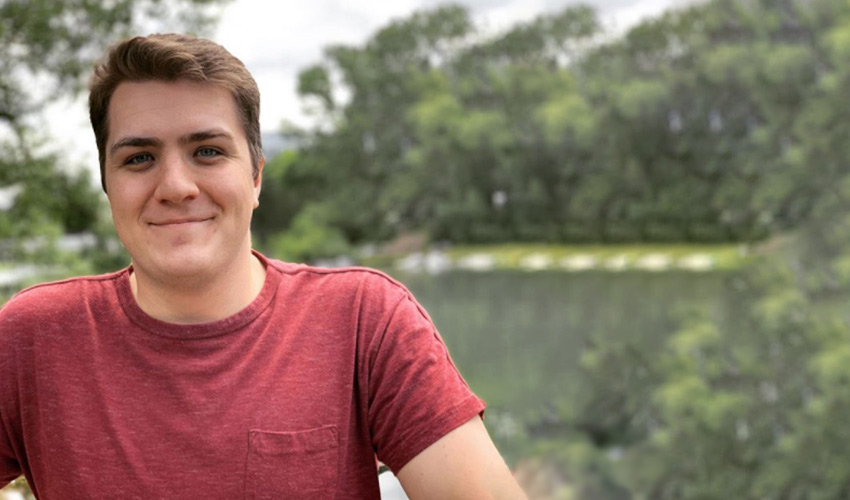 Bachelor of Arts ― Policy Studies student Eric Robbins to part in a research-based WIL opprtunity withan MRU professor.
---
Eric Robbins, a Bachelor of Arts ― Policy Studies student, was one of Sundberg's students and says the CEWIL funding was essential for allowing him to not worry about day-to-day affairs and really dive deep into the work.
"Through Kelly, we were given the rare opportunity to engage with high-level members of law enforcement, along with a multitude of departments within Mount Royal University. As such, this has been an absolutely enormous networking opportunity, which will most definitely aid me and my colleagues in all of our future endeavours," Robbins says.
"Without question, this summer was fantastic," Sundberg says. "It was a real privilege and joy to work with students from other departments and help them identify how their classroom learning can be applied in their future professions — giving them great talking points for future interviews, together with tangible examples they can showcase."
Athabasca Minerals
Athabasca Minerals hired three students from three majors this summer (information design, finance and policy studies), each of whom worked in a different area of the company. This was their first experience with MRU students, and by all accounts it was a resounding success.
"We like bringing students on in our company," says Cheryl Grue, director of Corporate Affairs at Athabasca Minerals. "We feel that it gives us a fresh perspective, a youthful perspective, and I already thought highly of MRU."
Grue says that through her experience with her own children, she knows how difficult it can be for university students to get hands-on experience. "There's a lot to be said for learning in the classroom, but when you're in a work environment, it's a different type of learning."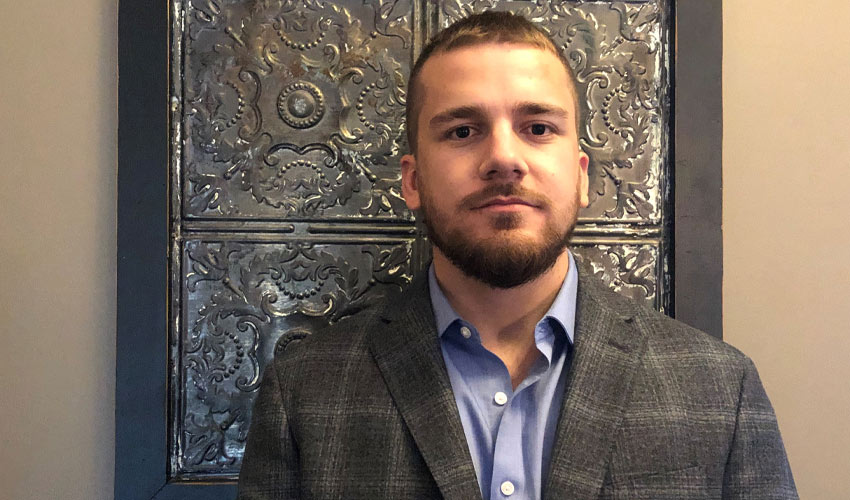 Bachelor of Business Administration — Finance and General Management student Ethan Gertken earned a part-time position with Athabasca Minerals following his summer WIL experience.
---
Impressed by the students' ability to pick up new things quickly combined with their sincere drive and dedication, Grue is pleased Athabasca Minerals was able to offer one student a part-time position once finished their placement. It was third-year Bachelor of Business Administration — Finance and General Management student Ethan Gertken's first co-op term and he is continuing his work with Athabasca Minerals this semester, assisting the chief financial officer with financial analysis and Grue with investor relations
Gertken says a new skill he has learned is financial modelling, which he had not done through his coursework yet. "Additionally, I brushed up on my writing skills by drafting investor relations documents, such as press releases and information circulars. I also had the opportunity to refine my skill of distilling information into presentations, one of which I presented to the CEO, which was the highlight of my work term."
"(Gertken's) work ethic has been outstanding and the work that he's produced for us has been quite amazing. Our CFO, who he reports directly to, has made comments that his abilities, and what he's been producing, is far beyond what we would expect from a student. With the quality of students that MRU is putting out, we'd have no hesitation using the program again," Grue says.
The CEWIL funding helped Gertken to feel more valued and appreciated in his work, he says. "Additionally, it helped me with paying for tuition, textbooks, parking and gas."
Working on campus
Students were also able to find opportunities at their own educational institution. MRU's finance department hired three students, and interior design students worked with Facilities Management to support their fall planning.
"We are delighted to be able to engage with students from within our own programs to benefit University work and priorities while also contributing to their hands-on experience. These types of placements are tremendously beneficial to our internal departments and I believe also for the students' development within their studies and careers to follow," says Annalise Van Ham, vice-president, Finance and Administration at MRU. Students are described as "engaging," and "full of energy," and everyone involved (including supervisors) learned new things. Most importantly, students were able to increase their practical experience portfolio through impactful and important work.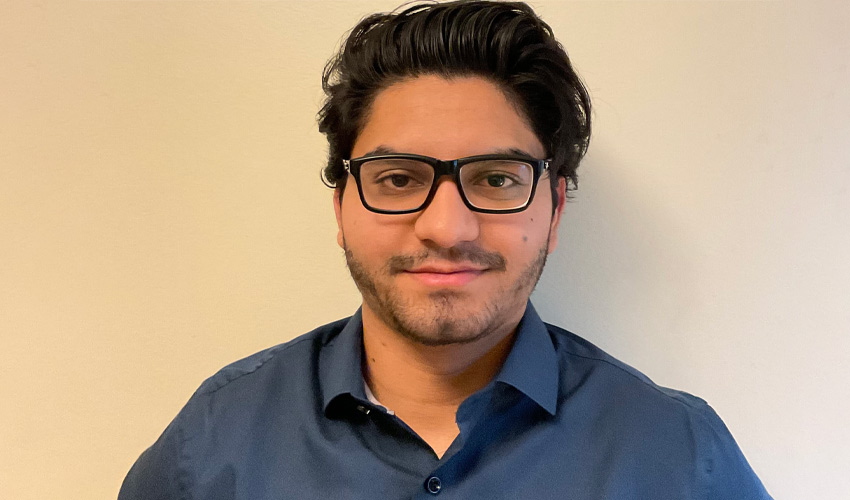 Finance student Umar Mukhtar worked with MRU's finance department this summer, saying he now has a better idea of where his education can take him.
---
Fourth-year finance student Umar Mukhtar (who also has a concentration in financial analysis and is including a minor in accounting with his degree), was one of the finance students working with MRU. He took the position as a co-op placement hoping to gain more experience and knowledge about where his career can go.
"The main reason I took this opportunity was to get real-life work experience in the financial field. To me, it is very important to have something on my resume when I graduate that says I worked a nine-to-five job with professional people. Another motivating factor was to see what my degree entails when I graduate," Mukhtar says, and that the access to CEWIL funding helped greatly with his daily spending.
Gaining the most amount of knowledge on the accounting side, Mukhtar completed journal entries, performed cost analysis and assisted with year-end fiscal responsibilities. He was also able to improve his communication skills through requests for information.
Through the assistance of CEWIL, Career Services expects a cascade effect, where more and more organizations become aware of how students can benefit their growth and development. The result will be even more job-ready graduates and a healthier, more robust society.
Learn more about WIL opportunities at MRU, where the classroom and community come together.
Nov. 3, 2021 — Michelle Bodnar
Media request contact information.
Have a story idea? Please fill out this form.