Driving forward the future of Alberta
$300,000 donation will support development of innovation and entrepreneurship in Alberta
Michelle Bodnar — Mount Royal University | Posted: October 26, 2022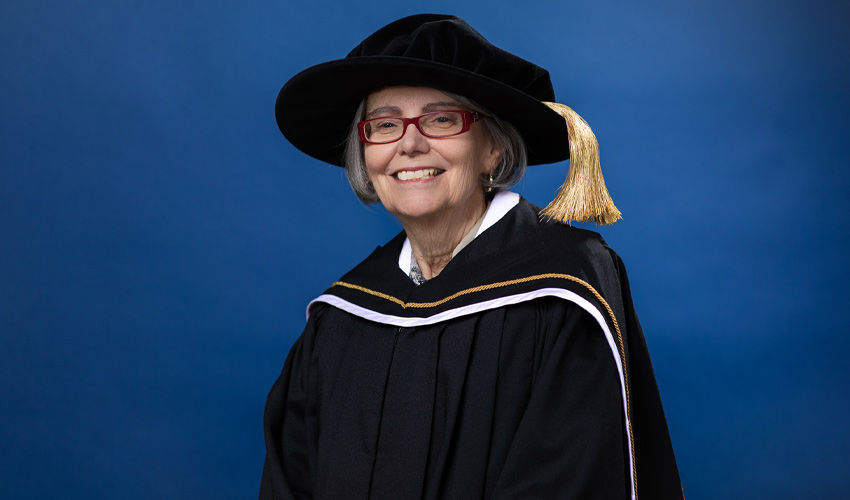 Former Mount Royal board chair Cathy Williams granted Honorary Doctor of Laws June 3.
---
With a strong business sense combined with judgment gained from experience and education, Cathy Williams rose from being one of the first female traders with the Bank of Canada to the chief financial officer of Shell Canada.
Less well-known are the significant contributions Williams has made, along with her husband Bruce, to Mount Royal's Institute for Innovation and Entrepreneurship, where they have formed a partnership with director Ray DePaul to offer guidance on how to develop the talent Alberta needs.
The couple recently provided the Institute a generous donation of $300,000, which will go towards assisting entrepreneurial development in three ways, DePaul explains. Funds will go towards stipends for students participating in the LaunchPad Lab and Innovation Sprint, resulting in paid work-integrated learning positions, and also towards the development of thought-leadership opportunities through two business growth programs, the Growth Catalyst and the Growth and Resilience Speaker Series.
"Through faculty research and community engagement, MRU is a thought leader in the enablers and barriers to business growth and innovation. It is critical that this information is shared and put into practice where it can contribute to the success of Alberta's economy," DePaul says.
"This donation has already provided students with the chance to take part in meaningful work opportunities open to all students independent of their financial ability. The Williams are wonderful friends to the Institute and her leadership continues to drive us forward in our goals of the development of high-impact talent through transformative community-engaged learning experiences. We are grateful to the Williams family and thank them very much for their support."
As someone who has excelled beyond traditional expectations in her own life while working to elevate other women in the field of business, Williams has twice been named to The Globe and Mail's 100 Most Powerful Women in Canada list (2005 and 2006) and was inducted to the WXN Hall of Fame in 2008. Appointed as a public member of the Mount Royal Board of Governors in 2003 and serving as the Chair of the Board from 2007 to 2010, Williams was instrumental Williams was instrumental in guiding the then-College's efforts in lobbying the provincial government to elevate the institution's status to that of a full-fledged undergraduate university.
In recognition of her impact on Mount Royal, in June Williams received an Honorary Doctor of Laws, when she told the graduating class, "As you have no doubt heard many times, learning is a lifetime requirement. This is so true in today's demanding world where a person may have several careers in a lifetime.
"Understanding the nature of risk and accepting it as part of life is important as we all work with partial information. You will never regret having a plan B."
Williams was also awarded an Honorary Doctor of Laws from Western University in 2009.
Bringing students front and centre
Bianca Veltri is a fourth-year student majoring in finance and minoring in accounting and innovation and entrepreneurship who participated in the Innovation Sprint in the fall of 2021.
"I can't express just how much these programs change lives, especially mine," Veltri says. "I absolutely fell in love with the idea of innovation and entrepreneurship, and, most importantly, falling in love with the problem. I offer profound thanks to the Williams family for their support."
The Innovation Sprint sets students up to work directly with an industry leader to help solve complex business problems and implement new ideas. Because of her experience, Veltri changed her entire program around to cater to entrepreneurship. She is now pursuing her dream internship with the local tech company Showpass, with which she worked during the Sprint.
"I worked with Showpass to find a way to create an online event booking system that is both community focused and financially sustainable. We brainstormed many partnerships and ways Showpass could work on this problem."
Afterwards, Veltri reached out to her mentor, who directed her towards some leads within the company. She was offered an internship where she was asked to write her dream job description, which was then offered, and shortly after she was hired for a permanent position as people and operations analyst.
"This is all thanks to the skills and practices that I was able to evolve through the Institute," Veltri says. "I know with all the backing of the Institute and the support provided, I will someday be able to call myself a founder.
Alumna Rowan Dymond, who recently graduated with a Bachelor of Business Administration — Marketing and a minor in innovation and entrepreneurship, worked at the Institute as a student and played a major role in planning and executing the JMH LaunchPad 10th anniversary event. The experience allowed Dymond to heavily develop her event-planning skills, she says.
"The Institute for Innovation and Entrepreneurship's goal was to make their biggest annual event more engaging and special than it had been in previous years, as it was the first in-person event since COVID and it was also LaunchPad's 10th anniversary," Dymond says. "With that goal in mind I was given free range to decide how best to make the event special."
A theatre performance background set the stage for Dymond to thrive, and she pitched a number of options to DePaul and the team. What was approved, she executed on, and engagement at the event increased.
"This opportunity provided me with many more learnings, as the autonomy I was given pushed me to actively think, create and execute on my lofty ideas," Dymond says, who had the opportunity to meet and sit with the Williams' at the Calgary Influential Women in Business Awards gala this year. A champion for women in business, Williams believes achieving diversity in the boardroom is imperative to a company's success.
"To have a role model such as Cathy available at MRU is so inspirational," says Dymond, who has now landed a full-time post-grad position in Alberta's ecosystem with Venture Mentoring Service Alberta.
The Williams donation will continue to provide opportunities such as these to students and will bring additional innovators and entrepreneurs into the fold to keep moving the needle upwards on the Institute for Innovation and Entrepreneurship's mandate of creating and supporting the expertise to take Alberta into the future.
Find out all that is available at MRU's Institute for Innovation and Entrepreneurship.