General Counsel and University Secretary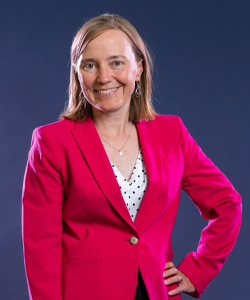 Amy Nixon is Mount Royal University's first General Counsel and University Secretary.  Reporting to the President, with a dotted-line responsibility to the Chair of the Board of Governors, she is a member of the executive team responsible for governance, legal, risk, privacy, safe disclosure and information management functions. Amy Nixon started working at Mount Royal University in 2011 as Legal Counsel and then Senior Legal Counsel.  Following, she served as Chief of Staff to the President, and University Solicitor, previous to her current role.
Amy is a strong legal professional with a Bachelor of Laws (LL.B.) from The University of Calgary, is an active member of the Law Society of Alberta and holds a Governance Professionals of Canada Designation (GPC.D).
Outside of Mount Royal, Amy has been an active volunteer and board member. Amy is a retired competitive curler and Olympic medalist. She is an avid outdoors-person who can be found in the mountains trying to keep up to her daughter on the ski hill in the winter and on the lake in the summer.