Program highlights
High standards — train to the highest standards nationally with an accredited massage therapy program. The Massage Therapy Diploma has been awarded accreditation by the Canadian Massage Therapy Council for Accreditation (CMTCA). Being awarded accreditation demonstrates that the program meets or exceeds the national standards for quality massage therapy education and is committed to academic rigour, ethical practice, student support, safety and quality improvement.
Hands-on experience ― apply your skills through 330-hours of supervised massage therapy treatments on a variety of clients and special populations in our onsite student-run practicum clinic and through community outreach opportunities
Scholarships — awarded annually based on academic excellence, including fifteen $1,000 scholarships funded through the student practicum clinic
Further your education — graduates are eligible to receive transfer credit towards the Thompson Rivers University's Bachelor of Health Science. See more transfer opportunities.
Massage therapists help people feel better and live better lives. Trained massage therapists assess clients, apply therapeutic massage techniques, and adapt treatments to promote rehabilitation and pain reduction.
The Massage Therapy Diploma is accredited by the Canadian Massage Therapy Council for Accreditation (CMTCA) and recognized by the professional associations and regulatory colleges. Delivering training to the highest national standards, the diploma features a comprehensive approach to wellness with an emphasis on treating chronic and acute conditions.
Integrating theory, practice and research, you will gain new skills in the health sciences, client assessment, biomechanics, neuroanatomy, orthopedic assessment, palpation and techniques.
Gain real-life experience as you provide 330-hours of supervised massage therapy treatments to diverse populations through our student-run practicum clinic and at a variety of community outreach opportunities.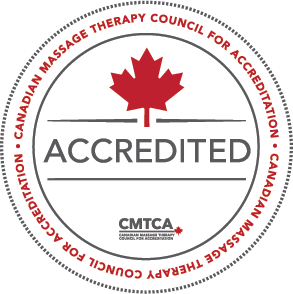 Career possibilities
As a massage therapist, you can work in a variety of settings and practices, such as:
Multidisciplinary clinics
Rehabilitation centres
Health and fitness clubs
Health spas
Nursing homes
Hospital/hospices
Community health clinics
Home-based practice
Mobile clinic
 
Questions?
Information about the program can be answered by the Massage Therapy team.
Contact us

Be bold.
Be inquisitive.
Be transformed.
Discover everything you need to know about becoming an MRU student.
Study at MRU
Continuing Education
Mount Royal is pleased to offer five occupational programs and a multitude of continuing education courses and programs. View the full program listing to start your professional development.