A decade of leadership
Harry G. Schaefer Mentorship Program celebrates its 10-year anniversary
Rob Petrollini | April 28, 2022
The Harry G. Schaefer Mentorship Program (HGS) at Mount Royal University has reached an exciting milestone. It has now been ten years of the program's existence, which pairs full-time credit students from any faculty with industry experts willing to share their time, knowledge and a few valuable life lessons with those just starting out.
This year, the HGS connected 61 MRU students with 59 industry professionals offering guidance and leadership to launch and sustain their careers. In celebration of the mid-way point of the 2022 program, mentees and mentors took the opportunity to meet in Ross Glen Hall on April 27 to mingle with other program participants and hear from a panel of speakers about the power of mentorship.
"In its 10th year, HGS continues to deliver impactful career development to MRU students," says Sarah Imran, director of Career Services at Mount Royal.
"Our team is excited to host this year's celebration after the COVID-related hiatus, and we look forward to helping mentees and mentors connect and network beyond their pairs and learn through the interactive components of the evening."
In 2012, the Schaefer family gifted MRU funds to create this impactful student-centered mentorship program, which they continue to support.
The importance of a mentor/mentee relationship cannot be overstated. Almina Kovčić, a first-year Aviation Diploma student, is new to the HGS and has been partnered with a pilot. She is thrilled to see what the future holds.
"Aviation is an incredibly small world and learning from people in the industry is a great benefit to new aviators," Kovčić says.
Keen to gain new perspectives from her mentor, she says, "Even though the aviation world changes regularly, the foundation always stays the same and hearing from my mentor is a great benefit."
Kovčić's mentor, Christina Dethmers, graduated from Mount Royal's aviation program in 2007. She is currently a first officer for WestJet on the Boeing 737 based in Calgary and has been mentoring at MRU for four years. Dethmers has experienced the value of being a mentee and wanted to pass the experience along.
"I realized how life-changing mentorship can be and wanted to be able to provide a space for mentees to ask questions and for me to provide perspective and advice from my experiences and knowledge," Dethmers explains. "I take satisfaction in knowing that sharing my experiences, both positive and challenging, will hopefully make someone else's journey a little bit easier or at least ensure they know they are not alone in their triumphs and struggles."
Kovčić and Dethmers first connected in January 2022. Like most aviators, both share a love of coffee. "We first met at a coffee shop where Christina shared her journey about becoming a pilot and we set our mentorship goals," Kovčić says. "Christina is always willing to go above and beyond for me."
Dethmers describes Kovčić as an energetic and optimistic person who makes the aviation industry "sparkle" when she speaks about it.
"We both learn and grow from hearing each other's perspective and gain a more fulsome view of the world around us," Dethmers says.
Dethmers notes that the HGS Mentorship Program is an incredible resource for MRU students, especially for those enrolled in aviation. "Meeting people and building relationships is key to advancing your career in the aviation industry and HGS facilitates this."
Connect with professionals in your future field or graduate program of interest to discuss career aspirations and options, develop new skills, and gain new insights with the Harry G. Schaefer Mentorship Program.
Growing Together in the Harry G. Schaefer Mentorship Program
June 1, 2021
By Kendall Bistretzan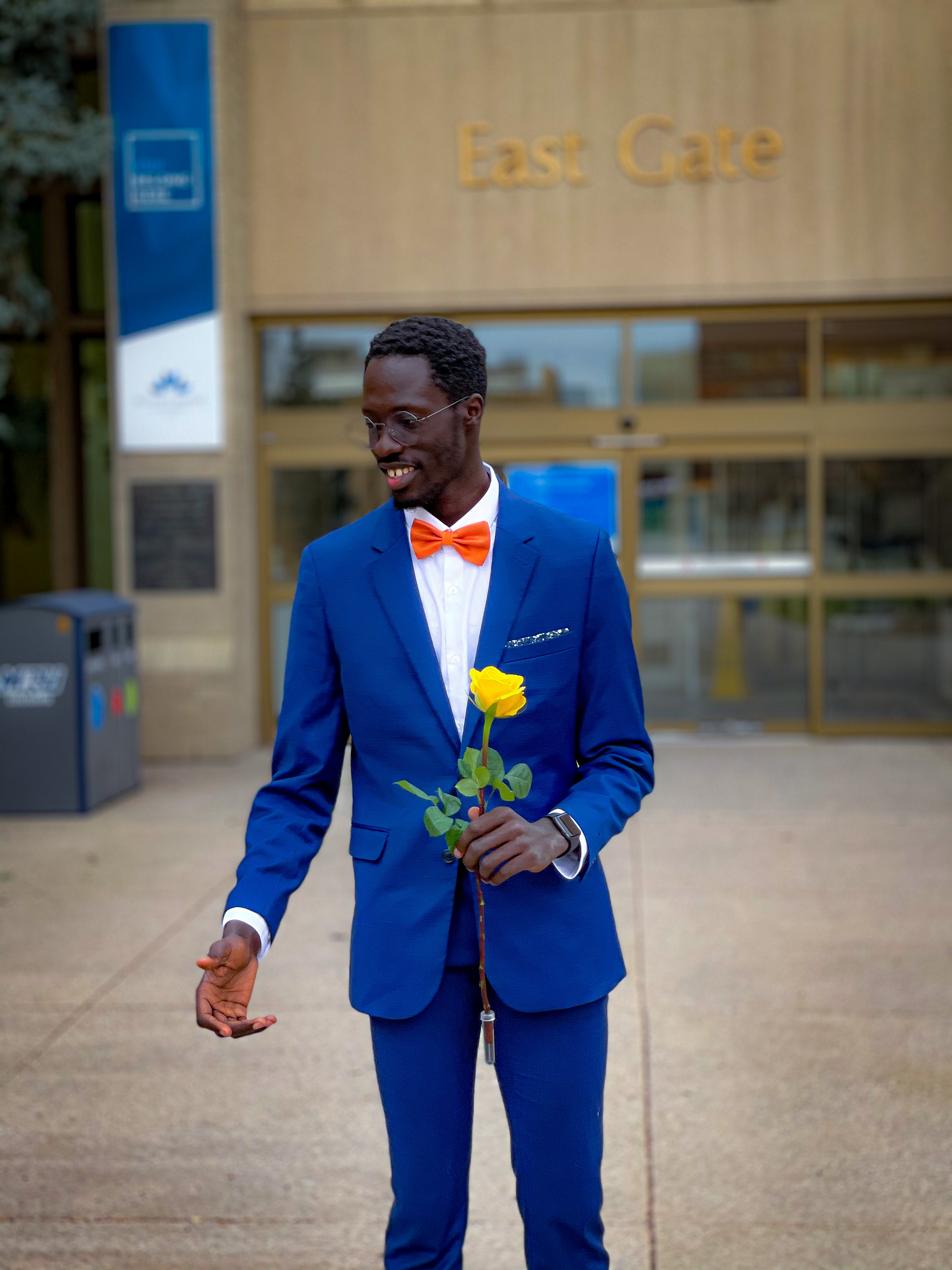 Godi Jibi is a busy man. The full-time student just completed the health science program at Mount Royal University and will convocate this month. In addition to his studies, Jibi was also a member of the Cougars' men's volleyball team and sat on both the MRU Student-Athlete Black Lives Matter Committee and the Faculty of Science and Technology EDI Committee. Despite having heard about the Harry G. Schaefer (HGS) Mentorship Program in his third year, he simply didn't have the time to commit. However, with the COVID-19 pandemic came the cancellation of organized sports. Suddenly, Jibi found himself with extra time on his hands and decided to take a leap of faith by signing up to be a student mentee. 
The HGS Mentorship Program connects senior MRU students from all credit programs to professionals in their field to discuss career aspirations and options, develop new skills, and gain new insights into their future careers. The program aims to be a transformative experience for students and mentors alike.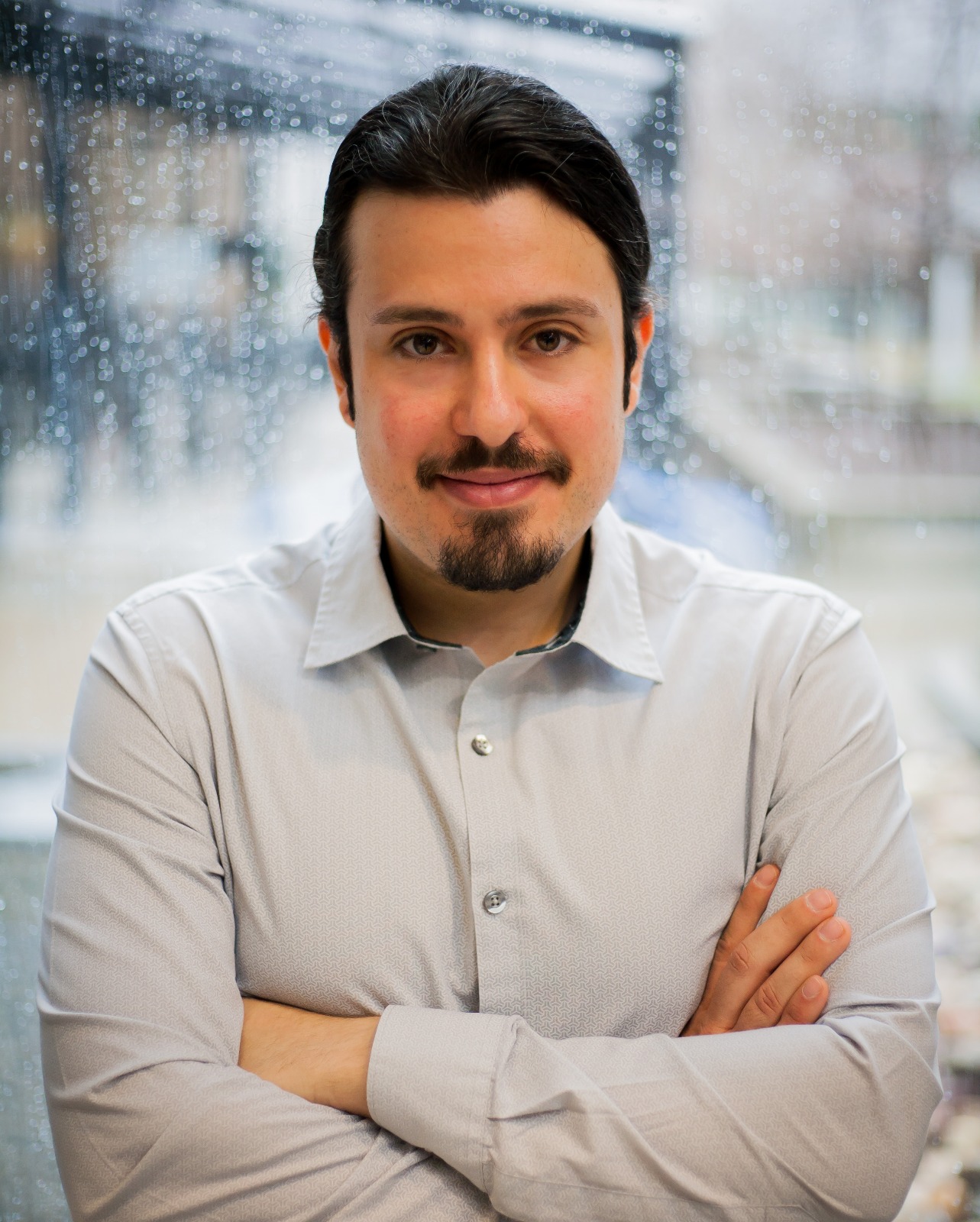 Mentors are primarily MRU alumni, but oftentimes community members will feel called to mentorship. That's exactly what happened with Rami Zeinab. Following an extensive run in academia, Zeinab decided to branch out and try his hand at a career in the pharmaceutical industry. Zeinab's friend Eduardo, who was employed with the MRU mentorship programs at the time of recruitment, was impressed with Zeinab's openmindedness and suggested he sign up as a mentor. 
"He was a big fan of that," recalls Zeinab. "He's like, 'you're doing what everyone might be scared to do.'" 
Having been impacted by mentors in his own life, Zeinab felt as though it was time to give back to the community. Be it through fate or a deeply compatible match on the part of MRU mentorship staff, Jibi and Zeinab were paired as mentee and mentor and began a journey that w
ould teach both of them valuable lessons about themselves, and their respective career paths. 
"He wanted everything, which was like me in my early 20's. I wanted everything. I wanted to be good at everything. I wanted to explore everything. And I saw myself in that, in terms of being confused. He knows there's a lot out there, but doesn't know how to approach it."
According to Zeinab, Jibi was "very receptive" and "wanted to learn it all," which he feels is a hugely important quality in mentees. 
The two would meet several times per month at varying intervals due to their respective busy schedules, where Zeinab says that their time was split between developing a personal relationship and going over weekly goals. The time between meetings was not without value, either. Despite not being a requirement of the program, Zeinab went above and beyond to provide Jibi with supplemental learning during their time apart. Jibi completed all sorts of tasks, including setting up a LinkedIn account, catering his resume to different industries, learning how to apply for research funding, and more. According to Zeinab, Jibi was "very receptive" and "wanted to learn it all," which he feels is a hugely important quality in mentees. 
Jibi already knows he wants to be a pediatrician, a life-saving surgery from his childhood secured that ambition. But working with Zeinab allowed him to take a look at the world around him, and evaluate what sort of doors could open in the future. Better yet, Zeinab's willingness to change his own career taught Jibi that it's okay to take things one day at a time. 
"I think a lot of students, especially within the sciences, believe they need to get a job immediately," he says. "But Rami told me I have time. So, think about broadening your skills, going to different fields, doing different things, and then use those skills to help you better yourself into your medical field job for being a pediatrician."
Jibi's current plans are to travel to England to do a master's program, either in exercise physiology at Newcastle University, applied sports and exercise medicine at Nottingham University, or public health at Burna University. 
"I want to go to a new place, kind of give myself some new versatile skills and really just immerse myself in a different culture, so that I understand how they practice their medicine, and then come back to Canada and really meld both worlds so that I can be the best doctor that I can be."
Despite the mentor/mentee labels and hierarchy inherent in the roles, Zeinab sees his and Jibi's relationship in far simpler terms: 
"I look at it as a mentorship. It doesn't matter who it's about, sharing experiences. I might have more experiences than him, but he might actually share something with me that might have a huge impact on me as well."
Both Jibi and Zeinab encourage like-minded individuals - whether it be current students, MRU alumni, or community members wanting to make a difference - to consider enrolling in the Harry G. Schaefer mentorship program. 
For more information on enrolling in the program, click here.  
---
Kendall Bistretzan was born and raised in Moose Jaw, Saskatchewan, and now resides in Calgary, Alberta, where she has just obtained her Journalism degree from Mount Royal University. She will be spending her summer working as a full-time investigative reporter and a part-time barista, after which she hopes to pursue a future in creative writing by completing and publishing a novel. She has previous work published in Polar Expressions, Blue Marble Review, Understorey Magazine, This Might Help, and more. You can follow her creative journey on Instagram @kendallbistwrites.
2021, February 22
Equity, diversity and inclusion infused throughout Harry G. Schaefer Mentorship Program
2020, January 17
Harry G. Schaefer Mentorship Program set for year eight: New relationships benefit both participants for the long run
2019, July 30
Uniting Indigenous ways of knowing and western science concepts: Bachelor of Science duo analyzing Bow River water quality

2019, January 14
Champions for career development: Harry G. Schaefer Mentorship Program provides guidance from those who have been there
2019, January 7
Mentoring to midwifery: Jenny Limoges returns to Mount Royal University to pursue midwifery degree
2018, January 12 
Harry G. Schaefer Mentorship Program comes full circle: Mentees become mentors 
2018 Alumni Achievement Awards
Award Winner - Sarah Ward, Mentor
2017, January 12  
Marking five years of mentorship: Harry G. Schaefer program a transformative experience
2017 Alumni Achievement Awards
Award Winner - Cyndi Morin, Mentor
2016, January
Mount Royal University Continues to Demonstrate Leadership
2016 Alumni Achievement Awards 
Award Winner - Carmen Morin, Mentor
2015, February 11
Harry G. Schaefer Speaker Series presents Olympian Marnie McBean: Champion rower speaks to the hidden power of mentorship
2014 Alumni Achievement Awards
Award Winner - Mercedes Brown, Mentor
2013, October 3
Dragon Arlene Dickinson helps to light the torch at the Harry G. Schaefer Mentorship Program launch
2012, October 25
Honouring commitment to mentorship 
Are we missing something? Do you have an idea for an HGS mentorship story? Please email us at mentorship@mtroyal.ca