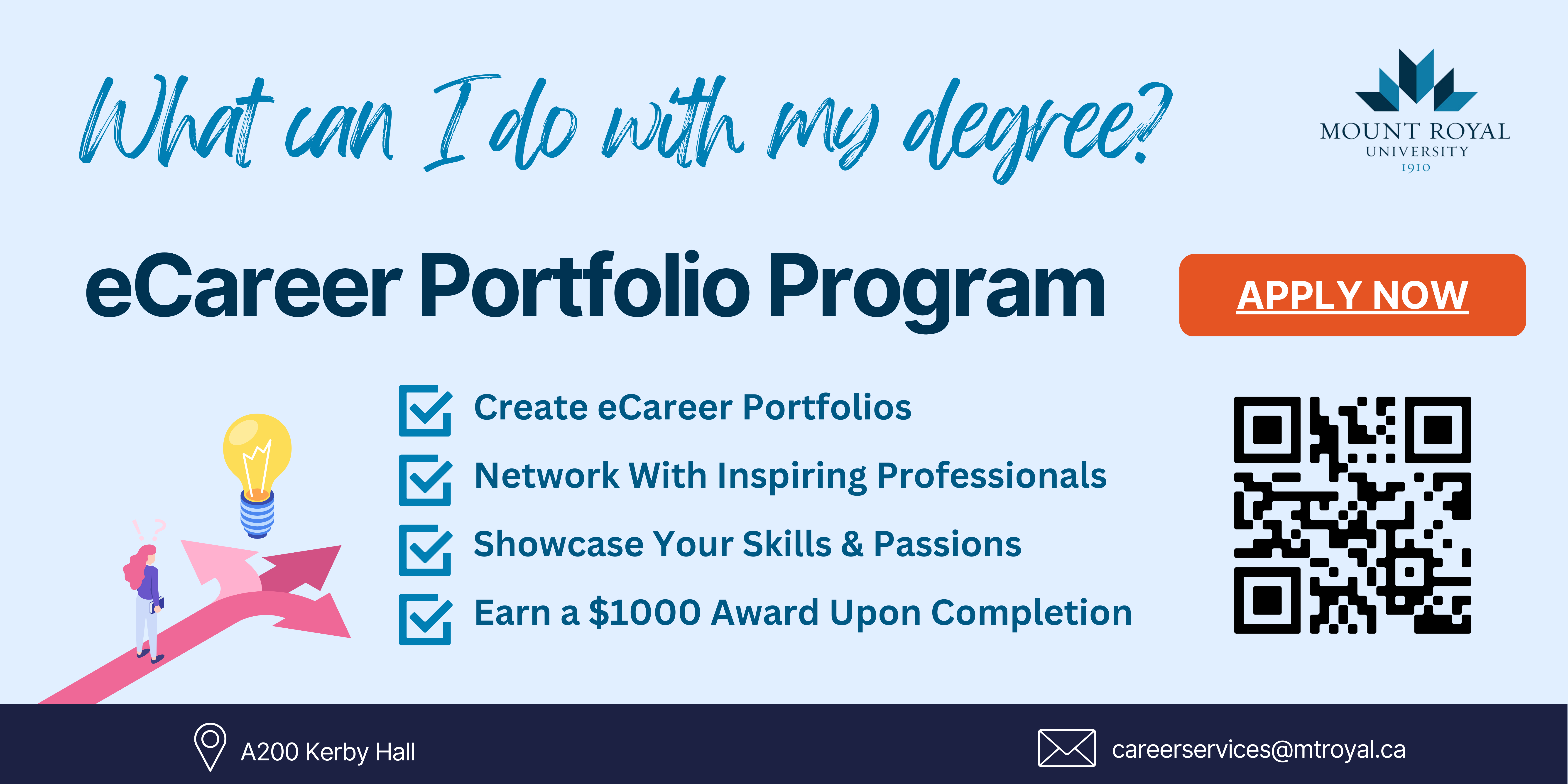 Have you ever thought about what your degree can do for you?
Have you ever wondered which job or career is the right one for you?
Are you excited about nailing down what your professional future will look like?
Registration for MRU's eCareer Portfolio Program is now open to 2nd and 3rd year students who have completed 25-75% of course credits within their major, and we couldn't be more thrilled to welcome you on this creative journey! 
The eCareer Portfolio program is designed to help you: 
Learn how to make your eCareer Portfolio

Gain storytelling and presentation skills

Network and conduct interviews with professionals in your field

With help from industry professionals, complete a project exploring the topic, "What can I do with my degree?"

Access storytelling and graphic design support from MRU's Career Studio and our friendly student staff who know firsthand how confusing career navigation can be

Receive $1000 award upon completion of the program! 
The program will start on May 13th with a 7-hour bootcamp on campus. Your portfolio and project will be completed by the end of August. Participate in this engaging learning program, with in-person networking events, for only $317. But remember, this small course fee will be absorbed by the $1000 award you receive upon completion of the program.
Limited Spots Available
Since we have secured external funding for the eCareer Portfolio, there are limited spots available; we encourage you to apply today to secure your spot in this one-of-a-kind program. 
Get $1000 Upon Completion
We believe in the power of the eCareer Portfolio program and want to help you succeed in your career. That's why we're thrilled to offer $1000 to everyone who completes the program. This is our way of investing in your future and helping you achieve success.
Apply Now  
We're excited to see you succeed! Apply for the program by clicking on this link.
Please visit our website for more information.
Email careerservices@mtroyal.ca with any questions you may have.