Faculty of Health, Community and Education Strategic Plan

The Faculty of Health, Community and Education (HCE) is a unique collection of programs that have, at the core, a focus on preparing students to work with people, in community, and primarily in helping professions.
We inspire students to make a difference and to be A paat tsi kani takiiks (those that create sparks). Our distinct and robust collection of program offerings and our high-quality curricula explore connections across nine unique professional disciplines, providing our students with exceptional learning opportunities that inspire curiosity and provide practical experience to bring to their communities. Our exciting partnerships enhance the overall student learning through unique practicum experiences.
We are a professional, people-focused faculty rich in diversity and inspired by inclusion.
Ani to pisi (spiderweb), the HCE Strategic Plan 2019 – 2024, guides our resources and energies for the next five years with a focus on promoting a healthy community, inspiring engaged learners, strengthening our scholarship, engaging in changemaking and connecting with our communities. It does so using the story of the spiderweb, allowing us to work together, sensing vibrations as they occur, and sending support to the aid of others. This inspires our work with reconciliation, and our work with embracing and supporting diversity.
This truly is a team with a single-minded focus — inspiring students to make a difference.
Narrative for Ani to pisi (spiderweb) framework for HCE strategy
by Elder Roy Bear Chief (Siksika Nation — Blackfoot Confederacy)
Truly internalizing and understanding reconciliation is like weaving an Ani to pisi, or spider web, to create a path. The web is part of a much greater creation story as told by my older brother, Clement. The Ani to pisi (spiderweb) teaches us to work together because a vibration in any one of the strands of the web usually signals trouble. It is our duty to sense the vibration, then go and help resolve the challenges.
The Health, Community and Education (HCE) strategic plan can be viewed within Ani to pisi (spiderweb) by putting the strategic plan in the center of the web. It serves as the hub in which we begin to weave the web and start the process of putting together the strands that hold the plan in place. The main strand is our vision, mission and goals— a healthy community, engaged learners, scholarship, community collaboration, changemaking — and within Ani to pisi (spiderweb), it is further connected to other strands to identify its meaning or purpose within the web. It's understood that vibrations will certainly occur — both anticipated and unanticipated — and it's our duty to go and help when needed.
Ani to pisi (spiderweb) gives us an opportunity, by using the HCE strategic plan as the centrepiece, to have a bird's eye view on how each of the strands of the web are connected and how each is dependent on the other for assistance if a vibration is sensed.
Vision
Engaged learners contributing to healthy, supportive communities.
Mission
Inspiring students to make a difference — A paat tsi kani takiiks (those that create sparks).
Goals (listed alphabetically)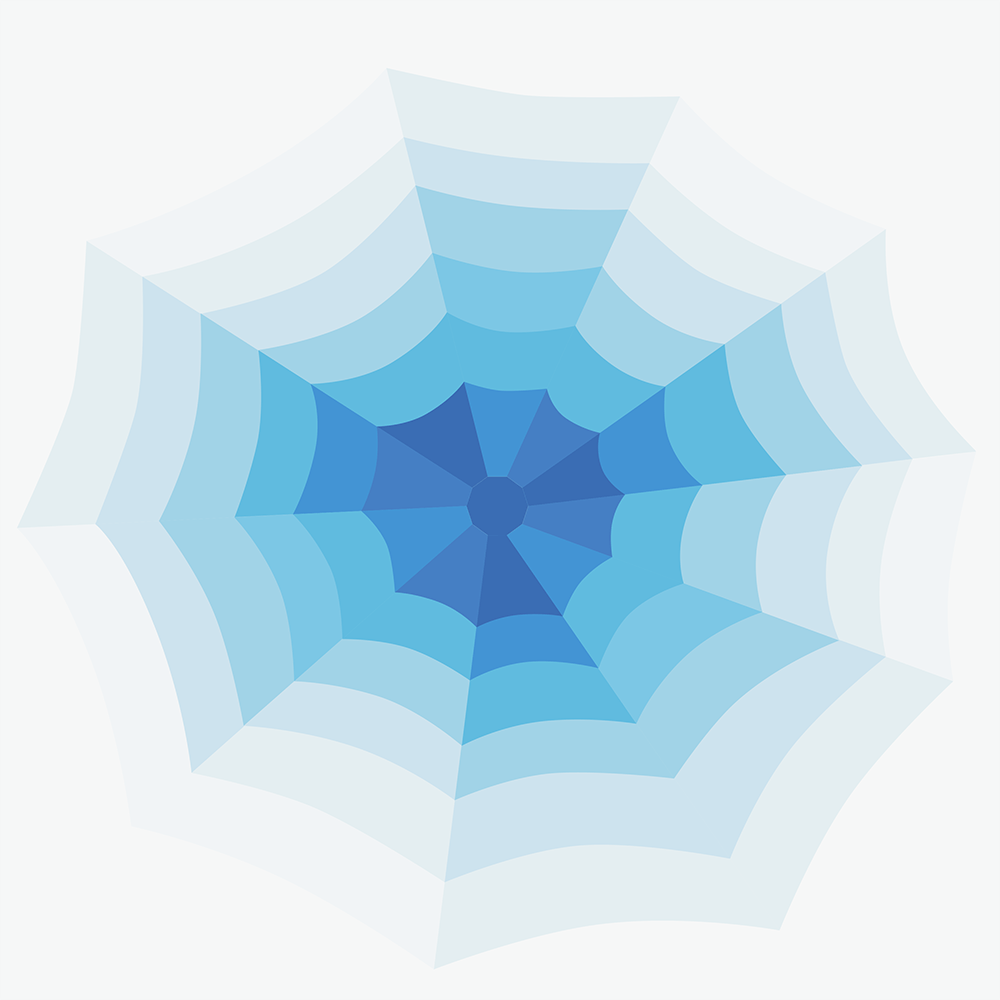 Goal: Connecting with our communities
We build meaningful connections with our future employers, practica and clinical agencies, and the communities our students support.
Objectives
Maintain the reputation of our programs.
Increase Indigenous community learning opportunities.
Have a response to the pertinent Calls to Action from the Truth and Reconciliation Commission for each of our programs.
Strategies
Utilize advisory committees for program improvement.
Implement and expand survey of external practicum supervisors on student preparedness.
Engage with external partners regularly.
Create stories to augment our profile and build awareness.
Revise the HCE marketing and communication plan.
Develop an alumni strategic plan for HCE.
Goal: Engage in changemaking
We respect diversity and indigenization to support the flourishing of all people. We contribute to Mount Royal's Ashoka designation, connecting and partnering with other Mount Royal teams, including Iniskim Centre, Office of Academic Indigenization, MRU Changemakers, Institute for Community Prosperity and Trico Changemaker Studio.
Objectives
Have a framework identifying which courses contribute to Ashoka's mission.
Increase the changemaking opportunities for our staff, faculty and students.
Have a response to the pertinent Calls to Action from the Truth and Reconciliation Commission for each of our programs.
Strategies
Developing an understanding of Ashoka.
Identify alignment with Ashoka within programs.
Identify program initiatives that enhance Ashoka's mission.
Establish a framework that is based on personal experiences to create buy-in (connection to nature, stay/being present, mindful, etc.).
Goal: Inspire engaged learners
We focus on relevant and future-looking curricula that use pedagogical and disciplinary research to inform our professional practices and use of high-impact teaching practices (HIP). We seek to honour the recommendations of the Truth and Reconciliation Commission Calls to Action in our programs so our graduates are prepared to enact these calls in their future professions.
Objectives
Increase the use of high-impact practices.
Increase interdisciplinary teaching opportunities within HCE programs.
Increase the impact of faculty research projects on curricula.
Increase the retention rates of our students.
Have a framework for the indigenization of programs (students, faculty, curricula and staff).
Strategies
Establish a definition of high-impact learning (practices, teaching, learning).
Implement a measure of high-impact learning.
Design a web of course intersection points across all of our programs.
Establish a baseline/knowledge of retention rates in order to measure progress:

Which are notable where we should measure progress.
Gather more demographic information.

Establish an HCE taskforce to coordinate our responses to the Truth and Reconciliation Commission Calls to Action.
Establish opportunities for pedagogical conversation about High-impact learning strategies.
Establish mechanisms for instructors to co-teach to increase interdisciplinary teaching and learning opportunities.
Formalize annual (semester) post-course debriefing among faculty with a focus on improving pedagogy and curricula.
Develop one course in each program that all HCE students can take.
Goal: Promote a healthy community
We value and prioritize the well-being of our faculty, staff and students.
Objectives
Increase the sense of belonging among our people.
Increase the resilience and safety of our HCE community.
Increase experiences for interdisciplinary and inter-departmental sharing, collaboration, and community building.
Strategies
Promote on-campus opportunities for students (employment, committees, clubs and teams).
Develop events and activities for staff and faculty to support well-being.
Implement staff triad/knowledge sharing.
Implement annual reflection on diversity and NSSE survey results to address challenges.
Increase interdepartmental experiences.
Increase the celebration of teaching and learning.
Establish expectations for effective communication.
Goal: Strengthen scholarship and research
We support the scholarship of faculty and students to inspire intellectual curiosity, elevate evidence-based teaching, inform professional practice and community partnerships.
Objectives
Increase the number of research and scholarship activities that inform teaching, professional practice, and community partnerships.
Increase the number of students participating in scholarly research.
Increase the quantity of external funding received for scholarships.
Strategies for Objective 1
Create a faculty repository for the documentation of publications, grants, presentations and awards.
Formalize research mentorship experiences.
Increase interdisciplinary research opportunities.
Establish a peer review process for grants, ethics applications and publications.
Develop professional development opportunity to write annual reports to articulate research, teaching and scholarship accurately.
Involve the scholars' council in data collection and analysis, and formalizing professional development.
Survey senior researchers to determine professional development needs.
Strategies for Objective 2
Develop and implement protocols for students involved in research (paid and volunteer).
Survey faculty and students to determine paid and volunteer research.
Measure how many students are presenting research at conferences or involved in publishing.
Establish a definition of scholarly research for students.