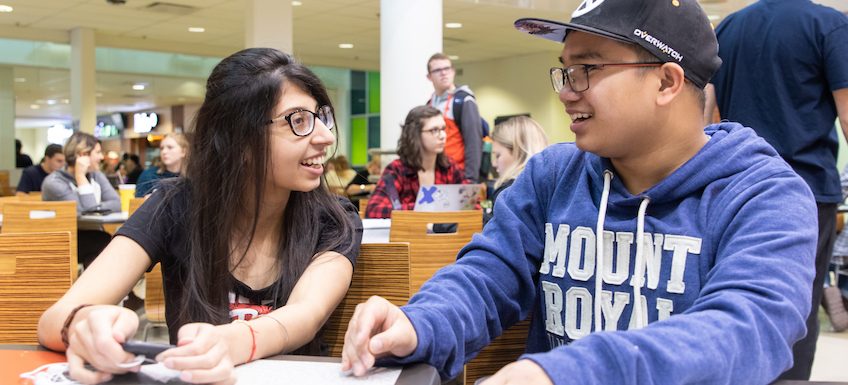 Transitional Vocational Program students enjoy campus life at Mount Royal.* Photo taken pre-COVID-19.

Campus services
Transitional Vocational Program students enjoy access to all the services the Mount Royal University's Lincoln Park Campus offers, including the Riddell Library and Learning Centre, food services and Cougars Campus Store. From computer labs to the Makers Studio, there is a rich variety of resources for students.

For a fee, students can also use the state-of-the-art Mount Royal Recreation facilities, such as the fitness centre, climbing wall and salt-water pool. Call 403.440.6517 for information.

The Wellness Centre includes a ​​primary-care medical clinic for students and employees on campus, as well as offering mental health services, workshops and the MRU Injury & Prevention Clinic.

Full-time Employment Preparation Certificate Program students have the option of living on campus in the Residence facilities. Residence fills quickly, so it is recommended that students apply early. Call 403.440.6275 or toll-free 1.866.264.7875 for information.

Other valuable campus resources include an onsite pharmacy, dental clinic and more.