From introvert to interviewer
For Mount Royal University valedictorian Nori Sinclair, her undergraduate experience has been about facing up to challenges and coming out on top.
A self-professed introvert, 26 year-old Sinclair admits that she has come a long way from her first year in the Bachelor of Communication - Journalism program when a basic interview was a struggle.
"I could barely dial a phone to someone - my hands were shaking," says Sinclair. "The concrete skills that I developed at Mount Royal over the years and the supportive campus community have been huge for me."
Academic and leadership excellence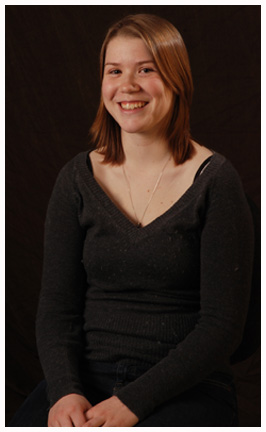 With a 3.96 GPA, Sinclair not only excelled in her studies, winning numerous scholarships, but was the glue that held together the 10-person editorial board for Mount Royal's community newspaper, the Calgary Journal, during the Winter 2010 semester.
As editor-in-chief, Sinclair brought the Journal to new heights, helping it garner a prestigious international award (Pacemaker). Her leadership and strong writing and editing skills provided one of the paper's best semesters yet in terms of new coverage initiatives and editorial excellence.
Shauna Snow-Capparelli, associate professor of Journalism and supervising editor of the Journal, describes Sinclair as a true leader who is well respected by her peers. Sinclair brought a sense of maturity to her editor-in-chief role, often mediating squabbles between staff members and coming up with resolutions to allow the newsroom to run smoothly.
"Nori is a great ambassador for Mount Royal," says Snow-Capparelli. "It may sound like a cliche but she is honestly the best any professor could hope for. You wish that you had more of her."
Her endless energy an inspiration
On top of managing a heavy course load, Sinclair logged extra hours at the Journal, wrote for Mount Royal's independent student newspaper, the Reflector, and worked at Mount Royal Recreation where she started out as an office assistant and soon worked her way up to writing and designing the company's annual report.
As a testament of her writing skills, Sinclair was selected to blog about Mount Royal's first year as a university from a student's perspective.
Sinclair did all this while battling Crohn's disease, a chronic illness, which flares up during her most stressful periods.
Today she enjoys working as a communications assistant with the Sierra Club, a position which started out as a three-month internship and grew into a full-time job after she wowed staff with her exceptional writing and design skills and social media savvy.
Thrilled about receiving the valedictorian honour, Sinclair reflects on her journey at Mount Royal and imparts some words of wisdom to her fellow graduates.
"Everyone has challenges to overcome, whether it's battling an illness, or a fear of presenting in front of a class," says Sinclair.
"Knowing when it's the kind of fear that you just need to push through is key because those are the times when you really have a learning opportunity and a chance to grow and surprise yourself with what you can do."
- Jondrea De Ruyter