David Legg, Professor, Department of Health and Physical Education
---
On feeling a sense of community at Mount Royal
"We are very purposeful here in having orientations and trying to make sure faculty meet colleagues in other departments, faculty meet staff, and staff meet staff. The hierarchy of Mount Royal is pretty flat. I've never gotten the sense that people feel self-important. We're all in this together and we all work together for a common purpose. And I think that creates that sense of belonging and that sense of community."
"I went for a run at lunch one day, and there were about 10 other people in the changeroom with me. They had all just finished playing soccer, and there were a mix of faculty, staff, researchers, from across the campus. And we knew each other. We knew about each other's interests and the roles that we played on the campus, and it just felt really familiar, really comfortable. This is a nice, collegial, supportive place to be."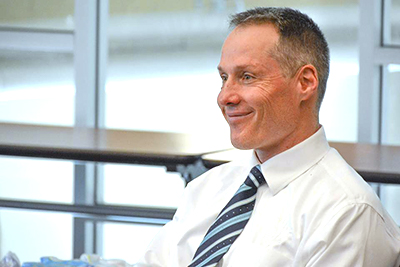 David Legg
---
On taking risks at Mount Royal
"Education is an interesting industry. We've been doing things relatively the same way for a long time. But I'd like to think that here at Mount Royal we are very much trying to offer courses in a different way, to offer the traditional lecture in an alternative medium or model. We're supported to take risks, and then not punished if they fail.
"I've tried lots of different things that I would maybe not do again. And the chairs, deans and colleagues that I've had have always been very good about saying,'You know, that was a valid effort. Maybe we didn't get it quite right, but let's keep trying different means by which to interact and to help teach students.' I speak very passionately about the great things we're doing here."
---
On having a sense of purpose
"Working at Mount Royal is challenging and constantly evolving. There's a multiplicity to the roles and obligations, but I think there is an ultimate satisfaction in knowing that you're contributing to something bigger. I do think there is a sense of greater good and that you are making a contribution to the city, the province, the country. You are helping people evolve, to find their path to a great life. We're enthusiastic about not just training professionals, we're enthusiastic about preparing people for their next phase in life. At the end of the day, I feel really good that I have done something meaningful and that I've tried to make a difference."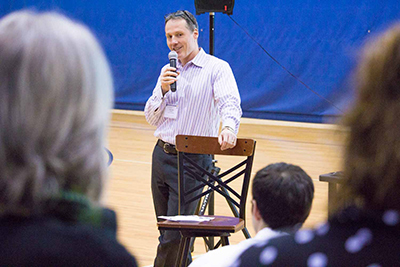 Speaking with colleagues and students at the Adapted Physical Activity Symposium
---
On blending roles on and off campus
"I've been involved with the Paralympics - the parallel Games for people with physical disabilities, primarily - since the mid-'90s. I got the chance in 1996 to go to the Games in Atlanta and became involved with the Canadian Paralympic Committee, first as a board member and eventually as president. I am currently on the International Paralympic Committee, and I'm also involved with the Calgary Bid Exploratory Committee, which is looking at the possibility of Calgary bidding on the 2026 Olympic and Paralympic Games. A lot of these things intertwine with my teaching and my scholarship. It's difficult, sometimes, to separate where all these things begin and end."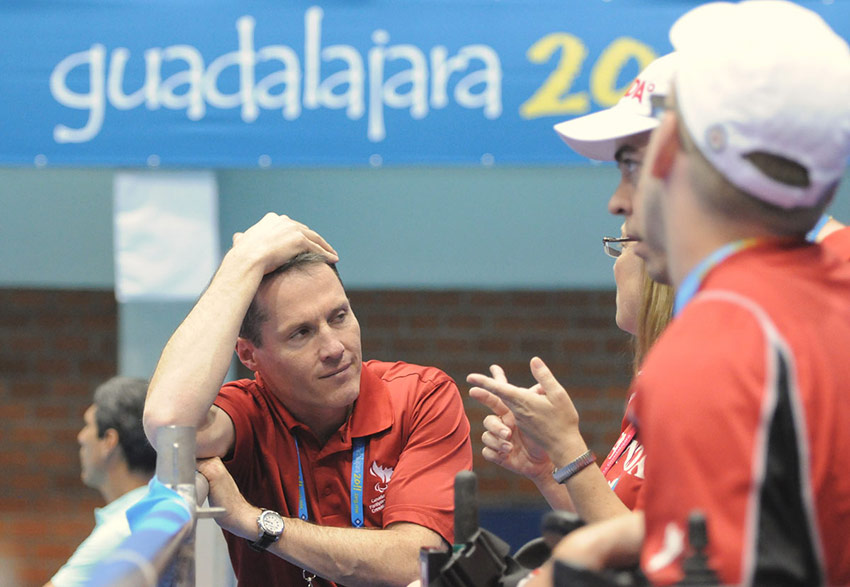 With the Canadian team at the Parapan American Games in Guadalajara, Mexico in 2011
"With the Adapted Physical Activity class I teach, we've been able to host symposiums on campus and host training camps for different sports. We have a weekly intramural wheelchair basketball program, we have students sit in sleds to play sledge hockey at our arena, and students also play goalball, a game for people with visual impairment. We do it all right on campus and the students get not only the experience of how the games are played, but the biomechanics of it and how the sports are coached. It's an opportunity that not a lot of students get to experience. We also have students spend a full day in a wheelchair."
---
On finding inspiration
"My dad had a disability - he had multiple sclerosis. While earning a physical education degree, I took a course in adapted physical activity. A light went on and I made a connection. I thought, 'This is really cool. I want to pursue it further.' Then when I was taking my master's, I got involved in wheelchair rugby, and I became aware of the disability sport system. Suddenly, this whole industry was presented to me that I had no idea existed. Now I can't imagine it not being a part of my life. It's like that sense of belonging at Mount Royal: It's part of my core - it's part of who I am and what I do."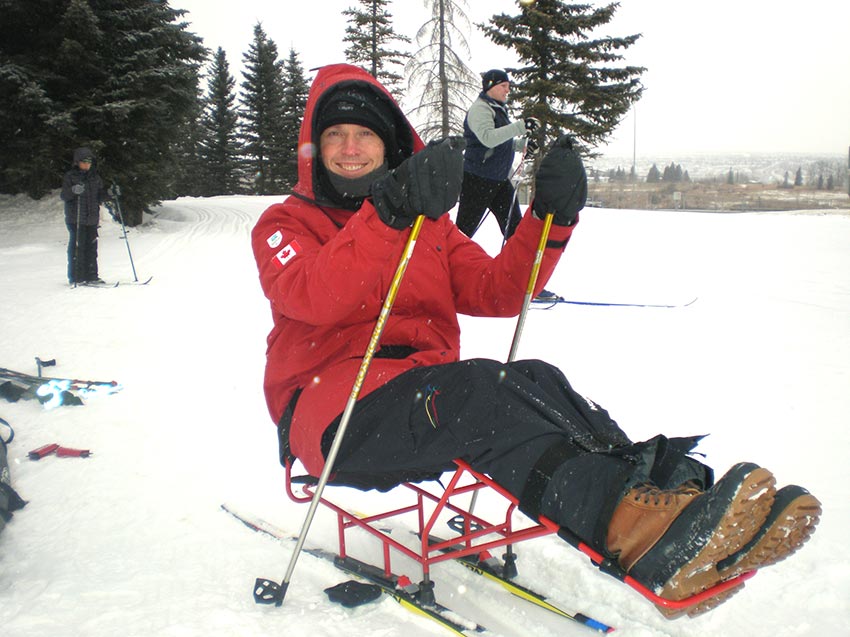 Modelling 'psychological hardiness' on the slopes
---
On modelling psychological hardiness for students
"I encourage developing psychological hardiness by doing things that we're not particularly good at, and as we get older we tend to do less and less of that. I quite like playing golf right now, but I'm not very good at it. I think the part I find most frustrating is that hustle is not helping me, whereas in every other sport or activity I've excelled at, in part it's been out of hustle. But with golf, I can run as fast as I want to get to that ball and elbow somebody out of the way to get to it, but it's not helping me make the next shot, and it's driving me a little crazy, actually!"